Donte Whitner emerged as a leader of the 49ers secondary in 2011 during his first season in San Francisco. A man who takes pride in his mental side of the game, Whitner has also established himself as one of the league's hardest-hitting safeties throughout his career. The veteran spoke with 49ers.com about his approach to Training Camp as he enters his eighth NFL season.
Staying in hotel during training camp makes life a lot easier. You don't have to bring TVs, you don't have to bring blankets and you don't have to bring refrigerators because you already have it in the room. Here, mostly all you need is your playbook, your toiletry bag, and a lot of pairs of clean clothes like jogging suits and t-shirts and sweatshirts. And you gotta have a lot of those sunflower seeds; you know you're going to need them in the meeting room. Ranch flavor. That's pretty much all I brought. You don't see guys lugging in big TVs and things because we're not in a dorm and it makes it a lot easier.
A lot of guys wear the same clothes every day, but I can't do that. Over my seven training camps, I've seen that a lot, but I just don't feel comfortable doing that. I have to get a shower before I go to bed, I have to get a shower when I wake up in the morning and I have to have a fresh pair of clothes. To each his own, but I can't do that.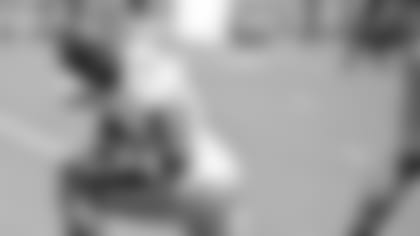 I really enjoyed myself at the Pasta Bowl this past week. Events like those are good for team camaraderie, but it also gives us an opportunity to interact with people that really care about this organization and care about the community as a whole. It's always cool. Whenever we sit at tables and we get an opportunity to talk a kid, that's the best part about it. They want to ask us questions and we get to know them a little bit and it's always a great time.
My excitement for this season is extremely high. I think everybody in this locker room and everybody in this organization feels the excitement that hasn't been around here in a long time. That's because of the season last year, our expectations this year of the team that we're going to put on the football field and the work that we know we're going to put in – that's where the excitement comes from.
When there's this much pressure and this much expectations, all you can do is go out there and work as hard as you can. You have to really focus in on the small details and what you have to do as a football team and as an individual to get the job done. It makes it that much more fun when you know it's high stakes out there and you have to put the work in.
![](http://www.gopjn.com/t/R0BKRklJSEBKTERHREBISEtERw?website=165321)