Donte Whitner emerged as a leader of the 49ers secondary in 2011 during his first season in San Francisco. A man who takes pride in his mental side of the game, Whitner has also established himself as one of the league's hardest-hitting safeties throughout his career. The veteran recently spoke with 49ers.com before his team's Week 10 home matchup vs. St. Louis.
Coming off the bye week, I think there was a faster tempo at practice this week. Guys were fresher than before we left after having a bye week and a Monday Night game. During the bye week I went back home to see family in Cleveland for a minute, then I went to Miami for the weekend.
We're well-rested and healthy. As far as the preparation, we have a little bit more time to prepare for the St. Louis Rams, who are also coming off a bye week. We expect to go out there, execute our defense, our fundamentals and play really good defense on Sunday.
We didn't face Sam Bradford last year in both games, but on film you can see he can make all the throws. He's taking a few hits right now because sometimes he might hold it too long or sometimes the offensive line lets a guy through. But as far as being tough, knowing where to go with the football and getting it there, if you allow him to do that and step up in the pocket, he's going to get it there. There's a reason he was a No. 1 overall pick years ago. We have to be weary and aware of his spot and get him off his spot. If we do that, we should be alright.
We've won a lot of games in the division at home recently, but it's not really talked about. It doesn't really need to be. We understand that. We understand that you have to win games in the division and you have to treat them like two division games. It's a good streak to keep, something we want to keep going, the goal is to add to it on Sunday.
I like Cali weather. I like the sunshine, mid-70s weather. I like that. But it seems like the weather here this week and all around the world this week has been really crazy. I know that even in Miami, the place I just visited, it's supposed to be tropical and hot right now. But all those places are a little chilly, stormy and rainy. I don't really know what to say about the weather right now, even here, it's been a little freaky.
A lot of guys around here really followed the presidential debates and the election. I followed it myself and I think it's pretty cool for football players and athletes, who are normally considered jocks to really get into things outside of football like politics.
Instagram Photo of the Week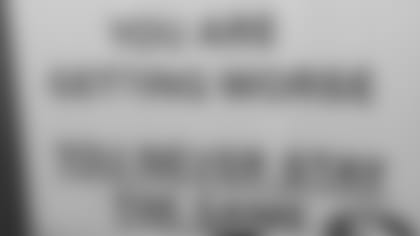 It's a reminder. It's a reminder that every time you step out the door, you have an opportunity to either get better today or decide to slack off. That's right when we walk out of the locker room. I put that up for a reason. I look at it every day and we really live by that here with the 49ers.
Q: What do you and the rest of the defense do off the field to create and sustain the bond you guys have on the field? – Mikey O
A: Guys hang out, whether it be at a restaurant or meeting at someone's house, guys are hanging out. There's no ego in this locker room and guys enjoy coming to work and being around each other to laugh and have fun. Our locker room really is a friendly locker room and we're going to keep it this way.
Q: Who did you idolize growing up? Was it a safety like you? - Rob
A: I idolized Brian Dawkins, he recently retired. I loved the way he played the game, just a lot of energy. He was physical and he was always going to be there for his teammates. He was also always going to be making plays, so that's why I idolized him.
Q: What did you think of Goldson's big hit last game? When are you going get one more? – Isaac Cardoza
A: I think it was a really good hit, a really good physical, tone-setter. I think we look forward to that – that's what we like to put on film. We let people know that they're going to get hit when they come over the middle of our defense and that's what we're going to continue to do.
Q: What's old Randy been up to off the field? – S. Preezy
A: Joking around, being funny, being his normal self. If I had to pick a guy who was one of the funniest guys on this football team I would say it's probably Randy and Justin Smith.