Earlier this summer, nearly 3,000 miles away from the San Francisco 49ers headquarters in Santa Clara, several New Orleans Saints wide receivers attracted media attention for wearing some unusual accessories on their wrists.
There, at Saints training camp in rural West Virginia, players donned wristbands featuring four letters printed in all caps: "WWAD?"
Apparently, Saints wide receivers coach John Morton, who held the same position with the 49ers for the previous two seasons, had been talking up a former player of his a little too frequently.
"WWAD?" stands for "What Would Anquan Do?"
The homage, of course, is to Anquan Boldin – the 13-year veteran wideout of the 49ers who has amassed seven 1,000-yard seasons.
The silicon bracelets, distributed by Saints receiver Joe Morgan, were made because Morton regularly pestered his players to emulate Boldin's work ethic. But even if the wristbands were initially created somewhat in jest, the end result produced a phrase that the younger NFL players might be wise to follow.
Boldin is as respected as any man in football, and not just for his fierce reputation on the field. Away from the game, Boldin is among the most active players in the community.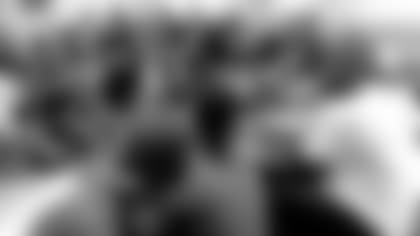 In the 12 years since he established the Q81 Foundation, Boldin has awarded college scholarships; handed out thousands of turkeys at Thanksgiving; purchased thousands more toys at Christmas; completed projects with Oxfam America, Wounded Warriors and the United Way; launched an eight-week summer enrichment program for students who need courses to catch up academically; and hosted an annual free, two-day festival for children in his hometown.
Boldin accomplishes this all with his own funds – he donated $1 million last year for future scholarships – and through fundraisers, the next of which will take place at Levi's® Stadium on Nov. 30 with tickets being sold online.
The NFL Players Association honored Boldin with its Byron "Whizzer" White award for community service in 2014, the same year the wide receiver was a finalist for the NFL's Walter Payton Man of the Year award.
More on that later, though. For now, back to "WWAD?"
"You can't imagine how flattering that was to the family because it lets you know all the good work that he's done and continues to do is being recognized by many that we didn't realize," said Carl Boldin, Anquan's father. "With all the negative that goes on in the NFL and in the world, to see someone recognized for the good things is so special."
Boldin's commitment to helping others is in his blood. Growing up in Pahokee, Fla., also known as "Muck City" for the marshland that consumes the impoverished town, Boldin watched his paternal grandmother open up her car, home and heart to assist those in need.
Annie Boldin drove senior citizens to doctor appointments, gave neighborhood kids a place to sleep and cooked meals for the hungry.
"My grandma was one of those town mothers," Boldin said. "She was always inviting people in. She still is that way."
Boldin's grandmother on his mother's side, Johnnie Mae Banks, was also a fixture in the community – often cooking hundreds of meals for the town's workers.  And then there was Boldin's parents, Carl Boldin and Brenda Banks, both of whom were educators.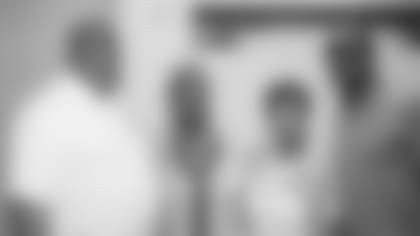 That's why it's so important to Boldin that his foundation be a family affair. His parents, siblings and everyone in between are involved in some fashion with planning events, fundraisers and the scholarships. It's just what the family does.
"You want people with the same heart as you," Boldin said. "A lot of people work for foundations so they can get paid. My foundation is a little different in that nobody gets paid. Everybody does it out of the kindness of their heart.
"I do it to show my kids, especially with my oldest son. He's 11 and has a pretty good understanding of what we do and why we do it. We let him know that everybody isn't as privileged as he is. I know I wasn't. But because you have that life, you're obligated to help others. There are a lot of people out there suffering and a lot of people out there in need."
Everything Boldin does with his foundation is hands-on. He wants those he touches to know his face more so than his name.
One small illustration of that dedication is how Boldin goes about selecting students for his Q81 Foundation Scholarship Award. Instead of delegating someone else to look over the hundreds of essays that are submitted for the $10,000 grant, Boldin and his wife, Dionne, read every last one.
"That's what it's for. You want to hear the stories yourself," Boldin said. "It's easy to have somebody else read them, but I like to hear exactly what kids are going through because I can relate. Some of those stories are heartbreaking. And for me, if I could, I'd send every kid who reaches out to college."
Celene Bolanos grew up in the Bay Area as a casual 49ers fan. Her brother and father were more passionate supporters of the team, but she enjoyed watching San Francisco play on Sundays.
As a senior in 2014 at Aragon High School in San Mateo, Calif., Bolanos received an acceptance letter from UC-Berkeley – her dream college. She didn't know how she would pay for her education with so many expenses in addition to tuition like food, housing and books.  
So like any ambitious kid in her position, Bolanos began applying for scholarships. She won a few small grants, but she vividly recalls one phone call in particular.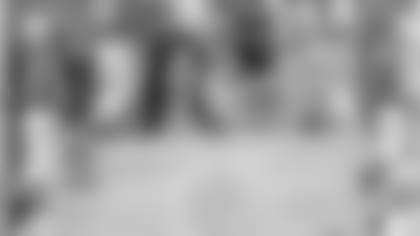 "My advisor told me I won Anquan's scholarship and it was a huge weight off my shoulders," Bolanos said. "I knew of Anquan before from my family always saying, 'Wow, what a catch.' But as soon as I won, I watched a documentary on him on YouTube. It made me feel so proud to be chosen.
"I think when you come from that kind of background and you become a superstar, some people tend to forget their roots. Anquan obviously didn't. And the fact that he's giving back like he is, it's super inspiring. I'm so grateful."
Boldin presented Bolanos with her $10,000 check in person – a small gesture that made the gift feel more personal. She's now a sophomore at Berkeley working on a double major in developmental studies and conservation. She hopes to one day work for the United Nations.
"Anquan inspired me to give back," Bolanos said. "He's a hero to many, and I just can't thank him enough for helping me. He's helping me accomplish my dreams."
Bolanos is one of nine students so far to have received the Q81 Foundation Scholarship Award. Another is Thuyet Dao of Park Vista High School in Lake Worth, Fla. He won the scholarship this year and is now a bioengineering major at Stanford.
"He's trying to give kids a chance that he might've not gotten if it wasn't for football," Dao said. "He wants other kids to have similar opportunities, and I'm trying to make the most of it."
It's kids' success stories like those that make Boldin feel proudest – not his feats on the gridiron.
"Honestly, that's why you do it," Boldin said. "And like I tell kids, 'Take advantage of the opportunity. If somebody is giving you something, the way that you pay them back is by being successful yourself.'
"We had one kid who was kicked out of his high school system, got his GED, we gave him a scholarship, he graduated from college and now he works in the same school system that kicked him out. That's what makes you feel like you're making a difference."
Boldin keeps in contact with all of the scholarship recipients. In fact, that's one of the requirements. But that shouldn't come as a surprise. Boldin leaves his mark everywhere he goes.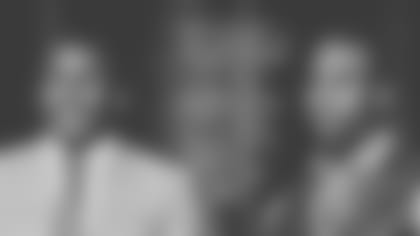 Even though he no longer plays for the Arizona Cardinals or Baltimore Ravens, he still maintains a presence in those communities.In the Phoenix area in particular, Boldin sponsors a dental program, which he launched after suffering a gruesome facial injury during a game in 2008. Boldin underwent several surgeries and found out that many people needed similar procedures but couldn't afford the care.
"When you play in those cities, you make relationships outside of football," Boldin said. "That's what makes this game so unique. People who I probably never would've came in contact with but because of the game of football, I have relationships that I still have to this day. It's important to affect as many communities as possible because those are the people that support you throughout your career."
In those travels, Boldin has made lasting impressions on fellow NFL stars.  And it started in Arizona with Larry Fitzgerald. The fearsome receiving duo, which led the Cardinals to the Super Bowl in 2008, traveled to Africa to assist in the humanitarian relief of the drought and hunger crisis in Ethiopia.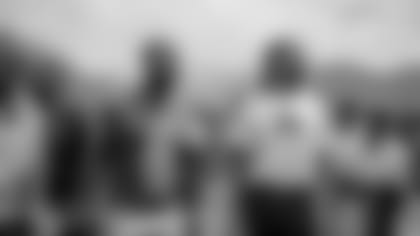 Boldin later made a second trip to Africa, this time to Senegal to learn more about human rights violations taking place in the gold mining industry. Boldin then testified before congress about the injustices he witnessed.
"I just have a great respect for him – playing with him for so many years and getting to know him as a man," Fitzgerald said. "I'm honored and privileged to be able to call him a friend. He's taught me a lot on and off the field. Just to see him and his wife be able to continue to do the work that they do, it's truly encouraging."
In Baltimore, Boldin took a young receiver by the name of Torrey Smith under his wing. Smith shadowed Boldin and eventually started a foundation of his own. His most significant accomplishment has been creating a reading room program that allowed close to 500 students in Baltimore-area schools access to over 700 books, electronic readers and a place to read.
"The biggest thing was him just being himself," said Smith, who now of course is teammates with Boldin again in San Francisco. "It was never necessary to sit me down and talk, it was just the way he lives. It's the way he is with his family, it's the way he is in the community and the way he carries himself. He's just so respectful. It's nice to have a positive male role model to look up to. That's Anquan."
And then there's Thomas Davis of the Carolina Panthers. Boldin, along with Aaron Rodgers of the Green Bay Packers, was one of three finalists for the Man of the Year award in 2014, which Davis won for his excellence on and off the field. Through the media blitz leading up the big announcement, Davis and Boldin became friends.
"Man, Anquan is a great dude," Davis said. "He's very genuine and very passionate about helping others. It's tremendous what he's doing in the community. The lives he's been able to impact, it leaves me in awe."
True to character, Boldin won't campaign for himself when the prospect of being named "Man of the Year" is brought up. But that doesn't stop others from doing so.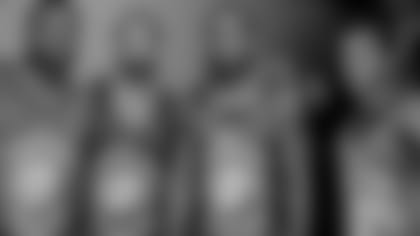 "I definitely feel that he should win the award. He's very much deserving," Davis said. "Hopefully he'll be the recipient of that award this year just based on all the things he's been able to accomplish."
Added Smith, who was the Ravens nominee in 2014: "He should win it. They better give it to him this year. Just by how much he means to the kids he affects. He's their hope. They idolize him. He deserves that honor."
And finally Boldin's dad, Carl: "Honestly, I think it would mean more to us than it would to him. Simply because we've seen the work he's put in, and he's such humble spirit. He's always in the midst of doing, so he doesn't see the big picture the whole time. We do, because we're on the outside. I truly believe he should win, and I am just so thrilled to be his father."
When discussing life after football, Boldin doesn't appear to fear the future. Leaving the NFL someday will allow him to devote more time to his foundation. In the interim, Boldin wants to make sure the next generation feels the same sense of responsibility he feels.
So if you were wondering, "WWAD after football?" here's the answer.
"There are a lot of guys that want to do stuff that just don't know how to start," Boldin said. "So having a foundation for 12 years now, I think we have a little bit of knowledge of how to go about it. I want to help other guys who want to give back to their communities."
Photos courtesy of the Anquan Boldin Foundation. For more information on Boldin's upcoming events, go to Q81.org. "WWAD?" silicon bracelets, T-shirts and sports gloves will soon be made available.