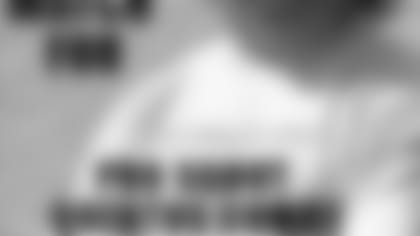 49ers Pro Personnel Scout Quentus Cumby spends hours upon hours scouring NFL game tape to evaluate future free agents. He also does the advance scouting which entails traveling each weekend to watch the 49ers next opponent and then provide evaluations and tips for the coaching department. Throughout the playoffs, Cumby has been breaking down the teams still in the hunt. Now it's down to two teams and one game, so find out what he thinks about this Championship contest.**
New York Giants vs. New England Patriots – Sunday, February 3rd, 3:30 PM PST on FOX

The Super Bowl match up between the Patriots and the Giants is going to be an interesting game. The first time they played, it was a close, hard fought game. Eli Manning really showed what he could do as a quarterback in that game, and ever since he's been hot.
Some people may not be giving New York a chance in this game because they're going up against an undefeated football team, but the Giants are a good team and they have a shot to win. The game will essentially be played indoors. They'll probably keep the roof open, but since it's in a dome, the elements won't be a factor. The Giants will then be able to really get after the quarterback with Michael Strahan and Osi Umenyiora.
Hopefully the Giants secondary will be healthy and Sam Madison and Aaron Ross will be able to play. You saw what Corey Webster and R.W. McQuarters could do when they stepped in as starters two weeks ago, so that group will match up well against New England's offense.
Looking at the match up between New York's offense and New England's defense I think I would have to give the edge to New York. Plaxico Burress played very well against Green Bay, and as I already said, Manning is playing great while Brandon Jacobs continues to be a very physical runner. New England has a lot of guys on their defense who are starting to get older so I wouldn't be surprised if they wear down. New England has a great front three which I've talked about throughout the playoffs, but New York has a solid group of offensive linemen. With Jacobs running downhill, they're a formidable opponent for New England and they can cause some problems.
New England has very good cornerbacks, but they're a little bit on the smaller side so I think Plaxico will be able to win out on a lot of balls in the air. Just look at how he played against Al Harris in the Green Bay game. Harris is a big, physical cornerback, but it was amazing to see the way Plaxico played against him. I've been around Harris when I was an intern in Green Bay and he's a really good corner, and I never thought I would see someone take it to him like that.
I think Jacobs will play a big role in the time of possession battle. He's physical, he always falls forward and he runs hard. I think he gives Manning a great feeling of comfort. Instead of having second and long or third and long, he gives you positive yardage in the early downs and makes second and third downs much more manageable.
With what should be a recovered secondary, I don't think New England will have as much success with that spread offense that they tend to run. I think they are going to have to run the football in order to score points.
Although Manning is playing well, I would have to go with Tom Brady as the better of the two. Brady is a proven vet and he knows how to handle everything that's going on this week. He's been there and done that and he's a three-time champion. Manning is new to all this. He's young so it's going to be interesting to see how he responds on this stage. He's a laid back guy already so I think he'll be alright, but there's no way you don't take Brady in that match up though. Any time you throw 50 touchdowns in this league, you know you're doing pretty well.
It's the Super Bowl so the energy is going to be at a whole different level. Everyone is going to be excited to play, but I do think New England is going to have to bring their A-game in order to beat New York. This is the second shot at a Super Bowl for both Strahan and Amani Toomer so you know they're going to raise their level of play. I can't wait to watch this game!
Overall, I'm picking the Giants to win the Super Bowl. I think they're playing great football right now, they're confident and they know they can beat New England. Upset, baby, upset!