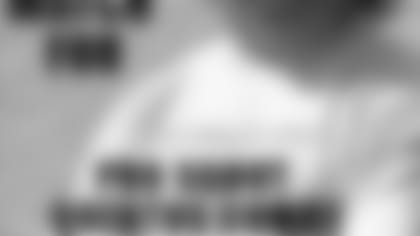 49ers Pro Personnel Scout, Quentus Cumby spends hours upon hours scouring NFL game tape to evaluate future free agents. He also does the advance scouting which entails traveling each weekend to watch the 49ers next opponent and then provide evaluations and tips for the coaching department. Throughout the playoffs, Cumby will break down the teams still in the hunt and provide some key factors to watch for in each game.**  
1:30 p.m. PT on FOX- Seattle Seahawks @ Green Bay Packers
I think this is going to be a pretty good game. It's a homecoming for Coach Mike Holmgren, and there is a lot of history between those organizations in terms of their personnel.
The surprise this year for Green Bay was that they found a very good running game with Ryan Grant. He's right around 1,000 yards rushing and he's only played about half the season. Donald Driver is playing well and Greg Jennings, a second year player, is finding his stride and making plays downfield. The rookie, James Jones, has made some big catches on third down. Donald Lee has surprised people with how productive he's been. For a while, they were just throwing the ball, but now with the emergence of Ryan Grant, they are a very tough offense to stop.
The Packers have been a very good defensive team all year. They are particularly deep at defensive line. They have had a couple of injuries, but they are still pretty stout. Aaron Kampman is a tough motor guy. He's a good pass rush and can pretty much do everything for them. Kabeer Gbaja-Biamila comes in on third downs and does a good job of rushing the passer. Cullen Jenkins is another guy who can rush the passer. They have a pretty good rotation there. At linebacker, they have AJ Hawk who's playing well. Along with Nick Barnett, those are two athletic guys who can make plays sideline to sideline. They probably have two of the best corners in the NFC in Charles Woodson and Al Harris. They are both physical and they can bump-and-run with you. Safety Atari Bigbi is another first-year starter who's playing well for them.
Deion Branch is supposed to come back this week for the Seahawks after sitting out last week. When you add him to the receiving corps with Nate Burleson, DJ Hackett and Bobby Engram, I think they match up well with Green Bay's secondary. Green Bay does have those two great corners so I think Seattle will go after their nickel back, either Will Blackmon or Jarrett Bush. I think that's a fairly even match-up. Seattle runs a lot of four receiver sets and that can cause some problems.
I think Seattle will have a tough time running the football against Green Bay. Again, Green Bay had a lot of talent on the defensive line and I would take Green Bay in that match-up. However, I think Seattle has to try to establish the run because Green Bay can really rush the passer. If they can't get the run going, Matt Hasselbeck is going to have to make some plays with his feet because the Packers can really get after the quarterback.
Seattle has a good defense as well. They have gotten good play at the linebacker position from Julian Peterson and Lofa Tatupu. Kelly Jennings and Marcus Trufant have been playing well in the secondary with Trufant having one of the best seasons of his career. I think they match up well with Green Bay's receivers. I think Trufant and Driver will be a fun match up to watch. They are two guys who know each other very well. Greg Jennings will probably go up against Kelly Jennings, and they are both two pretty young guys.
Seattle's defensive line versus Green Bay's offensive line will be a good match up as well. Chad Clifton is probably the Packers best offensive lineman. In fact, he's one of the elite left tackles in the league. Mark Tauscher is their right tackle and he gets the job done. He won't jump out at you when you watch film, but he just performs. Peterson and Kearney have been playing at a high level, but Tauscher and Clifton have been around long enough to be able to handle that. 
5:00 p.m. PT on CBS- Jacksonville Jaguars @ New England Patriots
We all know what New England can do by now. What can you say about those guys on offense? They're explosive and they're deep. Behind Randy Moss, Wes Welker and Donte Stallworth you have Kelley Washington and Chad Jackson. They have play makers all over the field. Moss is having one of his best years ever. Welker's been making big plays on third down.
I'm going to have to go ahead and take New England's receivers in the match up with Jacksonville's secondary. Rashean Mathis and Brian Williams are both solid corners, but New England is just way too explosive. Mathis will be able to hold his side down and do a good job, but the Patriots have four or five receivers who can make plays. It will be an uphill climb for Jacksonville. Sammy Knight and Reggie Nelson are both good safeties. Nelson plays with a lot of range and does a lot of good things for them, but New England has too much firepower. They can stretch the field and work the middle.
I think New England will try to run the ball just to keep the Jaguars honest, but they haven't run it much this year with the way Tom Brady is playing. He has 50 touchdown passes, which is ridiculous, especially in this league. I thought teams started to catch up with them towards the end of the year, but now this is a whole new season. Laurence Maroney is a physical runner. He's got some juice to him, has a burst and he can do some damage. Kevin Faulk also comes out of the backfield and catches passes, and Jacksonville's linebackers are going to have a tough time covering those guys.
New England has a great defense. They have Mike Vrabel, Adalius Thomas, Tedy Bruschi and Junior Seau, so they're not a bad group at all. They have Asante Samuel in the secondary and he's having another excellent year with six interceptions. Ellis Hobbs is an undersized guy but he's really quick and can do a lot of things with his feet. Their safety play is solid. Rodney Harrison is a tough and physical veteran. I believe the strength of that defense though is their defensive line. They have Richard Seymour coming back along with Ty Warren and Vince Wilfork. All three of those guys were first-round draft picks so they're pretty good. They rely more on their outside linebackers for their pass rush, but as far as stuffing the run and being physical, their defensive line is one of the best in the league.
Defensive lineman Marcus Stroud is out for Jacksonville, and John Henderson has a hamstring injury that he's nursing. He was limping around last week when they played Pittsburgh. They still have Grady Jackson rotating in there, and he's a guy who plays well when he's in shape and puts his mind to it. When they're healthy, their defensive line is one of the best in the league, but they're nicked up a bit right now. It will be interesting to see how they match up with New England's offensive line.
Now on to Jacksonville's offense. David Garrard is having a pretty good year. Fred Taylor and Maurice Jones-Drew have been very productive running the football. I believe their offense is built for cold winter games. They're not your typical Florida football team. They can run the football and they can get physical with you. Dennis Northcutt came in as a free agent and really helped out their receiving corps. Reggie Williams is having the best season he's had in the NFL. He and Ernest Wilford are two tall receivers who I think can cause some match up problems with New England's corners, who are fairly short.  
10:00 a.m. PT on CBS- San Diego Chargers @ Indianapolis Colts
This is going to be a good game. San Diego beat them the first time when Peyton Manning threw six interceptions and Adam Vinatieri missed two field goals. I don't think we're going to see that again!
It looks like Indianapolis will have Marvin Harrison coming back this week. Reggie Wayne has played well, as has Anthony Gonzalez, who has started to find his comfort zone. Tight end Dallas Clark has been making plays, and Peyton Manning plays fast and he can make all the throws. The Colts were short-handed in that first meeting with the Chargers as they didn't have Clark or Harrison.
We all know about San Diego's linebackers and how good they are at rushing the passer. I said this last week, but they're a scary football team. They have one of the best personnel groups on defense in the league. Jamal Williams and Luis Castillo are two stout guys on that defensive line. Shawne Merriman and Shaun Phillips provide the pass rush from those outside linebacker positions. They have Marlon McCree at free safety. Quentin Jammer and Antonio Cromartie are their two corners. I'm looking forward to seeing how that secondary matches up with the Colts receivers.
On Indy's defense, they aren't going to have Dwight Freeney but they do have Robert Mathis. They're basically clones of one another. Freeney has a quicker step, but Mathis can do a lot of the same things. They have more of an undersized defense overall. They don't have your typical defensive line. They're very athletic, they can run and move laterally. At linebacker they have Gary Brackett and Freddy Keiaho. They've been rotating some guys at the other position, but those two guys can run and are very athletic. They have a lot of team speed.
In terms of Indy's secondary versus the Chargers receivers, I'm going to have to give the edge to Indy because of Bob Sanders. Hands down, he's probably the best safety I have ever seen play. He's ridiculous! He's undersized at 5'8" but he's 205 pounds and he's tough. He comes down and moves around in the box. He makes tackles and blows up plays. He can do everything. He was the Defensive Player of the Year this season and it was well-deserved.
Philip Rivers has been playing well the last few weeks for San Diego. He hasn't made a whole lot of mistakes. Vincent Jackson and Chris Chambers are also playing very well right now. We'll have to see if Antonio Gates plays, but they showed last week that they can move the football without him. If they could get him back though, he would be a big addition.
It's going to be interesting to watch this game. Peyton Manning has all his weapons back, but San Diego is a dangerous football team so they have a chance.
1:30 p.m. PT on FOX- New York Giants @ Dallas Cowboys
New York has a defensive line that can really get after the passer. Last week, they got after Jeff Garcia and did some nice things in the secondary. One of their young defensive backs, Corey Webster, had an interception. Their safety play has been solid this year with Gibril Wilson and James Butler. R.W. McQuarters, Sam Madison and Aaron Ross all stepped up and all have seen time as starters. They did a very good job against Tampa Bay, but I think they're going to have a pretty tough time with Dallas this week.
Dallas has three Pro Bowlers on their offensive line. They are a big, physical line that can really move guys. They do a good job opening up creases for their running backs, Julius Jones and Marion Barber. I think New York is going to struggle in that area this week. Osi Umenyiora is a straight pass rusher and he does a great job with that, but this week he's going to see a lot of Leonard Davis, who outweighs him by over 30 pounds. I think Osi is going to have trouble holding the line of scrimmage. Overall, they are a very tough group. They have Andre Gurode at center and he's a massive man. He's strong, powerful and he can move guys. They have a solid group of running backs as well. Julius Jones is the starter, but the main guy is Marion Barber who's going to his first Pro Bowl this year. He does a little bit of everything. He has great hands and can get the ball out of the backfield, but the main thing about him is his physical running style. He seeks contact and he's tough. He's not just a running back; he's a good football player.
Terry Glenn is coming back and Patrick Crayton has done a good job at the #2 receiver position. Terrell Owens is a question mark with a sprained ankle. If T.O. can come back and even be 80-percent this week, he will be a match up problem for New York. Glenn hasn't played this entire season, but he's shown what he's capable of throughout his career. If T.O. doesn't play, it will hurt them a lot. I think he's played a big role in the nice year that Jason Witten has had. Teams will double down on T.O. and that leaves the middle open for Witten. He has 96 catches for 1,145 yards this year which is huge for a tight end. Tony Romo has had some peaks and valleys this season, but he's still a Pro Bowl-caliber quarterback. If I was New York, I would concentrate on taking Witten away and see if they can win with Crayton and Glenn.
New York has a solid receiving group with Amani Toomer, Plaxico Burress, Sinorice Moss and Steve Smith. You can score points with that group. I think Jeremy Shockey's injury is eventually going to catch up with them. He was a big weapon for Eli Manning and you can tell they had developed a lot of confidence in each other. Eli has been performing at a high level the last few weeks and if he can keep that up, they should do a nice job against Dallas' secondary.
Cornerback Terrence Newman is going to the Pro Bowl. They have quick, fast corners, but they're going to give up height advantages to Burress and Toomer. Everyone knows about Ken Hamlin and Roy Williams and what they bring to the run game. They're physical, down-hill players and I think Dallas matches up well with Giants running back Brandon Jacobs. They have a solid group of linebackers with Greg Ellis, DeMarcus Ware and Bradie James. They can also rush the passer, too. New York's going to have a tough time scoring points this week against Dallas.