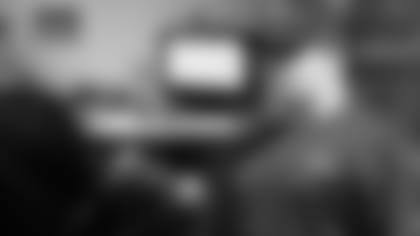 Throughout the season, 49ers Pro Personnel Scout Ryan Myers helps withadvance scouting which entails traveling each weekend to watch the 49ers next opponent. Myers provides evaluations and tips for the 49ers coaching staff. The pro department is also responsible for evaluating tape of potential free agents. Since he's watched a majority of the NFL teams, 49ers.com invited Myers to take part in year three of "What to Watch For" in the playoffs. Here's his take on the Divisional Playoff Round.
Cardinals @ Saints
**
I think the Cardinals defense stepped up big last week. We saw that they're ball hungry and were able to create some turnovers. Karlos Dansby was in on all three of them. He tipped the first one, and then was able to strip one. Then, he was able to scoop and score one for the win in overtime. I think that was the ultimate, deciding factor in the game as it was an offensive shootout in the desert.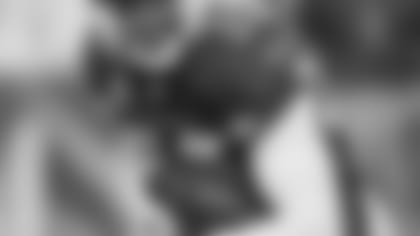 It should be noted that Aaron Rodgers was able to throw for over 300 yards in the second half. So, that could mean that Arizona might be susceptible to some big numbers this week against New Orleans.
For the Saints, they've got a passionate leader in Drew Brees who knows how to rally his troops. He's a smart football player and he knows how to win. He has some aggressive wide outs too. Marques Colston is a big football player who goes up and gets the ball. He's very aggressive. He's got Robert Meachem on the other side.
As potent as New Orleans passing game is, look for them to come out running. I expect to see a ground attack from them. They're going to try and control the clock and resort to the pass when they have to against the Cardinals.
The Saints have some good runners up front with Pierre Thomas, Mike Bell, and Reggie Bush. Bush is not just a running back. He's also a punt returner and I expect big things out of him this week. Look for him to take a punt back this week for a touchdown against the Cardinals.
On offense for Arizona, Steve Breaston and Early Doucet stepped up big last week. Anquan Boldin was out, so they filled in quite capably for him. Boldin should be back this week. With all of those targets, Kurt Warner must be pretty happy back there.
Warner played an almost perfect game last week with only four incomplete passes and five touchdowns. Needless to say, he has a lot of weapons on his side of the ball.
The New Orleans defense has a very strong leader at the free safety position in Darren Sharper. He's had a terrific regular season and has been able to create a lot of turnovers. He'll get his players in a position to make plays and they'll be all over the field. They've done an excellent job of rallying up turnovers and scoring on defense. They're going to be ball hungry.
The Saints two corners, Jabari Greer and Tracy Porter will be back for the first time since Week 8. I think that's going to help them out a lot. They'll need help up top from their safeties against the Arizona receivers. Sharper and Roman Harper are going to have to stay on top of those guys in order for the Saints to keep their home field advantage.
Gregg Williams, the Saints defensive coordinator does a great job. I think he'll have some twists and stunts up front for the defensive line, to get them on an edge and really get in the face of Kurt Warner. They'll have their hands up trying to get in his throwing lane and disrupt him.
The game's going to be played in New Orleans. The city will be fired up to see their team in the playoffs and the Saints will be fired up for their city. I think the Saints win this one.
I tell you what; Baltimore came out last week and set the tone early against New England. Their running back Ray Rice took one to the house on the first play from scrimmage for 83 yards and that was a great opening statement.
Obviously the Colts have to know that they're going to come out running and they're going to hit you in the mouth from the start. Defensively, the Ravens were able to come up with four turnovers and really just get after Tom Brady.
I think this week we can expect the same mentality from the Ravens.
Baltimore offensively, we can expect to see Rice first then Willis McGahee and the fullback Le'Ron McClain rushing for hard yards. They will try to limit the throws by quarterback Joe Flacco. He was only 4-10 on the day last week. Expect the same, grind the clock, approach. They'll try and get five yards a pop here and there, then bust one. They've done a pretty good job of opening up holes and clearing allies for their runners up front. There will be a strong emphasis on the hogs to maintain that trend this week.
Defensively for Indianapolis, look for a quick defensive line that has the ability to get on an edge and really penetrate the line of scrimmage. Look for them to cause havoc in the backfield. They'll try to shut down some allies and some running lanes and try to make the play in their backfield. They're going to try and play in Baltimore's backfield. Guys like Dwight Freeney have lightning speed off the ball. Robert Mathis is another good football player, both defending the run and the pass. That's why they were selected as the AFC's starting defensive ends in the Pro Bowl. Freeney is more of a pass rusher, but a good all around football player. The main objective of Indianapolis' defense will be to put the game in the hands of Flacco. They'll try and shut down the run and make him throw the football.
Look for a great matchup one-on-one between Colts linebacker Clint Session and Rice. They'll be going head-to-head all game.
Peyton Manning's in the cockpit for the Colts offense. You'll see limited mistakes and great decision making ability. He's a coach in pads. He has a rocket arm with an array of targets. Receiver Reggie Wayne is a veteran with playmaker ability. Pierre Garcon has stepped up big this season. Another great weapon is Dallas Clark at the tight end position. A guy like himself has the ability to create mismatches. Clark against a guy like Ray Lewis, who may be limited in his range, could be a big problem for the Ravens defense.
In terms of Indy's running game, Joseph Addai is a very hard runner. Up front they've done an adequate job opening holes when they have to. The game will be in Manning's hands and he can adjust on the fly.
Look for Baltimore's defense to try and get in his face. A guy like Terrell Suggs is going to be dipping and ripping off the edge. He had a strip and a sack against Brady last week. Look for him to try and do the same against Manning. A guy like Manning is going to feel that pressure and adjust to it.
There are some good matchups across the board in this game. Baltimore has a great defense and you're going to see a lot of bone crushing hits from guys like Lewis. You'll see passionate play from their defense as a whole. That's a great matchup in my eyes.
In the end, I'm taking Indianapolis in a close game.
**Right now, Dallas is on fire. All of their guys are stepping up when they have to, offensively and defensively. They're not going to fold over for Minnesota one bit. It's going to be a tough game for Minnesota.
As an offense, it's going to be very tough for Dallas to play at Minnesota. It's one of the loudest stadiums in the NFL and that's going to be to their disadvantage.
Cowboys running back Marion Barber is somewhat banged up. Look for guys like Felix Jones and Tashard Choice to step up in the run game. The Cowboys are ranked sixth in the NFL in the pass and Tony Romo will continue to utilize his targets like Miles Austin, Patrick Crayton, and Jason Witten throughout the game.
Austin is used as more of a rocket/quick slant type guy. You get the short pass to him and let him run a little bit. Crayton has been good at getting yards after the catch as well. Roy Williams' hands have been up and down, but he's big and physical. Everyone's used in a different manor.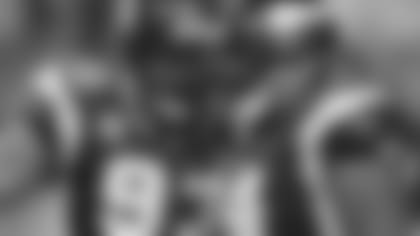 In terms of Minnesota's defense, they should be successful in stopping the run. Up front, it's going to be a battle in the trenches and a good one to watch at home. Kevin Williams and Pat Williams for the Vikings defensive line are two big, big boys. They'll go against Dallas' offensive line. They should be able to shut down the run, so look for a lot of passing from the Cowboys.
The secondary for Minnesota is ranked 19th versus the pass, which means they're going to have to step up big this week and be in a position to make plays. They do have some good players back there. Guys like Antoine Winfield, Madieu Williams, and Cedric Griffin.
Another good matchup to watch will be Cowboys tackle Flozell Adams against Vikings defensive end Jared Allen. Allen is an elite pass rusher. He's got 14.5 sacks on the season. He has the ability to get on the edge and create problems for quarterbacks. I think that his speed will be an asset going against Adams. He's very experienced, but Allen should find a way to get in the face of Romo on a couple of occasions.
On the other side of the ball for Minnesota, Brett Favre is Brett Favre, there's not much to be said after that. He's a gun slinger who can still make things happen. He has an arsenal at his disposal with playmakers like Sydney Rice and Bernard Berrian. He also has a rising star in rookie wideout Percy Harvin.
If the passing game gets shut down, they can always resort to Adrian Peterson. He's a violent, downhill runner, who has a rare combination of speed, agility, and toughness. The Vikings have some good football players up front too.
I think that the home crowd is going to play to Minnesota's advantage and give them the extra juice that they need. I'm picking the Vikings to win this game.
The numbers speak for themselves. The Jets defense is ranked No. 1 versus the run and the pass, and it showed up last week against the Cincinnati Bengals. They came to play and they will come to play again this week.
They love to blitz and dial up pressure off the edge. They'll definitely apply pressure to Charges quarterback Philip Rivers. I can see that happening in the first half, maybe Rivers taking a couple of shots here or there. But Rivers is a big, smart quarterback. He likes to push the ball down the field and use vertical routes and things like that. He has talented wide receivers like Vincent Jackson and Rivers is very aggressive looking for Jackson and his tight end, Antonio Gates.
At the running back position they have LaDainian Tomlinson, a proven factor in the NFL. They also have one of my favorite guys to watch, Darren Sproles, who can be a threat out of the backfield in a number of ways. He can get to the perimeter on any defense, so look for a lot of Sproles. He can impact this game, both on offense and in the return game.
But like I mentioned earlier, I think New York will use a lot of pressure early. Having said that, San Diego will have to adjust at halftime and get the ball out a little bit quicker in the second half, because I expect the Jets to be coming.
It should be a good matchup and we will see how well the Chargers handle that pressure.
We can expect the Jets to definitely come out running the ball on offense. Last week, Shonn Greene stepped up and rushed for 135 yards and we saw more of him than Thomas Jones. I think this week however, we'll see a combination of both Greene and Jones.
I expect to see the same type of game plan with the type of offensive line that the Jets have. They're going to try and hammer the Chargers. They'll do everything they can to take the pressure of their rookie quarterback, Mark Sanchez. Offensively, New York will be looking to control that clock and keep Rivers and the Chargers off the field with that run game.
San Diego's defense will need to focus on stuffing the run first and that job falls heavily on Chargers inside linebackers Brandon Siler and Stephen Cooper. But it will also be important for the outside linebackers, Shawne Merriman and Shaun Phillips to set the edge and contain. They are some of the best outside linebackers in the NFL and I expect them to be up for this game.
I'll take San Diego in a tight one.