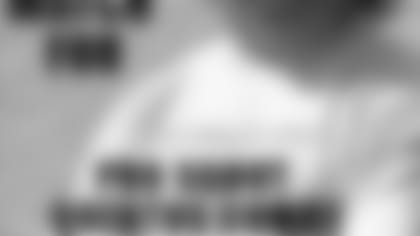 49ers Pro Personnel Scout, Quentus Cumby spends hours upon hours scouring NFL game tape to evaluate future free agents. He also does the advance scouting which entails traveling each weekend to watch the 49ers next opponent and then provide evaluations and tips for the coaching department. Throughout the playoffs, Cumby has been breaking down the teams still in the hunt. Find out what he had to say about the remaining four... **
San Diego at New England – Sunday January 20th 12:00PM PST on CBS
There is a little history between these two teams, dating back to their wild card playoff game last year that New England won in San Diego. The Chargers had that one in the bag before a mishap by one of my old teammates, Marlon McCree. I'm sure that's in the back of their minds and this is a chance for them to redeem themselves.
Philip Rivers has been playing well for San Diego, but both of his knees are a little banged up so we'll see if he ends up playing or not. They still have Billy Volek as their backup and he has a lot of experience, but I do expect Rivers to be ready to play. Wide receiver Vincent Jackson is big and physical and he has stepped up and made a lot of plays in the playoffs. Antonio Gates is still a question mark because he's not 100 percent.
Ladainian Tomlinson and Michael Turner are probably one of the best running back combinations in the league. Turner is a special guy and I think he would have a lot more touches and opportunities with just about any other team in the league. God forbid something happens to LT, but Turner is just as capable of going in there and picking up yards. He's a different type of runner. LT is a slashing, speed guy while Turner runs downhill, makes one or two cuts and runs through tackle, so there's a good change of pace when you change between those two guys. Fullback Lorenzo Neal practiced this week so he should get some snaps and help out their running game as well. Andrew Pinnock, their backup fullback, has been doing a good job for them while Neal's been out. They will need all those guys in the running game to play well considering what New England can do with their front seven.
Again, New England has three first round draft picks up front with Ty Warren, Vince Wilfork and Richard Seymour. Junior Seau will be a Hall of Fame linebacker when he retires. You also have Tedy Bruschi, Adalius Thomas and Mike Vrabel at linebacker so they are very talented.
San Diego's defense is no slouch either. Cornerback Antonio Comartie is having a ridiculous year this year. Quentin Jammer was a first-round draft pick at cornerback, and is also playing well. They have two solid safeties in McCree and Clinton Hart. They have Igor Olshansky and Jamal Williams at defensive end, Luis Castillo at defensive tackle and Shaun Phillips and Shawne Merriman at outside linebacker. Like I said last week, they have one of the best personnel groups in the league. They're good!
It will be tough for San Diego's defense however, because New England has Tom Brady and Randy Moss. I don't think any of the distractions surrounding Moss right now will have any impact on the game. He's a guy who can turn it off and turn it on and just go out and play football. It will be fun to watch Moss against Cromartie, and one of the biggest challenges Cromartie has faced so far because Moss is a special type of player. Cromartie is a gifted player, but Moss has been playing at this level for a long time and he's been in championship games before. I would have to give the edge in that match up to Moss.
I know New England beat San Diego the first time they played this year, but this is a whole new season. San Diego is hot right now and they're playing well right now. Both teams are very different than the first time they played each other.
The game is at New England so the elements will probably favor the Patriots because San Diego is a California team. Either way, this game has the potential to be one of the best playoff games in a long time.
New York Giants at Green Bay – Sunday January 20th 3:30 PM PST on FOX
This is going to be an interesting match up. Green Bay is hot right now and they're playing at Lambeau Field. Ryan Grant, their running back, had a ridiculous day against Seattle last week when he set a couple of franchise records. Their running game is clicking and they're playing at a high level, and Brett Favre is really in tune with his receivers, Donald Driver and Greg Jennings.
The Giants have good pass rushers and good linebackers, but their secondary is a little banged up right now. Cornerback Sam Madison didn't play last week and Aaron Ross has a dislocated shoulder so they're a little bit thin. R.W. McQuarters and Corey Webster will probably get the starts if Ross and Madison can't go. If that's the case, that secondary will be in for an uphill climb against Green Bay's receivers and will have to rely even more so on their front seven to get pressure on the quarterback.
Green Bay's left tackle Chad Clifton will be going mostly against Osi Umenyiora, and Michael Strahan will see more of right tackle Mark Tauscher. Clifton is one of the top left tackles in the league and Osi is probably one of the best pass rushers in the league so that will come out pretty even, and will be a fun battle to watch. Clifton is a big, solid, athletic offensive tackle, while Osi can do a lot of things athletically that a lot of people can't do in this league. Tauscher is not as athletic and there's nothing pretty about him. He looks like the guy on the couch but he just gets it done against some of the league's best pass rushers. I think you would have to give the edge to Strahan and I expect he'll win a few of their battles, but Tauscher is no slouch.
Eli Manning is playing very well right now and their running back, Brandon Jacobs, is really running hard. He's a big, physical back who's also fast. Once he gets started, he's hard to slow down. It's going to be a close, physical football game because both teams can pound the ball with their running game. Steve Smith, the rookie wide receiver out of USC has really been stepping up and making some plays for them. I watched and scouted him before we played the Giants this year and he's a good football player. He's a tough kid and he does a lot of things for them besides just catching passes as he's also a good blocker and a good route runner.
Green Bay is about as healthy as you can be at this point in the season. Their defense is playing well. Brady Poppinga, Nick Barnett and A.J. Hawk are really flying around at those linebacker positions. Cornerbacks Al Harris and Charles Woodson will match up pretty well against New York's receivers, Plaxico Burress and Amani Toomer.
Both teams are playing well right now, but it's going to be hard to beat Green Bay at Lambeau Field. That's a great stadium to be at during the playoffs. The crowd is really loud, they get into it and the players feed off of that. They are built to be able to play in the snow and do well in those conditions, and they're a big, fast, physical football team. That's a big advantage to have. New York's not exactly the warmest city in the world, but there's just something about playing in Lambeau Field that makes it tough for opposing teams to win.