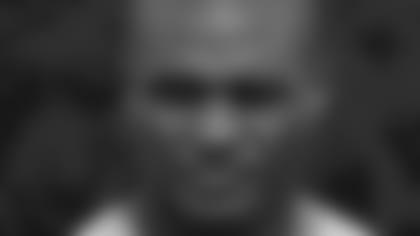 Throughout the season, 49ers Pro Personnel Scout Quentus Cumby helps do the advance scouting which entails traveling each weekend to watch the 49ers next opponent and then providing evaluations and tips for the coaching department. The pro department is also responsible for evaluating tape of potential free agents. Since he's watched a majority of the NFL teams, 49ers.com invited Cumby to return for year two of What to Watch For in the playoffs. Here's his overview of wildcard weekend. **
Wildcard Weekend, Saturday's Games
Atlanta at ArizonaAtlanta has definitely had a Cinderella season as did Baltimore and Miami. Rookie quarterback Matt Ryan came out and really did a nice job for them. He's asserted himself as their starting quarterback and he does not look like a rookie when you watch him on film. They also have two good running backs in Michael Turner and Jerious Norwood, who are really carrying that offense. Roddy White has also played very well this year and so has Michael Jenkins. As a matter of fact, I think he's the one who caught Matt Ryan's first touchdown pass. Those two receivers are solid and Ryan has all the physical tools you want in a quarterback. You can't ask for a better situation than to have a rookie taken in the first round of the draft come in, get a chance to start, and then produce at the level he has.
I think the reason he's been able to perform like he has is similar to the reason why Ben Roethlisberger produced in his rookie year. You need tools around you in order to be productive. I would say their offensive line is average, but they have a good receiver and they have two good runners. Norwood is more of a home run threat and Turner is a pounder and can finish games. When you have those guys surrounding you, it makes the quarterback's job a whole lot easier. It's not a situation where Ryan has to go out there and win the game. Instead, he can manage the game and allow the players around him to make plays. The running backs allow them to gain good yardage on first and second downs so he doesn't have to make a big play on third and long.
Arizona is running a 3-4 defense and they're a tough group. We play them twice a year and they really fly around. When you watch them on tape, their linebackers Travis Laboy and Karlos Dansby really jump out along with defensive lineman Darnell Dockett. They do a good job of getting to the football and when they get there, they hit you in the mouth. They play a physical brand of football. I think they match up well with Atlanta. I would say the weakness of the Arizona defense is probably their secondary, even with Adrian Wilson. He's a tough, physical box safety. Nonetheless I think there are some holes there where White and Jenkins can have success. Arizona does a good job at stopping the run since they are tough up front, but the Falcons should have opportunities in the passing game.
I think Ryan will have a couple situations where he'll have to make plays. The Arizona crowd is going to be jacked up and it's Ryan's first start in the playoffs. He will be challenged, but he's answered the bell so far this year.
On the flip side of Ryan, you have Kurt Warner, a Super Bowl quarterback who has definitely proven himself and had a great year. He's got those two monsters on the outside in Anquan Boldin and Larry Fitzgerald and Atlanta's secondary does not match up with those guys. They have Brent Grimes at cornerback, who wasn't drafted, and their other cornerback is Chris Houston who was a second-round draft pick in 2007. Grimes is a small corner but he competes. He has short space quickness and quick feet. He can do everything you want him to do, but he is a small guy and Arizona has some big, physical receivers. I know that the Atlanta corners are going to compete hard, but I think they're outmatched. I think they just have to try to slow those guys down before it gets out of hand.
Arizona can also run the ball with Edgerrin James. Although he's not having the type of year like he has in the past, he's still a good running back. Edge is more experienced than Tim Hightower and this is the time of year where you want to go with the vet who is proven and can do it. They'll probably switch them off and let Hightower get his carries as well.
This is a huge challenge for Atlanta's defense. They do have John Abraham to rush the passer as well as Michael Boley and Curtis Lofton playing well at linebacker. Up front, they're fine, but that secondary has a challenge in front of them.
I think I'm going to have to go with Arizona in this one because they play tough defense and I don't think Atlanta has enough horses in the secondary to keep up with those guys.
Indianapolis at San Diego
San Diego is interesting. You thought those guys were almost out of it and now they're division champs. They came on strong late just like they did last year. Philip Rivers has had a tremendous year. LaDainian Tomlinson looks like he's finally getting back from his toe injury and he looks like he has more juice than he did earlier in the season. They also have Chris Chambers, Vincent Jackson and Antonio Gates so Rivers has a lot of weapons. They're a dangerous team because they do have the personnel to be successful. The last two years they've gotten off to such slow starts and that probably has to do with age and injury.
Indianapolis is hot right now – they've won nine straight. You can make a case for Drew Brees being MVP, but I would give it to Peyton Manning for what he's done after being out of the preseason with that knee injury. Marvin Harrison missed some time and now he and the offensive line are healthy. Anytime Manning is in stride, Indy is a dangerous team. Without Peyton Manning, they won't go anywhere, but I would never bet against Manning.
The Colts have to travel out to San Diego and that stadium is loud.
San Diego has a good defense and they have some people who can rush the passer. They're not the same though without Shawn Merriman. Jamal Williams and Luis Castillo are top players. Jamal is older and Luis is just now getting healthy. Antonio Cromartie can't do any better than he did last year but he's still playing well.
Getting Bob Sanders back will really help though. Sanders is to that defense what Manning is to that offense. When they have Sanders, they're much better against the run and they're much tougher. It almost seems planned how he was hurt for most of the year, but come playoff time he's ready to go. That guy is amazing and he does just about everything. They'll put him in the box and they'll play him deep. I don't think he does too much man-to-man coverage, but the way they use him, how he gives up his body and the way he plays the game is incredible. For a small guy, he delivers such a punch and can deliver a blow. His presence is felt on just about every play. When you have a presence like that on the field it fuels the rest of the team. It's like a virus – it just spreads.
Their defense is also helped out by Manning and the offense. They can eat up the clock and sustain drives. That's perfect for the Tampa 2 defense that they run. They want you to get behind and once they have you behind, they peel their ears back and get after the quarterback with Robert Mathis and Dwight Freeney.
I think I'm going to have to go with Indy on this one because they have nine straight wins and like I already said, I don't want to bet against Manning.
Wildcard Weekend, Sunday's Games
Miami is an interesting team. I evaluated those guys this year and personnel-wise they're not what you would call a "playoff football team." They are well coached and they don't turn the ball over. They're fundamentally sound and they don't make mistakes. They'll run that wildcat and they'll nickel and dime you down the field. Davone Bess is their Wes Welker in that offense. He has good short space quickness and can make you miss. Ted Ginn is their deep threat and he's really come on this year after a disappointing rookie year. Chad Pennington reminds you a lot of Shaun Hill. He may not jump off the page physically, but he wins football games. He manages the game and he doesn't turn the ball over. The wildcat is really a significant part of their offense and they do a good job with it. Their offensive line is average but Jake Long is going to be a very good player.
It comes down to coaching with that team. I don't know how much Bill Parcells is involved with the x's and o's, but I know that the way that team plays ball, it's a Bill Parcells type of team. They control the ball, eat up the clock and play tough defense. They were 1-15 last year and they won the AFC East this year, which is a pretty good division that includes the Patriots
The Dolphins are tough on defense and in the secondary. Will Allen has had a great season. Their middle linebackers, Channing Crowder and Akin Ayodele, do a good job and they're tough and physical against the run. They also have Jason Ferguson who is one of the top nose tackles in the league. Kendall Langford, a rookie defensive end out of Hampton, is starting for them and doing a good job. What can you say about Joey Porter? He's by far the best pass rusher they've got. He said if you put him in a 3-4 defense, 10 sacks is a given and he's got a whole lot more than 10 sacks right now. I can't say enough about their safety play as well. Yeremiah Bell is a tough guy who is active in the box. Nobody knows about him but he really does a good job. It's a good defense overall.
I think this is going to be a low scoring game because both teams have good defenses. Baltimore has Terrell Suggs, Ray Lewis and Ed Reed. They have a marquee player at a number of positions on defense. You can't say enough though about Reed. His instincts and ball skills are second to none. He's instant offense when he gets an interception or a fumble. When he has the ball in his hands, he's thinking six.
How well quarterback Joe Flacco has played this year may be one of the surprise stories of the season. That's another situation similar to Ryan in Atlanta where you have a young quarterback surrounded by good players and a guy like Flacco who is playing within himself. He just has to get them the ball and let them make plays. They have some good running backs in Ray Rice, Willis McGahee and Le'Ron McClain. They also have Derrick Mason, who I think is one of the best receivers in league because there are so many things he can do. He's an awesome route runner, he catches the football, he's a vet and he's been doing it a long time. When you team him up with Mark Clayton, it's a great compliment to him.
This is going to be a tough game, but I'm going to go with Baltimore. I expect Baltimore to be more efficient on offense and they have a better chance to make big plays. Miami's offense is so vanilla. I don't think they'll be able to go 80 yards and score on Baltimore's defense, but I think the Ravens are capable of taking it 80 yards.
Philadelphia at Minnesota
This game is really going to come down to which Eagles team shows up. They've been hot and cold all year long. After getting benched, Donovan McNabb has really turned it on and now Brian Westbrook is healthy. They have a solid tight end in L.J. Smith and DeSean Jackson out of Cal has done a nice job at receiver. He's made some rookie mistakes, but you can't knock his ability and what he brings to the table. McNabb is going to carry that squad and they'll be able to make some plays.
Minnesota has a defense that can really cause some problems for Philly. In the secondary, they have Darren Sharper, who is no longer athletic as he used to be, but I was in Green Bay with Sharper and he's one of the smartest players I've ever been around. He studies so well and really knows what's going on. Antoine Winfield is probably the toughest corner in the league in terms of run support and he's a good cover guy. They have some pass rushers on the edge and Pat and Kevin Williams in the middle, giving them a great defensive line. Jared Allen really gets after it and he's a high motor guy.
If you have a front-seven like that, it's going to make the back half of the defense that much better. I would say the weakness of the Vikings' defense is probably their linebackers.
On offense the Vikings have one of the best running back tandems in the league with Adrian Peterson and Chester Taylor, as well as one of the best offensive lines with Steve Hutchinson and Matt Birk. They're pretty darn good up front on both sides of the ball. Peterson is big, fast and he's a violent runner. Taylor has good speed and burst and he's more of a home run threat.
Quarterback Tavaris Jackson has been playing a lot better in the second half of the season. If he starts, their two running backs are going to get a lot of carries. Jackson's best threat at receiver is definitely Bernard Berrian. He kind of falls through the cracks, but he can run great routes, get up field and beat people deep. He's exciting to watch.
On defense, Trent Cole does a nice job rushing the passer for the Eagles. Brian Dawkins is getting older but he still has a presence out there. He's the leader of that group. Sheldon Brown is a good corner and he makes some plays for them.
The way they handled Dallas last week, they showed that they're playing well right now. Other than the turmoil Dallas has in the locker room, they're probably the most talented team in the league and they didn't make the playoffs.
They key for the Eagles is going to be stopping Minnesota's running game. The Vikings offense is pretty basic. They establish the run and then hit Berrian on play action. There's not much to figure out with those guys, but they're very good at it. If Minnesota can't run the football, Philly is going o have a good day.
I'm going to roll the dice on this one and I'm going to take Philadelphia. I think they'll be able to slow down the run and key in on Berrian in the passing game. That means I'm taking three road teams this week. Be sure to check in next week and I'll give you an inside look at the upcoming matchups.