If you've ever poked your nose into a team meeting room and heard a football coach talk over film or a projector slide, you've heard opposing players referred to only by their numbers.
We have got to make sure we put a block on 97!
You need to jam 80 at the line of scrimmage!
Let's not give 36 any reason to dance!
It seems dehumanizing, doesn't it?
But a football player's number is like a pilot's call letters.
When his helmet is on and he's just one of 22 players on the field, the digits on his back serve as his identity.
Well, some see it that way. There are other ways of looking at a number.
"They gave it to me for my first training camp. I kind of wanted to wear 5, but one of the other guys in camp already had it. Now I love it – learned to love it.
"Phil (Dawson) wore 4 in Cleveland, but he never even asked me for it."
13 – Wide receiver Stevie Johnson
"In high school, I had 80. When I got to Kentucky, they didn't have any numbers in the 80s. The equipment guy there said, 'Well, we have 13' like it was trash. So I took unlucky 13. I wore it in Buffalo with the Bills, too.
"I like it because the '1' and '3' look like my wife's initials, 'LB.'" 
22 – Cornerback Chris Cook
"I wore 2 growing up. That was my digit back in the day. I wore it as a senior in high school and in college, too. It was always my favorite number because that's what Charles Woodson wore at Michigan, and I loved watching him play, especially the year he won the Heisman Trophy.
"When I was with the Minnesota Vikings, 22 was taken, so I went from 31 to 20. In the NFL, 2 is for kickers and quarterbacks, so I just added a 2 to make it 22."
23 – Running back LaMichael James
"That's what was available to me. I wore 21 at Oregon. Anything in the 20s is alright. But when you get into the 30s... 36, I think, is ugly. No disrespect to whoever has 36 (Dontae Johnson), 37, 37, 38... those are funky numbers. 
"The number doesn't really make you; the player makes the number. That being said, I don't want to go out there and be 29."
29 – Cornerback Chris Culliver
"I didn't choose it, but it's stuck on me. It's me now. Like reppin' it."
49 – Fullback Bruce Miller
"I wore 9 in high school, but when I got to Central Florida they wouldn't give it to me because I was a defensive end. I wanted to keep the 9, so I asked for 49.
"When I got drafted by the 49ers, so the whole thing seemed to make sense."
50 – Linebacker Chris Borland
"I didn't care either way. I wore 44 in college. Now that I'm 50, I'd like to stick with it. Your number becomes part of who you are with the team, so I don't want to change."
51 – Linebacker Dan Skuta
"I wore 51 with the Bengals, and I really didn't pick that when I was with them. I was 46 in the preseason over there and I didn't really like that, but when I went up to the team from the practice squad, Marvin Lewis gave me 51. It kind of stuck. I like it here, too.
"In a way, it is important. The way I play, I'm always trying to gain respect, and I want people to see that 51 out there and know who that is and know that they're going to have to battle me."
52 – Linebacker Joe Staley 

"I wore 49 at Ole Miss. When the 49ers drafted me, they asked me if I wanted any different numbers, and none of them looked better to me than 52 and none sounded better than 52. On top of that, I've known or watched some guys over the years, Ray (Lewis) being one in particular, to wear number 52. What a great number to wear. It's a special number for the middle linebacker position. I just wanted to take that number and make it a good one." 
53 – Linebacker NaVorro Bowman
"They gave it to me. I wore 18 and 11 at Penn State."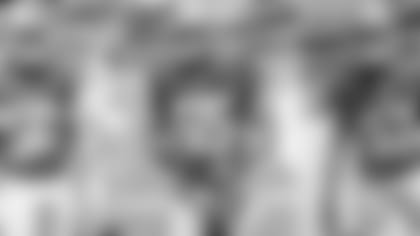 55 – Linebacker Ahmad Brooks
"That was the one they had for me. I wore 34 in high school, but that's not eligible for 'backers in the NFL. Safeties get to wear my number."
57 – Linebacker Michael Wilhoite
"They just gave it to me. In college, I was 16. I never gave my number much thought."
67 – Center Daniel Kilgore
"I didn't get a choice. They gave it to me. But I'm glad I got it – it was my high school number too."
71 – Offensive lineman Jonathan Martin
"I wore it in high school because it was what was available, then had 55 at Stanford. Football players are creatures of habit, so it's good to have the same number again." 
77 – Left guard Mike Iupati
"In high school, I was 78. When I got to Idaho, all they had was 77, so I thought, 'OK, I'll make a new name for 77.' And when I got drafted by the 49ers, they had it, too, so I took it. I wear it with pride, but it's really the last name on the back and the San Francisco on the front that you represent."
83 – Defensive tackle Demarcus Dobbs
"I went through a whole lot of numbers here. I'm on my fourth. I wore 78 my first year because I was a rookie and rookies don't get first preference. Then I was 96 because I was just going to play d-line, and I needed a real d-line number. Then I became 40 because the team was trying me out at tight end, and I needed an eligible number so that I didn't have to report to the refs as eligible every play on offense. After 40, I changed to 83 to be eligible for both tight end and d-line.
"And I like my number now because I'm a part of what we call the '3 Gang.' If you go down the list of players with 3s – starting with LaMichael James, Craig Dahl, NaVorro Bowman, Tony Jerod-Eddie and Ian Williams – you'll see that we're all a bunch of beasts.
"No, I hope to stay 83 – unless they change it up on me again."
92 – Defensive tackle Quinton Dial
"I wanted to change my number after last season's NFC championship game. I felt like 71, which they gave me when I was a rookie, was more of an offensive lineman number. So I came in and asked Steve if I could change. I think 92 was the only one available, and I plan to stick with it. 
93 – Nose tackle Ian Williams
"I started out with 64 because that's what they had at the time. I always wanted to be 95, like I wore at Notre Dame, but Ricky Jean-Francois had that when I started out here. When I did switch, I went with 93 because it's close enough. I'll tease Mike Purcell about his 64 once in a while."
95 – Defensive tackle Garrett Celek
"When I got here, they had a couple numbers in the 90s available. I wanted 91, but I didn't ask about it because it's (taken).
"I wore 90 in junior college. I went up one in college. Hopefully I'll get to wear it again at some point (laughs). I had a lot of success with 91."
Your turn – What number would you wear and why? Let us know in the comment section below.