WELLS FARGO DONATES MORE THAN $500,000 TO SAN FRANCISCO 49ers FOUNDATION
Wells Fargo, the official bank of the San Francisco 49ers and the top corporate giver among financial institutions, has donated more than $500,000 to the 49ers Foundation over the last three years.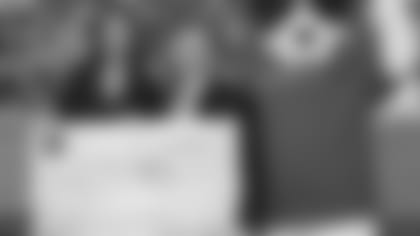 The 49ers Foundation, one of the National Football League's largest charitable foundations, recently announced $1.5 million was distributed in grants and contributions last year to various non-profit agencies throughout the San Francisco Bay Area. The $1.5 million was the largest annual amount raised and distributed since the 49ers Foundation's inception in 1991.
The 49ers Foundation partnered with Wells Fargo for its 2007 Pledge Program. The Pledge Program is based on player or team statistics. Wells Fargo donated $5,000 for every 49ers touchdown during the season. The $165,000 from Wells Fargo, which helped the Foundation reach its milestone, came from 33 team touchdowns.
The 49ers Foundation, partially funded by 49ers team owners Denise and John York, is the non-profit community funding arm of the San Francisco 49ers. Money raised supports development programs for underserved youth that keep them safe, on track and in school. The foundation addresses safety for Bay Area youth by funding family violence prevention programs and keeps young people on track through programs that support success at school with a special emphasis on teaching leadership and respect.
49ers players and coaches play a large role in the Foundation's annual fundraising efforts. The 49ers Foundation holds five annual fundraisers; Celebrity Crab Cracking; Pasta Bowl; Hedge Funds Cares; Cadence Stars & Strikes; and the signature fundraiser, the Winter & Wine Fest. Players and coaches lend their star power to the events to draw large crowds and in turn, large donations.
The organizations receiving grants include; DonorsChoose; Fresh Lifelines for Youth (FLY), Bayview/Hunters Point YMCA; Willie Mays Boys & Girls Club at Hunters Point; Resource Area for Teaching (RAFT); Knowledge is Power Program (KIPP); Domestic Violence Consortium; Family Violence Prevention Fund; Mission City Community Fund; Edgewood Center for Children and Families; the 49ers Academy; and Bayview MAGIC.