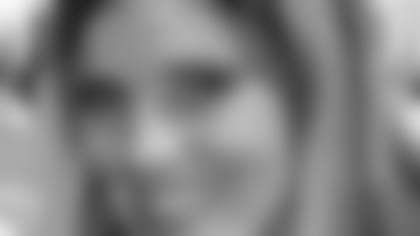 Over on our social networking site, 49ersfaithful.net, we have a few official team bloggers including some staff members and two of our players in Manny Lawson and Marcus Hudson. Here's a blog from 49ers.com writer Chrissy Mauck with a recap of the first week of the 49ers off-season strength and conditioning program.**
The first week of the off-season conditioning program ran very smoothly at 49ers headquarters.
I didn't observe the weight room routines, but players went through a different workout virtually every day this week when it came to the conditioning portions of their training.
The first couple of weeks are all general conditioning, but head strength coach Duane Carlisle still keeps the groups fairly geared towards their position. That meant one day the little guys ran the hill, while most of the offensive and defensive linemen pushed sleds. Justin Smith crushed the sled workouts, winning the majority of the races, although Adam Snyder and Melvin Oliver also snuck in a few Ws.
On Thursday, all three groups (little and big guys) got their heart rates up in the pool, and again, each workout was tailored towards a player's position.
It was the first day I had seen Michael Robinson or Nate Clements around this week, although I think they may have come in on Wednesday, which is a make-up day.
You may think of the pool as an easy and breezy workout, but I really thought some guys were possibly going to give it up. I already mentioned a few guys who definitely don't move well in water in my other blog, but props to Bryant Johnson, Manny Lawson, Cooper Wallace, Adam Snyder, Joe Staley and Isaac Sopoaga.
Carlisle said he was very impressed with Snyder, but as a surfer who grew up in southern Cal, Snyder's said he's had plenty of practice in the water.
In other news, Coach Nolan visited the NFL Network site this week on Wednesday, re-asserting that the starting quarterback position is fair game between Alex Smith and Shaun Hill.
"It will be an open competition," said Nolan on set of the NFL Network. "It's no one's job to lose. It's both guys' job to take."
Smith, a former number one draft pick is entering his fourth season with the 49ers, and will be working with his fourth offensive coordinator.
"I'll do everything I can to make sure that he's got the best opportunity to be a good player," said Nolan of Smith. "There's not much more I can do for him right now than giving him Mike Martz as the offensive coordinator. That's a pretty damned good gift. That's like giving your kid a Maserati. 'Here ya go, buddy. You know you wanted a nice car, I just gave you one.' We'll see if he can drive it."