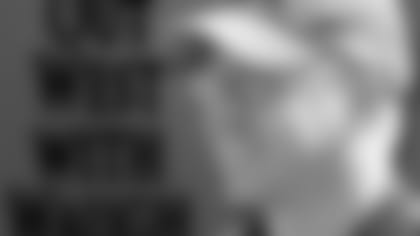 While the NFL Combine is really just starting to get underway, Scout Ethan Waugh's Combine experience kicked off a few days ago. Find out what he's been up to in this blog from Indy.**
I flew in for the Combine on Monday on a 6:45am flight from SFO to Indianapolis. I actually got bumped up to first class so I was a little more comfortable than normal. However my good luck didn't hold out, as a three hour layover became even longer when we had another hour delay due to weather in Cincinnati. During that time I just kept thinking about how I could have driven from there to Indy in considerably less time.
It is extremely cold here in Indy, but the great thing is that you can get all over downtown without going outside. Most of the hotels around here are connected to the Convention Center and the RCA Dome via walkways, so it might take a little longer but you can stay warm!
Monday evening I set up our interview room over at the Crowne Plaza Hotel which is where all of the players reside during their time here. I hung various banners and backdrops – just a little light decoration to remind the players what room they are in and who they are speaking with. We also bought all kinds of supplies – water, snacks, gum, and mints to satisfy all of the scouts, coaches, players and other staff we have here for the entire week.
I had sent via FedEx four boxes of interview books that were supposed to be here Monday but only one box made it. The other three boxes got on the truck on Saturday but that's as far as they went apparently. They finally got here on Tuesday so I was able to get those organized and ready to hand out to our coaches and scouts once they arrive.
The books have profiles of each player and all of the guys who each coach or scout has to interview during their time here. We interview 60 players officially as a group (Scot McCloughan, Mike Nolan, Trent Baalke, the offense or defensive coordinator, and the position coach for that particular player), but then essentially anyone else we have an interest in, our other coaches and scouts will interview in a separate setting one-on-one. The o-line coach will interview all players at his position, scouts will talk to all of the kids in their area and so on. Our coaches and scouts do a great job of getting those done in the brief time that is allotted for them.
I really like the interview process and the chance to learn more about these guys. It's particularly refreshing to see kids who aren't rehearsed and really genuine. I think that goes a long way in selling themselves.
On Wednesday I handled some last minute credential requests and hotel changes and got the trainers set up to use their new Injury Management Program. One of the most important elements of this week is getting the medical grade done on all of these players. With this program, our medical staff will input any missing information from the player's complete medical history going all the way back to junior high. They will also enter a medical grade that will be issued by the staff of trainers and doctors. In the past I used to have to get a printout from them and then go enter all of the medical information, but they'll be doing it onsite and as they go, and it will be shared with Scot McCloughan, myself and Trent Baalke. As soon as they input it, we'll be able to see every player's medical grade and how the doctors feel their potential is to stay healthy at our level.
We had a plus three hour meeting early on Wednesday with NFS (National Football Scouting) to go over the list of juniors who are entering this year's draft. It gave us a chance to compare our information to theirs and make sure we had all bases covered.
The last of our scouts arrived by lunchtime and the first group of players also began arriving on Wednesday.
The first group to come in consists of specialists and some offensive lineman. They had their weigh in early Thursday and then will be the first group to work out on Friday morning. The last group is on Tuesday with the defensive backs so it's a long week and a lot crammed in, non-stop.
There's always a workout warrior that really shines but you have to keep yourself focused on the big picture – he's got to run fast, play well on tape, be a good person and really want to be a pro football player. We are looking for all of those traits so we won't get hung up on someone just because of an impressive workout.
When it comes to running fast, we expect to see many impressive 40 times, but running back Jamaal Charles from Texas is one guy who everyone definitely expects to be fast. He was a Big 12 track champion so he's a guy who you would expect to run well, and he certainly plays the game fast as well which is important. If they can't run fast with helmets and pads on, then they won't make it at the next level.
I think a lot of people are mostly curious about all of the underclassmen because you really don't know how tall they are exactly or how much they weigh because you can't spend that much time on them in the fall. We've done the work on them in terms of their ability since they've declared, but now we need to make sure that their bodies are that of NFL caliber. There are always guy listed as six foot in the school program but he's really only 5'10, so we'll be looking at the measurables of all the juniors this week.
We are excited about this Combine. We think it's a great draft and that there are a lot of great players here. We just have to find the ones who fit us and will make us a better team. We think we have a leg up because of our Senior Bowl exposure to them and how well our guys did their work in the fall, but we'll round out our information over the course of this Combine.