Those are the first words the 49ers quarterbacks are saying these days when they get to the line of scrimmage, sending their receivers, tight ends or running backs in motion.
Offensive coordinator Mike Martz could come up with something more elaborate once the actual season hits, but in this early stage of passing school sessions "go" it is. And that's exactly what 49ers fans are looking for in the upcoming season – an offense that is going somewhere.
The last ranked offense in the NFL a year ago has their work cut out for them, and it's gotten started over the last few weeks in short passing school sessions under the scrutiny of its new mastermind.
"We are trying to get so much of our formations and movements in," said Martz. "With every snap that we do on offense, we try to move and shift which is a little bit new for them. The speed and the tempo of it and where everyone needs to be is a little different, but it's going pretty well. They've absorbed things very quickly and now when you start adding the plays and all of the moving and shifting with each one, it gets a little bit confusing. I'm sure there will be some brain cramps, but I'm really pleased with the effort, and the attention to detail has been very good."
It's hard to ascertain too much out of the sessions since the unit isn't facing a defense, but it's an organized looking group out there working on a well-rounded variety of plays, and Martz expects the work to pay off at next week's mini camp.
"This group will be way ahead of the rookies when they come in because we've gone through everything we are going to do in mini camp already," said Martz. "We've walked thru it, we've taught it, and we've practiced it a little bit out here. When we get out at mini camp and get to do it against the defense, it should be fun."
Although the offense has been installed and reviewed during these sessions, the bulk of the time is dedicated to throwing and route running. Each group works separately with their position coaches and then the quarterbacks typically split up. Alex Smith and Shaun Hill might work with the receivers at one end of the field, while J.T. O'Sullivan and Drew Olson work at the other with the running backs and tight ends, or vice versa.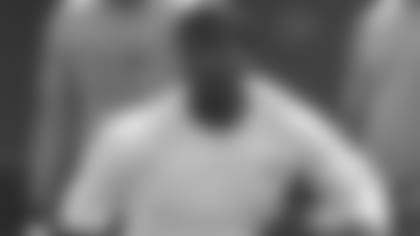 "The timing is coming," said Smith. "Sometimes we're out here and we're each working on different things ourselves. The quarterbacks are working on our stances and our drops. I think this is a time where you can definitely work some of that out and do it at a teaching pace a little more. When you get out in mini-camp and in practices, it's a little more non-stop and you don't get that teaching tempo necessarily."
While the big news this off-season has been about the quarterback competition between Hill and Smith, Martz said teaching is the truer priority at this point.
"I think the competition part of it doesn't really materialize until the guys get familiar with what we are doing," said Martz. "When these guys are clued into the terminology, the plays, the protections, there is so much for them to learn yet, and so when we get to the point where everybody has a pretty good grasp of what we are doing, then I think the competition really starts to settle in. These guys need to worry about getting ready, not so much the guy next to them."
The guys who potentially have the most to gain don't seem too concerned either over the brewing quarterback battle.
"With a lot of our routes, the ball is in the air before we get out of our them, and all of the quarterbacks are doing so well that we can't tell who's throwing the ball until we run back to the huddle," said wide receiver Ashley Lelie. "I think that's a pretty good thing because whoever comes out on top is going to be really good and everybody behind him is going to be really good too. The main thing with this offense is timing and everybody is starting to get that timing down."
Timing is critical to the success of this offensive scheme and can be slow to develop, but newcomer wide receiver Bryant Johnson insists that it's coming along quickly.
"I think everyone has been pleased with how Coach Martz has come in and implemented the offense and how technical he is about things," said Johnson. "Things have to be a certain way with him and that's important for timing. This is a timing offense and if you don't have that, it'll be hard to execute. We are still learning and we have a lot to improve upon, but we are out here trying to get better right now, and I think the sky is the limit for what this offense can do this year."
But for now, it's just good to see this offense GO.
Make sure to also check out our TV 49 video on the Passing School sessions by clicking here!