A 6-4 overall record doesn't come close to reflecting just how truly talented the Dallas Cowboys are on both sides of the ball - as head coach Mike Singletary put in on Wednesday, the Cowboys have "wall-to-wall talent."
Indicative of that talent, Dallas sent a league-high thirteen players to the Pro Bowl last year. The only one of the thirteen currently not playing is safety Roy Williams, but the Cowboys also picked up another elite player this off-season in seven-time Pro Bowler in Zach Thomas.
"I can't talk about just one guy," said running back Frank Gore. "They play well as a group. They are a good team. They've been struggling but they've got their quarterback now and they are fully loaded."
The Cowboys welcomed back Tony Romo with open arms last week, knowing that their hunt for the playoffs and future success relies on having their gunslinger back at the helm of the offense.
While San Francisco has a scant shot at a playoff berth, the team seems to have found a winner in quarterback Shaun Hill, who like Romo, started out his career as an undrafted free agent.
Hill spent nearly six years in complete obscurity as a third-string quarterback before finally getting a chance to start in December of 2007. He won both of the games he started then, and nearly pulled off an upset win over the Cardinals in his first start of '08.
"There are times it gets tough just sitting there but persistence pays off," said Hill. "You just have to come to work every day and put all of that aside and try to get better."
Hill left nothing to chance in his second start this year, becoming the first 49ers starting quarterback ever to post a perfect passer rating of 158.3 in the first half against St. Louis. The closest anyone else had come to that mark was Steve Young, who back in 1997 had a 156.5
QB Rating against the Saints.
Hill led his team to five straight touchdown drives, accounting for three of them himself with two touchdown passes and a third via rushing, racking up a 35 point total that allowed the 49ers to wallop the Rams.
"I'm happy for him, especially having to fight for his job at the beginning of the year," said Gore. "Even though he didn't win it, he still stuck in there, stayed in the playbook, and he got his opportunity and now he's playing good ball and trying to run with it. I'm just happy for him."
Hill's efforts not only put an end to a six-game losing streak, but earned him NFC Offensive Player of the Week honors, an award that he characterized as more of a team accomplishment than an individual achievement.
"It was kind of a surprise, but anytime a quarterback gets an award like that, it's a direct reflection of how the whole offense played and in this case, how the whole team played, the defense and the special teams set us up with field position and then the way the whole offense executed," said Hill. "The offensive line obviously played unbelievable and all the skill plays made great plays."
While Hill's teammates appreciated the credit their quarterback bestowed upon them, they but didn't seem to share in his surprise.
"Shaun is a football player. He's very tough," said Gore. "The play to DeShaun Foster, was just him being a football player and playing football. It wasn't designed to do that. It just broke down and he kept his poise kept looking down the field and dumped it off. He's a football player and that's all you want on your team."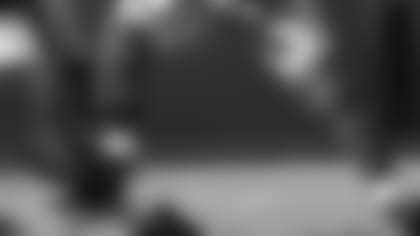 Gore is also one of those true football players, and like Hill, will be called upon to rise to the occassion against this weekend's talented Dallas team.
The Cowboys have been built offensively to wear down opposing defenses with their run game, something they did in the win over the Redskins as Marion Barber took over the fourth quarter. The 49ers believe they're capable of doing the same given the talents of their Pro Bowl back.
"If we can get Frank to the second level, I would take Frank over any linebacker or db in the league," said starting right tackle Adam Snyder. "Frank has shown over the past four years that he's one of the best running backs in the league. All we have to do is take care of the front five, do our job and he'll do the rest."
Gore exited last week's game after grinding an 8-yard run that put him over the 100-yard rushing mark. Reaching similar numbers this weekend won't be easy; the Cowboys have allowed only three players to surpass 100 rushing yards this season in Steven Jackson, Brandon Jacobs and Clinton Portis.
"You have to get the run game against them and it's a bit different with the 3-4," said Gore. "We have to try to get to the bubbles, keep going at them and keep banging away. Last week watching the Redskins game, they played good. They are a good team. They've got a lot of talent. We just have to go after them."
Singletary continues to hammer home the importance of getting after their opponent and controlling the line of scrimmage. The offense lived up to those instructions in the first half of the Rams game, but started to lose ground as the game came to an end.
"I think last week we kind of slacked off in the fourth quarter," said Gore. "We can't do that. We've got to finish. We haven't done that since Detroit game. This week, we have to. We will work on it all week in practice and try to get better. "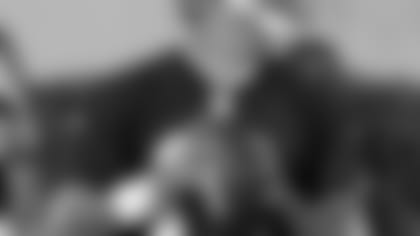 It's been said and written many times that Shaun Hill isn't necessarily the best practice player in the world.
As Gore explains it, "He just plays better [in games]. In practice, you'll see a ball go one way and a player go the other way, and in the game, he's just hitting everything. He's just a gamer."
In his defense, head coach Mike Singletary believes it's a case of Hill trying too hard.
"When you look at practice Shaun Hill, it's a matter of him trying to make every throw perfect. Practice Shaun Hill also has Mike Martz on his tail, constantly, all the time. Everywhere he looks, everywhere he moves. Mike Martz is very demanding of him, which is a great thing. I think sometimes Shaun Hill is just really excited for game day so he can play with a little distance. I think he's happy on game days."
Hill said it's also a matter of digesting everything that is included in Mike Martz's weekly game plans.
"Practice is hard just because you are getting the game plan, like in this case like this morning. You're going out there and trying to execute that. The longer the week goes, then you get far more study time in it and by the time you get to the game you have far more comfort in the game plan."
And after having Martz is in his ear all week with enormous demands, Singletary believes game days become that much easier for his quarterback.
"It's sort of like, to me, I look at it as you're trying to play golf. I hate when I'm playing golf, which isn't very much, maybe twice a year and it shows. But when you're playing golf and you're trying to play and you've got this guy standing there saying, 'Put your head down. Straighten your arm out. Don't bend this. Don't turn your hips, and all that kind of…' You're like, 'Man, I'll be glad when this is over.' I think that's kind of where Shaun is, and so that game day situation you have a little time to relax and think, 'Okay, this is what I have to go through' on your own and make it right."
The 49ers have allowed 36 sacks on the year, which position them at third most in the league, but those numbers have declined in the last two weeks as Shaun Hill has been sacked just two times in two games.
Quite the challenge comes the way of the offensive line this week as the Cowboys and their 29 total sacks rank them at fifth overall in the NFL.
The man primary responsible for that high sack total is outside linebacker DeMarcus Ware, whose 11 sacks tie him for third in the NFL.
"He's good," said Snyder. "He's very physical with his hands, has great speed up the field and he loves to pressure the quarterback and that's what he does well. It will be our job to stop him from doing that."
Gore said he's also been impressed with the way Ware plays the run.
"I think he can play the run and also he's a great pass rusher. He can do both. Every time I get a chance to get a chip on him I have to do it and kind of mess with his head."
Jacob Bender was doing some shopping at the grocery store while the 49ers were busy seeking his rights.
"I was looking to fill up my fridge for the week. And then my agent called me and asked me how I felt about coming out here and I was like 'absolutely.' And he's like 'I'll get back with you shortly.'"
Instead of getting his groceries bagged, the former Patriots practice squad player and new 49ers backup tackle found himself packing his own bags and catching a flight to the west coast.
An east coast native who attended college at Nicholls State in Louisiana said he was thrilled to join the 49ers.
"The 49ers have five Super Bowl Championships. Because I was on the practice squad, when I got the call, it was draft day all over again. I was excited and I was excited about coming out to the West Coast."
Bender has also found himself having to start all over again when it comes to learning Mike Martz's offense.
"I'm taking on that challenge and I'll be studying my butt off. I'm going to pick up this offense as fast as I can and whatever I can do to help the team win, that's what I'm going to do. I just want to fit in good and I want to finish the year out strong and see what happens."
Bender has been assigned 77 as his jersey number.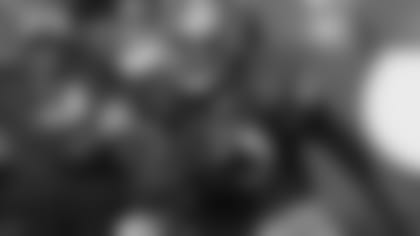 Wide receiver Arnaz Battle has not been ruled out yet for Sunday's game against the Dallas Cowboys, but he did not practice on Wednesday.
Battle injured his foot during the 49ers game against Seattle, and has since missed two games as he recovers.
Battle calls Dallas his home for the off-season, and hopes to play this weekend, but plans to do what is best for his foot.
"I definitely want to be in there every game, it's not just this week," said Battle. "I just have to play it smart and not try and got out there and re-injure it and have to have surgery in the off-season. [I'm trying to] Just be smart mentally and I'm taking it one day at a time."
Battle would require surgery only if the ligament were to completely tear. Fortunately, he said it's only a sprain.
The 49ers have one of their lengthier injury reports of the year with six players missing practice completely, although Walt Harris and Justin Smith were held out by coaching design for extra rest. The list also included linebacker Joe Staley, who was held out with a hip strain that is not expected to keep him out of action this Sunday. Click here for complete injury report.