Isaac Sopoaga is like a kid in a candy store once his size 14 football cleats hit the 49ers practice fields. Spend a short period of time with the 6-foot-2, 330-pound defensive tackle and it's no secret that he's one of the team's most passionate players about the game of football, no matter what day of the year it happens to be.
Sopoaga proved his infatuation once again on Tuesday, as one of the defense's longest tenured players admitted just how much fun he's having during offseason practices.
In Sopoaga's case, the seven-year pro still finds plenty of ways to entertain himself, whether it's playing catch with the equipment staff before the OTA sessions or conversing with various teammates during special teams periods.
On Tuesday, Sopoaga's enthusiasm was on full display with the defense working primarily in sub packages.
Sopoaga's role, mainly as a base down player, made the lineman quite antsy on the sidelines at times. The man known as "Ice" wasn't cold to the notion of getting the work in however.
"Today was more of a sub practice, but I understand I have a part in it," Sopoaga admitted. "I'm just used to playing base defense, getting 30-40 snaps a day."
With only two defensive linemen rotating in on each play, Sopoaga had to do more waiting than playing.
"For some of us it's good and bad to have a lighter day," Sopoaga said. "I just don't like waiting. I love this game and I love this sport. Everything I can do on the football field, I love it."
Equally important to the amount of reps, is learning the appropriate practice speed, that's according to fellow veteran defensive lineman Demetric Evans.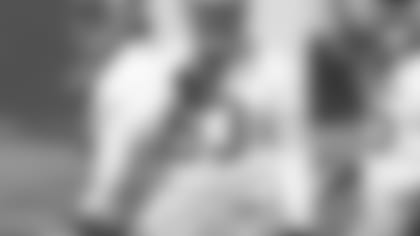 The nine-year pro (second year with San Francisco) values OTA practices not just because of the camaraderie that's built amongst teammates and coaches, but the lessons you can impart on younger teammates.
"These workouts show the younger guys how to practice. When you get later in the season, guys won't be able to just run into each other, because guys will be banged up," Evans explained. "But you still have to get in good work. Coaches want to see that you're able to practice at that tempo now, so when it gets to that time of the year, they know you can get the work done."
With two OTA sessions, and a three-day minicamp on the horizon, the veterans anticipate a strong final week of practice before the players head their separate ways prior to training camp.
"It's good to end everything on a good note. It's the last couple of days of practice and that's what the coaches will remember you by," Evans said. "You want to show them that your mind isn't on that plane already and that you're ready to work. We have plenty of time off, so I think it's good to leave a good impression in these last days of practice."
Sopoaga will miss chasing down teammates like Alex Smith and Frank Gore, but is happy to be chasing his children around the house instead.
But it's not like Sopoaga will be far from team headquarters. He plans to work out frequently in the facility, watch film and spend time with head coach Mike Singletary over the break.
"I'll be close to our facility," Sopoaga said. "I don't want to miss our 49ers atmosphere."
Notes and QuotesSmith opened up the team period with a laser of a pass on a quick slant to wide receiver Josh Morgan. It was a common sight, as the two connected for a handful of pass plays throughout the day. Many of Smith's passes to Morgan and wide receiver Michael Crabtree were thrown prior to the receivers coming out of their breaks, another sign of Smith's comfort in the offense.
Like Morgan, tight end Joe Jon Finley was also a popular Smith target on Tuesday. The backup tight end is another example of how much the offense is benefitting from having the same coaching staff intact. "It's fun when you don't have to think about what you're doing," Finley explained. "The offense is second nature to me now, so now I can think about individual routes and what I want to do." Finley also credited his improvement to his position coach. "I'm five times the player I was when I first got here. I attribute that to Coach Pete Hoener. He's the best tight ends coach I've ever been around and I'm way better than I was in college. But I still have a long way to go, especially in the blocking part."
Joe Staley started with the first team defense instead of rotating in like he did on Monday. After Morgan's catch, he put a halt to the offense's next two plays, tagging Smith down in the backfield on a delayed blitz and then breaking up a shovel pass to Gore on the next play.
David Carr continues to show a greater command of Jimmy Raye's offense. The backup quarterback has been firing passes all over the lot in recent days with a greater sense of confidence and velocity. Carr's development was no more evident than on a deep ball down the right sideline to wide receiver Jason Hill, who got past undrafted rookie cornerback Patrick Stoudamire on a go route for a 30-yard gain.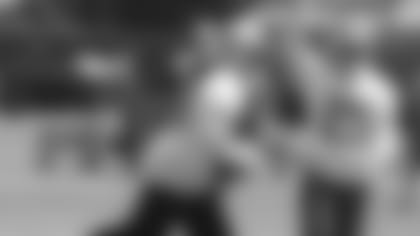 Smith was picked off later in practice, when his deep ball over the middle intended for Crabtree got hung up in a big gust of wind. Safety Dashon Goldson tipped the ball in the air, stayed with it, and made the interception.
TV49 caught up with some of the new faces on the 49ers defense, and some players playing in new places. One of the new faces, outside linebacker Travis LaBoy said he likes the way he's fitting into the 49ers defense thus far. "I feel like the system is a good fit for my abilities," LaBoy said.