If you want to find out what's important to Tarell Brown, you don't have to go far. A look at the ink on his skin will reveal the three people closest to his heart.
On his neck sits a tribute to his late father, Robert, and another memorial rests on his left shoulder for his late mother, Tonya. The back of Brown's neck bears the name of his daughter, Takyla.
On Sundays, Takyla's name floats between Brown's helmet and the No. 25 jersey he's been wearing for five years now. The rest of the week, Brown retreats to his locker at 49ers headquarters, one which features a 4 x 6 clipboard that's literally overflowing with pictures of his daughter.
When the 49ers picked Brown in the fifth round of the 2007 NFL Draft, he wasn't surrounded by an entourage. He only shared the moment with Takyla, the two watching from Brown's home. Brown's father had passed away from a heart attack on Valentine's Day just weeks before, but he certainly would have been on the short list for the viewing party.
Today, just mentioning his father brings a broad smile across Brown's face.
"He'd definitely be proud of me," Brown said. "But he'd definitely tell me there's still more work to be done. At the end of the day, I haven't arrived and there's always room for improvement."
Brown may not have "arrived" yet, but that No. 25 jersey has been easier to spot between the lines this year. For the first time in his career, Brown has become a starting cornerback for the 49ers defense, which has become the league's stingiest, giving up just 15.3 points per game entering Sunday's contest against the Redskins.
Like teammates Ray McDonald and Ahmad Brooks, Brown had been biding his time as a 49ers backup these past few years. After five spot starts in four years in the NFL, it's finally Brown's time.
"I'm not doing anything different," Brown said. "I had an opportunity and I just ran with it."
Brown wasn't handed the keys to this opportunity, he earned them with a strong training camp. Fellow cornerback Carlos Rogers commended Brown for keeping a level head throughout the process, when Brown beat out a couple of teammates to earn a spot on the starting 11.
Brown hasn't been handed much in his life.
When he was 9, Brown's mother was killed as she tried to get into her car to go to work. As such, Brown has forged a strong mentality to overcome life's twists and turns.
"Since I've been in this league, I haven't been given anything," Brown said. "With life as well; I've always had my obstacles. The ball hasn't always been in my court, so I always look at it as – always be a fighter. Always know that if you compete on every play, if you compete in anything in life you can get through it."
Around the same age his mother passed away, Brown started to show his skills with the pigskin. As a 9-year-old, Brown won a regional pass, punt and kick competition at Texas Stadium, home to the Dallas Cowboys, before placing third nationally.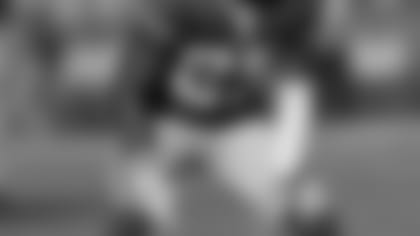 With the support of his father, Brown eventually emerged out of Mesquite, Texas, as one the nation's top prep defensive backs. Brown earned a scholarship to the University of Texas, where he was part of a national championship team in 2006.
Brown still possesses a hint of that laid-back southern drawl. To this day, Brown is still very proud of the Lone Star State.
"We're Texas boys," said fellow Texan Michael Crabtree with a smile.
He may be a Texas boy, but Brown is more of a Mesquite man.
Each offseason, Brown spends much of his time in his hometown, interacting with the youth as part of his Born Again Foundation. Whenever his career is over, Brown will likely be headed back to Mesquite to become a fixture in the area's youth sports programs.
"That's my crib," Brown said. "That's where I'm from, that's my city. I represent them as a whole every day. Everything I do I represent them, because if it wasn't for them I wouldn't be where I am today."
In the weeks leading up to the 2007 draft, Brown befriended future teammate Dashon Goldson during pre-draft workouts. The two remain close to this day, as they make up half a starting secondary that has recorded a league-high 54 pass breakups. As Brown said, "Birds that feather flock together."
Goldson and Brown have been teammates every step of the way throughout their NFL careers. In that time, Goldson said Brown's attitude hasn't changed.
"Quiet, laid-back; But he's a hard-worker," Goldson said. "It's his time now and he's capitalized on that."
Brown is seldom heard in the 49ers locker room, but with one of the team's most colorful collections of throwback hats and sleek sneakers, Brown is easy to see. If he's not playing football, Brown is probably on the couch watching a movie with Takyla.
But when he's on the field, Brown is all business. The seven starts in seven games haven't gone to Brown's head. If anything, they've made him hungrier for more.
"We compete every day," Brown said. "Competition brings the best out of everybody. I feel like there's no room for error, regardless of where you might be on the depth chart or how you played the week before. You've got to go out there and produce every week."