Get to know more about free safety Mark Roman with this two-minute drill!
Q: What is your favorite memory of your NFL career?
A: My first game in the snow when I played for Cincinnati, because I'm from Louisiana and it doesn't snow. It was snowing like a blizzard and I almost crashed my car driving to the game because I had never driven in the snow. I even thought they might cancel the game. It was so cold that day, I did the craziest thing. Now in hindsight, it was the dumbest thing ever. When we went out for pregame warm-ups, it was so cold, my hands froze up. And I didn't know you weren't supposed to run warm water on your hands to thaw them out, because it feels like your hands are about to explode. So after pregame, I went in to try and warm them up and I put my hands under some warm water and the pain was excruciating. It felt like a million sharp needles were poking my hands. So that was probably one of the most memorable games I've experienced.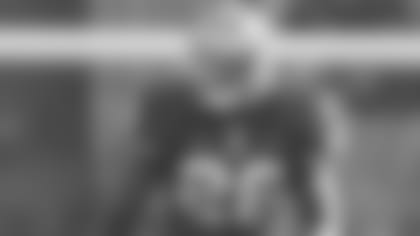 Q: What is the best thing about your hometown of New Iberia, Louisiana?**
A: The best thing about it is that it's a small town, so there's not a whole lot of trouble you can get into. Everybody pretty much knows everybody in the community. So it didn't matter if somebody else's mama saw you getting into trouble, she knew your mama and so you wouldn't be able to get away with anything.
Q: If you could go anywhere in the world, where would you go?
A: Probably Hawaii, I've never been there yet. I'm a James Bond-type of guy and I liked the movies they did in Hawaii. When I was a kid, I always wanted to go. And actually, I'm going to go this summer.
Q: If you weren't playing football, what would you be doing?
A: I would probably be building houses. I went to school for construction management at LSU and so I probably would have been doing that. When I took my first woodshop class, just putting little things together like shelves and book cases was kind of a thrill for me to see something come from nothing.
Q: Who was your favorite football player growing up?
A: Tim Brown, because I loved the Raiders. I also liked Notre Dame, so he was always my favorite guy. If you asked me as a kid in middle school, 'Where do you want to go to college?' I would have said, 'Notre Dame.'
Q: What was the best concert that you ever went to?
A: I've only been to one, so that would pretty much make it the best. But if a comedy show counts, I would say seeing Dave Chappelle's standup in San Francisco. That was pretty cool.
Q: Who is the biggest celebrity you've ever met?
A: Shaquille O'Neal. He went to LSU and he used to come back to school.
Q: What is your favorite TV show?
A: Chappelle's Show – that's my guy. Currently, I'd have to say The Wire. It's close between both of those shows.
Q: What is your favorite movie of all-time?
A: Gladiator, with Braveheart a close number two.
Q: What word best describes you?
A: Supercalifragilisticexpialidocious – that is a word.
Q: What is your favorite thing to do with your family?
A: Just spend time with them. I put a lot of time into my job and even studying when I'm at home. So you miss a lot of those intimate moments, so I try to catch up on those as much as possible when I'm with my wife, my three boys and my daughter.
Q: What is something you'd like to learn how to do?
A: I want to learn what it takes to be a coach in the NFL. I know it's a very demanding job and you move around a lot, but I'd like to learn how to be a coach.
Q: If you could have dinner with any three people, who would they be?
A: Michael Jackson, Barack Obama and Dave Chappelle.