Get to know more about quarterback Jamie Martin as he answers these two-minute drill questions!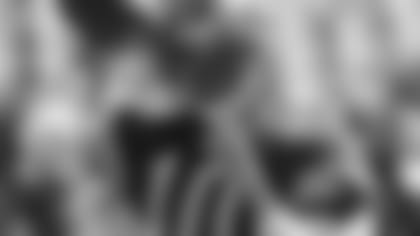 Q: What is your favorite thing to do with your family?**
A: We have a movie night every Saturday and we order pizza. We always rent a movie and I'll get the pizza. The movie has to be kid-friendly, because my kids are ten, six and three years old.
Q: What is your favorite book?
A: I like to read anything by John Grisham. I'd say Pelican Brief is my favorite of his.
Q: If you could travel anywhere in the world, where would you go?
A: Probably to Russia to see the history of the country. I've been to Europe and some other places, so I'd say Russia.
Q: What was your first job?
A: My first job was washing dishes at a restaurant called McClintock's in Arroyo Grande, California. I did it in the summer when I was getting ready to go to college.
Q: What is your favorite TV show?
A: My favorite would be MTV's The Real World. That's about the only thing I watch on TV. I don't watch much TV, but when I do it seems to be on MTV or the Golf Channel.
Q: What is your perfect meal?
A: Mexican food. I like all of it. So I'm glad to be living here now, because I get to eat all the good Mexican food in California.
Q: What is something that would surprise your teammates to know about you?
A: I don't know if I have a good answer about myself in particular, but my wife Kelly was a survivor of breast cancer. It's something that not a lot of people really know, but it's something I'm proud of and I try to let people know whenever I can. It happened two years ago, but she survived it and now she's doing great. It's not about me in particular, but I think it it's helpful for people to know.
Q: What was the best concert you ever attended?
A: Toby Keith. It was back before he hit it big. It was in St. Louis in a small amphitheatre. It was in 1995 when he was just starting out, and it was a really good concert.
Q: What is something you are awful at?
A: Singing.
Q: What is the best gift you've ever received?
A: My wife surprised me one year for my birthday and she sent me on a plane down to Pebble Beach with a friend of mine and we spent the weekend at Pebble Beach playing golf. It was awesome.
Q: What is your favorite website?
A: Probably iTunes. I don't know if that's considered a website, but I'm always on there looking at music for the kids or getting something for my wife or myself.
Q: What is the best movie of all-time?
A: Caddyshack.
Q: If you could play a round of golf with any three other people, past or present, who would they be? A: I'm going to go with all golfers, and they would all have to be in the prime of their careers. I'd want to play with Jack Nicklaus, Tiger Woods and Ben Hogan.
Q: What is the best nickname that has ever been given to you?
A: I'd say Ace. I don't have many nicknames, but I'll go with that one. Shaun Hill started calling me that because my hair is a little out of control like Jim Carrey in the Ace Ventura movies.
Q: What CD is playing in your car right now?
A: Nickelback.