Get to know more about Pro Bowl punter Andy Lee as he kicks around these two-minute drill questions! Q: What is your favorite memory of the Pro Bowl last year?
A: Throwing a pass on a fake punt to Tony Richardson for a first down.
Q: What is the most embarrassing thing that ever happened to you?
A: In college, they had the kickers and punters do the first down yardage sticks during the two-minute drill. We were running down the field and my foot got caught up in the chain and I ate it. Plus, I was a freshman. That was pretty embarrassing because it happened in front of the whole team.
Q: What was the first thing you bought with an NFL paycheck?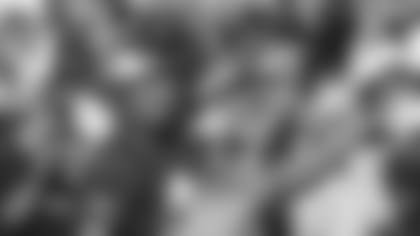 A: I paid off my credit card bills from college.
Q: If you could travel anywhere in the world where would you go?
A: Australia. I've always wanted to go there, it sounds pretty cool.
Q: What is your favorite subject in school while growing up?
A: History.
Q: Who was your first celebrity crush?
A: Tiffani Amber-Thiessen from Saved by the Bell.
Q: What is your favorite TV show?
A: House.
Q: What is something you really wish you knew how to do?
A: Kick a field goal. I try all the time, I wish I could.
Q: What product would you like to be a spokesperson for?A: Ketchup, Heinz 57. I'm a big ketchup fan. I put it on everything, pizza, lasagna, any type of meat. I've put it on some weird stuff by dare as well. I've put it on a candy bar, a cookie and a cookie with ice cream on it, but I didn't like it.
Q: If you could be on the cover of any magazine what would it be?
A: Probably Golf Digest – that would be cool.
Q: What word best describes you?A: Goofy.
Q: What is your favorite holiday?
A: Christmas. It makes you feel good.
Q: What was the best advice you ever received?
A: Treat everybody else the way you'd like to be treated. I think relationships are very important in life.
Q: What is the first thing you do when you go online?
A: I check out my bank account and my email.
Q: What is the best movie of all-time?
A: Tin Cup - I love that movie.
Q: What is something that you are awful at?
A: Foosball.
Q: What is your most cherished possession in your house?
A: Besides my wife? My Pro Bowl jersey.