Get to know more about offensive guard Adam Snyder as he tackles this two-minute drill!
Q: What was your favorite memory of your college career at the University of Oregon?
A: When we beat Michigan. They were ranked No. 2 in the country and they came to our place and we beat them.
Q: Where is the best vacation spot in the world?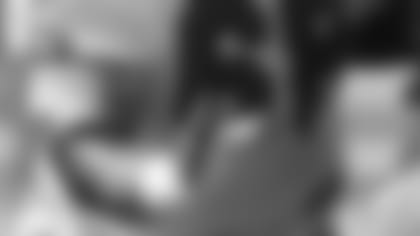 A: For me, it would be San Diego.
Q: What is your favorite Holiday?
A: Christmas, because you get to give gifts and get gifts. It's great family time.
Q: Who was your sports hero growing up?
A: I liked Jackie Slater a lot, because I was a big Los Angeles Rams fan growing up. I liked to watch him play.
Q: What is something your teammates would be surprised to know about you?
A: I don't think a lot of them know that I like to surf.
Q: Where's the best place to go surfing?
A: Personally I have the most fun in Carlsbad, in the San Diego area. But the best places are in Tahiti, and obviously Hawaii.
Q: What is your favorite song to play on the guitar?
A: Whatever song Joe Staley is going to sing, or requests. I really don't have a favorite, I just like to play.
Q: If you weren't a football player, what would you be doing?
A: I'd be a fireman.
Q: What is your favorite website?
A: Surfline.com
Q: What was the best concert that you ever went to?
A: I would have to say Pennywise in Los Angeles. I went with my dad and I lost him for two hours. He was in the mosh pit.
Q: What would be your perfect meal?
A: I like Mexican food, so it would be at an authentic taqueria with a carne asada burrito.
Q: What are your most cherished possessions?
A: My wife and my dog.
Q: What is the best advice you ever received?
A: Loyalty is an invaluable commodity that once spent can never be replaced. How good is that?
Q: What is something that you're awful at?
A: I'm an awful singer, and awful at karaoke. I enjoy it, I do love to do it, but I'm awful.
Q: Who is the toughest player in the NFL to block?
A: Grant Wistrom
Q: What is your favorite movie?
A: The Boondock Saints
Q: What was the best nickname ever given to you?
A: Snydes