Get to know more about fullback David Kirtman as he answers these two-minute drill questions!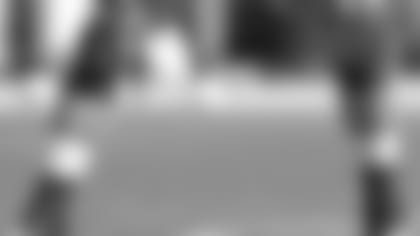 Q: What is your favorite memory of your career at USC? **
A: For me, it's something simple. It would probably be just the time I spent with the other running backs on the team like Reggie Bush and LenDale White and our running backs coach. That was my favorite memory, us being so confident in what we had to do. We all felt that we could take over a game at any time. Of course winning all the games that we did was memorable, but being a dominant running back group was a big memory of mine.
Q: Who was your favorite fullback when you were a kid?
A: Well I grew up playing tailback, so I never really followed fullbacks until I went to college. I think Barry Sanders was my favorite football player. I don't know what it was, but he was just quick and impressive.
Q: If you could travel anywhere in the world where would you go?
A: Maybe Dubai, I think that would be cool. I've lived in Europe for three years, so it would either be Dubai, Hong Kong or Tokyo. I just want to see something I've never really seen before.
Q: What is your favorite TV show?
A: My favorite from the past was The Wire, and presently I like to watch Heroes, Lost, Family Guy and The Simpson's.
Q: What is something you really wish you knew how to do?
A: Speak, read and write in multiple languages.
Q: What product would you like to be a spokesperson for?
A: Probably a video game of some form. Maybe like an EA Sports game or a spokesmen for X-Box 360. I like video games a lot.
Q: What word best describes you?
A: Resilient.
Q: What is the best movie of all-time?
A: My favorite movie is probably Man on Fire with Denzel Washington.
Q: What is your secret talent?
A: I've been playing classical piano since the second grade.
Q: What CD is playing in your car right now?
A: Well, my iPod is in my car right now, so I don't really have CD's. But it's probably playing a mix of my favorite music, which is just a bunch of rap mostly.
Q: What reality TV or game show would you most want to be on?
A: I think I'd like to be on The Price is Right.
Q: What is your favorite video game of all-time?
A: I'd say Halo 1, 2 or 3. That's the best game of all-time. It's fun to play against your friends and I just like to beat other people all around the world.
Q: What would be your perfect meal?
A: A Philly cheese steak from Philadelphia, a big one. I like them at pretty much any place, because every Philly cheese steak is amazing.
Q: What is the best nickname ever given to you?
A: The Surgeon, from a college coach. We ran a zone running game in college, so my job as fullback was to go wherever I thought the hole would be and pick up whoever was in that whole. So that's what I did well, and I would just bounce around the defense and pickup whoever, so that the running back could bounce out. That's why they called me the surgeon.
Q: What is your most cherished possession?
A: I don't really cherish possessions so I'd say my family and my lady. I wouldn't say they are my possessions, but that's what I cherish, my family.