Get to know more about defensive tackle Aubrayo Franklin as he answers these two-minute drill questions!
Q: What was your favorite memory of your college career at the University of Tennessee?
A: When we played Florida in 2001. We played them in the last game of the season. We beat them and went to the SEC Championship.
Q: If you could travel anywhere in the world where would you go?
A: Morocco. I heard they have really beautiful women over there.
Q: What is your favorite holiday?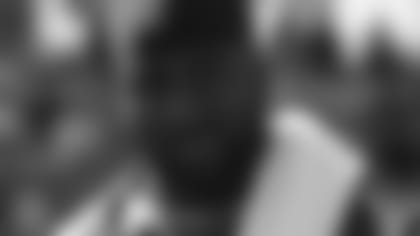 A: Thanksgiving, because I think more family members show up for it.
Q: Who was your favorite sports team growing up?
A: I was a big University of Florida fan.
Q: If you weren't a football player, what would you be doing?
A: Coaching.
Q: What is your favorite website?A: Hiphopgame.com, because you get all the exclusive music.
Q: What was your all-time favorite birthday gift?A: I'd say in high school when I got the Madden video game for PlayStation.
Q: What would be your perfect meal?A: Stuffed chicken, asparagus and some sweet potatoes.
Q: What CD is playing in your car right now?
A: Eightball and MJG.
Q: What is your most cherished possession in your house?
A: A picture of my great grandmother and my family together.
Q: If you could be on the cover of any magazine, which would it be?
A: *XXL *(Hip-Hop music magazine).
Q: What is something that you're awful at?
A: Singing.
Q: What teammate would be the best contestant for Dancing with the Stars?A: Ronald Fields – he's a good dancer.
Q: What is your favorite TV show?
A: Sanford and Son.
*
Q: What is your favorite movie of all-time?
A: Richard Pryor's *Which way is up?
Q: Who is the funniest guy on the team?
A: Ronald Fields. He's always singing something crazy.
Q: What is the best advice you ever received?
A: Ray Lewis told me, "Play every play like it's your last play." That's what I try to do on the field.