The 49ers learned a very valuable lesson on Sunday in a 34-27 loss to the visiting Tennessee Titans – you can't turn the ball over four times in a National Football League game and expect to win.
Tennessee (2-6) scored 24 points on the four turnovers to pick up their second win of the season and hand the 49ers their fourth-consecutive loss, dropping them to a 3-5 record.
"The number one thing is we cannot turn the ball over, and that's the thing that basically killed us today," head coach Mike Singletary said after the game. "I'm sure there are a lot of other things you could come up with as to why we lost. Bottom line is turnovers for us."
Singletary would not put all the turnovers on the shoulders of his quarterback Alex Smith, who completed 29-of-45 passes for 286 yards, with two touchdowns, three interceptions and a lost fumble. The Smith-led offense did however pick up a season-high 25 first downs and he continued to find ways to get the ball to tight end Vernon Davis, who set career-highs with 10 catches for 102 yards.
"I thought Alex was playing well today, for the most part," Singletary said. "When you get turnovers, obviously you can't say that, but I thought he made some good decisions. It looked like he was getting the ball where it needed to go."
Likewise, Smith's teammates believed the turnovers couldn't be placed on one person alone.
"You have to do everything you can to minimize turnovers in a game, certainly when you have four, it's too many and everybody on offense plays a role in that," center Eric Heitmann said. "We've got to look at the film and make sure that doesn't happen again."
Two of Smith's interceptions came off deflected passes, with the third turnover being the most costly.
"It kind of comes with the job," Smith said of taking the blame for the miscues. "When I evaluate my play, obviously there are some plays I'd like to have over."
Smith tried to hit to Josh Morgan on a comeback late in the fourth quarter, but Titans safety Vincent Fuller appeared to get to Morgan early, causing the ball to ricochet off Morgan's hands and into the arms of Tennessee cornerback Cortland Finnegan. From there, Finnegan brought the ball back 39-yards down the left sideline for a touchdown to put the score at 34-20.
"The defensive back got his hand in there before I even got my hand on it," Morgan said. "But they get paid too. This is the NFL, everybody's good. When you have turnovers and then you don't get any turnovers, it makes it that much harder."
The 49ers added a late touchdown when Smith found Jason Hill for their second touchdown hookup of the game on a 3-yard touchdown pass with under a minute left. But Joe Nedney's onside kick was recovered by the Titans and two kneel-downs from quarterback Vince Young was all it took for the victory.
"We have to continue to gain. We have to finish games. It's as simple as that," Singletary said. "If you go back to Minnesota, if you go back to Indianapolis, if you go back to the game today, take your pick, we're not finishing games."
Smith was first intercepted late in the first quarter when a pass went off the hands of wide receiver Michael Crabtree and Titans free safety Michael Griffin and somehow ended up in the hands of his teammate, cornerback Rod Hood. Somehow Hood kept both feet inbounds in front of the 49ers sideline and then returned the ball 43 yards to the 49ers 24-yard line.
The Titans scored their first touchdown off that turnover on a third and five from 7-yard line, when Young called his own number and scored on a quarterback keeper. Young was able to score thanks to a great kick-out block by running back Chris Johnson on linebacker Joe Staley.
But the 49ers answered the early miscue with their own scoring drive. Running back Frank Gore scored his fifth rushing touchdown of the season on a 3-yard run, tying the game at 10. Gore finished the game with 83 yards on 15 carries, despite getting poked in the eye in the first half.
Later, the 49ers added to their lead to close out the first half, when Smith engineered a 9-play, 82-yard touchdown drive that took 3:12 off the clock.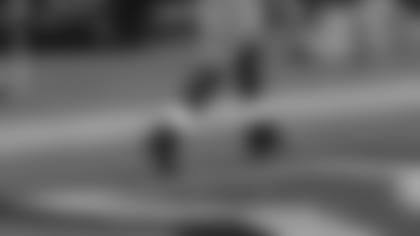 On a first-and-10 from the Titans' 20-yard line, Smith scrambled to his right narrowly escaping a sack and then found Hill open in the back of the end zone from 12-yards out. It was Hill's first catch of the season too.
The 49es later went to the spread formation for most of their next drive and capitalized again with a touchdown to close the half for the second straight week.
"It's something we've practiced and it's something we've emphasized since day one," Heitmann said.
In their second possession of the second half, Smith was hit as he was throwing by Titans defensive end Jacob Ford causing the ball to come loose, linebacker Keith Bulluck scooped up the ball and returned it to the 49ers 36-yard line. The Titans scored on their second takeaway when Johnson plowed in from 1-yard out to tie the game at 17.
The NFL's leading rusher heading into the game lived up to his billing, becoming the first rusher to surpass the 100-mark individually against the 49ers defense. He carried ball 25 times for 135 yards with two touchdown runs.
"We knew Johnson has been a threat all year," cornerback Dre' Bly said. "He's been doing it ever since he's been in the league. He's probably one of the fastest backs, if not the fastest, in the league.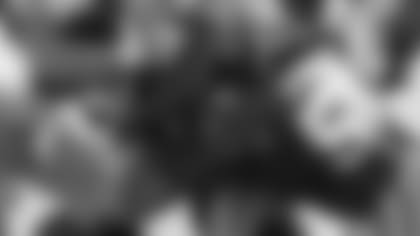 "The one thing he's done well is that he can run inside and outside. We knew that we had to close creases fast because he has the ability to take it the distance. He was able to make some plays today."
The 49ers put together a great response in the form of a 15-play, 66-yard scoring drive, but it only resulted in Joe Nedney's second field goal of the game, this one from 25-yards out. Although the drive didn't result in a touchdown, the 49ers chewed up 9:45 off the clock.
But the Titans marched right back on the next possession. It appeared that they had regained the lead on an 81-yard touchdown run by Johnson, but a challenge from Singletary revealed that strong safety Michael Lewis forced Johnson out of bounds at the 49ers 40-yard line. After the review, it ended up being a 41-yard gain. Two plays later Young found Justin Gage 33 yards down the field for a remarkable leaping catch between free safety Dashon Goldson and cornerback Dre' Bly.
On third and goal from the 1-yard line, backup running back LenDale White was stood up at the line by the 49ers defensive line. The Titans went for it again on fourth down and Johnson broke outside linebacker Parys Haralson's tackle at the 5-yard line to score his second touchdown of the game.
"I thought he was closer to the sideline than apparently he was and I left my feet too early. It is a play I have to make," Haralson said.
The Titans came up with their third turnover of the game on the ensuing possession when strong safety Chris Hope jumped in front of Josh Morgan to make a diving interception at the 49ers 39-yard line. Bironas finished that drive out, connecting on a 28-yard field goal to put the Titans up seven points.
But Finnegan's interception return on the ensuing 49ers drive was too much to overcome.
The 49ers will get a chance to erase the memory of defeat this Thursday night when they host their coach's former team, the Chicago Bears, in a nationally televised game on the NFL Network.
Getting back on the field so soon, should be a positive.
"We have a quick turnaround which is a good thing," Davis said. "We lost this one and we have to be eager to go out there and get this next one. We just have to keep getting better."
Davis, one of the team's six co-captains, said there's plenty of time for the 49ers to turn things around.
"We have to keep moving; we don't have time to be frustrated. Anything can happen. We're not out of anything. We still have a lot ahead of us, a lot of accomplishments we can make. We just have to reach out and grab it. This next game we really have to bring it."
The 49ers head coach felt the exact same way.
"It's definitely frustrating to be at this point, but we do have eight games left. In my mind, as long as we continue to fight, we got a chance if we take away the stupid stuff where we're killing ourselves. And that's really the bottom line."