Everybody remembers their first bicycle – from the way it gleaned in the sun to the first triumphant fall when learning to ride. Receiving that first set of wheels means your first taste of freedom.
"It had training wheels and tassels. I ran outside and freaked out because it had too much decoration on it and looked like a girl bike," said 49ers long snapper Brian Jennings when reminiscing on his first bike. "I refused the training wheels because I thought it wasn't cool enough, so my brother would push me and I would just fall over. The first thing I learned was balance."
Jennings, along with other 49ers players and alumni took a ride down memory lane on the morning of Monday, Dec. 12, as they helped assemble nearly 100 brand new bikes for underprivileged boys and girls in the South Bay.
"Today we're with TurningWheels for Kids, sponsored by UnitedHealthcare, and we're building bikes for the kids who attend Costano Elementary, which shares a campus with the 49ers Academy," said Joanne Pasternack, executive director of community relations/49ers Foundation. " "Building them is great but the real fun comes tomorrow when the kids receive their bikes.  It will be a complete surprise and we can't wait to see the looks of joy on their faces."
This year, the two-part event, culminating in a UnitedHealthcare Family Health and Wellness Fair at the 49ers Academy in East Palo Alto, would not have been made possible without the sponsorship of UnitedHealthcare, which has teamed up with the 49ers all season in the community. Dozens of UnitedHealthcare employees volunteered their time and energy to help with the build.
"It's very exciting because we have never done anything quite like this where we are combining a lot of people from different divisions and then working alongside the 49ers," said Mary Fischer of UnitedHealthcare National Marketing. "It's great, especially during the holidays, to do something like this and to help spread our mission of helping people live healthier lives, too."
Also riding tandem with the 49ers was TurningWheels for Kids, a non-profit organization that provides brand new bicycles for children in the Bay Area in hopes to draw them outdoors for exercise while also helping them to develop a sense of accomplishment and self esteem.
"We started seven years ago and became enamored with the opportunities we had available to give bikes to kids," said Jeff Burnham, a member of the board of directors of TurningWheels for Kids. "We've distributed over 13,500 bikes since our inception and it's just amazing. We get kids off the couch, on bikes exercising and it's a lot of fun."
TurningWheels provides bikes for a wide array of non-profits – the 98 built by the 49ers and UnitedHealthcare will go East Palo Alto youth, who received their new bikes during the Family Health and Wellness Fair at the 49ers Academy.
The day of the bike build at the 49ers training facility, the bikes were loaded into two donated PODS and transported to the 49ers Academy campus for the bike giveaway and UnitedHealthcare Family Health and Wellness Fair.  The intent of the Fair was to serve as a fun and interactive way for the children and their parents to learn about bike safety and healthy living.
"We're giving them tools to get active and bikes, which give the kids the ability to get out and exercise," said Frank Blackstock, senior vice president of OptumHealth. "We're also talking about healthy nutrition and some of the things they can do in their everyday lives, which will really help them live their lives to the fullest."
Now could not be a better time to get kids riding their bikes. With childhood obesity on the rise in recent years this is a pivotal time to promote healthy habits in young children. What better way than to get them on a bicycle.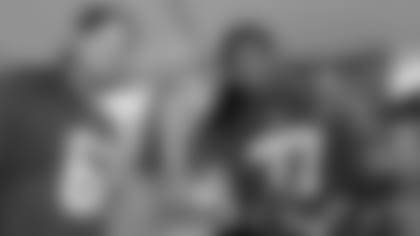 "The players and the 49ers are here at least once a month doing all sorts of activities and it's great. It really keeps the youth motivated and it keeps them healthy." said Laura Martinez, mayor of East Palo Alto.
Guard Daniel Kilgore felt like a kid again. He reminisced about his first bike with excitement in his eyes.
"I remember as a kid I used to ride all the time. If I didn't have anything to do at the house, I would just go out and ride around for hours. So, I can just imagine how happy the kids are going to be when they see the bikes," Kilgore said. "My first bike was my sister's 10 speed and I taught myself how to ride by standing on the hillside where I'd lay the bike over and then hop on it. I wasn't tall enough to touch the ground, so when I had to stop, or get off, I would just crash back onto the hill."
Guard Mike Iupati was no stranger to building bikes because he used to work on his own when he was a child.
"It's fun because it's reminding me of my childhood days when my bike broke and I'd try to fix it myself," Iupati said. "I remember I had a tricycle and then my dad bought me and my brother a bike for Christmas, or my birthday. I kind of remember learning to ride my first bike with training wheels.
The sparkle in the eyes of the 49ers players as they shared their first bike stories was reflected with even greater enthusiasm in the eyes of the East Palo Alto youth when they learned, at the end of the Health and Wellness Fair, that they would be receiving a bike, helmet, and lock courtesy of UnitedHealthcare, the San Francisco 49ers, and TurningWheels for Kids. The pure joy and delight was inspiring. A special thank you to UnitedHealthcare, PODS of San Francisco, OptumHealth, the Ravenswood School District, East Palo Alto Mayor Laura Martinez, the East Palo Alto Police Department, TurningWheels for Kids, and the staff at the 49ers Academy and Costaño Elementary School for making the dream of owning a bike a reality through the Holiday Bike Build Event.