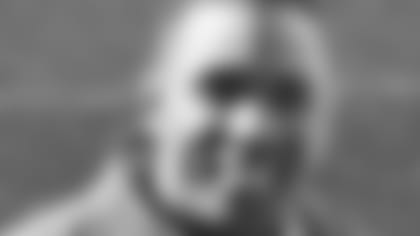 Former 49ers linebacker Keena Turner is in his 13th year as part of the 49ers preseason broadcast team. This season he's also signed up with 49ers.com to share some of his expert analysis with his very own weekly column. As a four-time Super Bowl Champion, Turner understands what's going out on the turf better than most, which is what he'll try to share with you in Turner's Turf. In this week's column, Turner reviews Sunday's narrow win over the St. Louis Rams which improved their record to 2-0.**
I like starting the same place as last week, with the win. A win is exciting, it's something everyone should be ecstatic about, and so you always start at the end and work back to the first quarter.
I know fans are a little miffed about the fact that they've been close wins and that is understandable. There's an expectation that goes along with this season that has come from the excitement generated in the off-season with the acquisitions that were made. People perceive those additions as automatically equating to huge progress and expectations about how this team should be playing. There have been obvious improvements but there's also the reality of the NFL where winning is just not easy.
You look all around the league at teams and games that should have been close and weren't and some teams that should win and didn't and that's the NFL. That's why you play the game week in and week out. You have games within the game. Take the Raiders on Sunday. They were totally out of it and then all of the sudden they find themselves right back in it, so you just don't know what is going to happen and you have to play all the way through. To that point, that's why you start at the end and say we won the ballgame because for two weeks now this 49ers team has played all the way until the end and gotten the wins.
From there, you do of course look back and critique the performance and obviously there are things you have to correct and that you have to address to get better so that you can keep winning ballgames.
The coaches look at the tapes week in and week out and they'll address things that came up in the game. For starters, you always evaluate your play calling and look at all of the various situations and make sure that you are putting your guys in the best possible situation on a given play. Then, you look at the execution of that game plan. You have the mental aspect of it where you need to measure how well your players were prepared to play the game, and then you look at mistakes in the game. Mistakes happen on every play, so you have to pinpoint the ones that you just can't have.
One mistake you can't have is the kind of play that happened early with the fumbled punt because that really puts you in a tough spot, on the road especially. You felt like you were at Monster Park in the way Brandon Williams was moving around trying to get himself under the football. Here's what is tough for a return guy though – he's taught that if it's in front of you, you've got to catch it. At some point, you have to decide you can't get to that one because the decision not to get to it and it bounces and goes behind you for poorer field position sometimes is a better choice than going after one you touch but don't get to all the way and let it become a free ball. That's a tough job, and I'm sure one Brandon would like to have back.
All in all, the special teams units have been a strong area for the 49ers, which you've really got to have to win in this league consistently. Andy Lee hitting that 71-yard punt, you don't get any better than that. I don't care what you say - that it was easy because it was in a dome or on turf – but a 71-yard punt does amazing things for your defense in terms of field position. Our kicker Joe Nedney is one of the best in the league and so those two guys always improve your odds and then so far, special teams has been great in coverage. When Marcus Hudson came up with that muffed punt, that was big because it let Nedney get that game-winner.
On offense, what I like is first of all Frank Gore. Frank played under some extreme emotional conditions and to come out and be focused and ready to go and have THE play of the game on offense, that's enormous. That 4th down run was a gutsy call by Coach. He realized that he needed something big and he gave it to one of his playmakers, and Frank produced. What a great job up front, there really was a nice hole there and then just the shear tenacity of Frank's running style and his ability to run away from people in the open field was all on display there. He had the heavy heart and winning the game with a play like that really helps give him confidence. It also gives the offensive line reassurance that the same guy they had last year is the same guy they have this year. Those are good things, and I think the running game just gets better as Frank gets on track and the guys get used to being in sync out there with him.
In terms of the passing attack, we all came into the season believing this is a better group to throw the football with and that's true, but obviously for Alex Smith and for Darrell Jackson, Arnaz Battle, and Vernon Davis there needs to be that rhythm. That kind of instinctive relationship and timing really only comes in playing together for some length of time. It doesn't just happen because the group is better in terms of talent. It's something that has to develop. You can tell the difference just in terms of looking at Alex with Arnaz. He definitely knows what Arnaz is going to do out there and I think he probably has the most comfort and confidence in going in his direction. That will come in time with all of those guys, and is starting to already somewhat with Jackson.
Alex is taking some heat, and he's the first to put it upon himself to play better which is what I expect from Alex because he's a stand-up guy. That's what he's shown me because he accepts responsibility, but by no means do I expect him to have all the experience yet that he needs to deal correctly with every single situation that comes up. What he needs to keep showing his teammates and the fans is his mental toughness and that no matter what happens throughout the game that he's still a threat to win it. That kind of guy will give you a chance regardless of what happens out there and that's what I see in Alex. I guess I am just not a guy who is looking or demanding perfection. I'm looking for a guy who is seeking perfection, but to expect that every single play from a young guy – I'd rather have the guy who is going to make mistakes but win at the end of the day, and that's Alex.
It was a different kind of test defensively against the Rams and what I've liked early on is they are making big plays even under different circumstances. Last week they had two big, athletic receivers they had to contend with more on underneath routes. This week Isaac Bruce showed fresh legs in his ability to get down the field and the quarterback was as good as he can be. The threat of Marc Bulger, Bruce and Torry Holt through the air combined with Steven Jackson – that was just a different offense to contend with. They gave in some situations but they didn't break. They started off with two sacks in the first possession and that sent Bulger a message early and they were able to do that throughout the game with six sacks. They really came up with plays when they needed to have them on defense like Nate Clements containing Holt in that second half and making the outstanding play by knocking that ball out in the red zone.
If I was giving game balls, and I'm passing over the linebackers here because I already expect so much out of them, I'd hand them out to Marques Douglas, Isaac Sopoaga and Bryant Young. They were impressive, and really got some penetration and into that Rams backfield all day long. I know how demanding the three-man line is so those three get my game ball.
I did think Joe Staley had another solid outing, almost getting that pick in the end zone while Manny Lawson got a sack and was in position for an interception in the red zone.
What I really like about the defense is that they are really staying aggressive. They are getting after the quarterback – sending safety blitzes, corner blitzes, linebacker blitzes and staying aggressive which is the right approach. Greg Manusky has got the guys he can do it that with this season because of the upgrade in talent and he's just really mixing things up well out there.
Now this team will head to Pittsburgh. The Steelers are one of those old school, hard-nosed football teams. That's a tough road game. It'll be a physical game and for the 49ers it comes at a good time in that they've gotten a couple of games under their belt now and they are looking to improve on both sides of the ball. This pits them against one of the better teams in the league and is a great test for them. I think it will be a hard-nosed grind it out, tough football game, and I'm looking forward to seeing how this team responds.