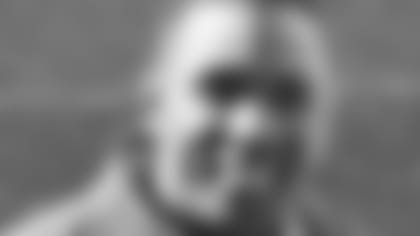 Former 49ers linebacker Keena Turner is in his 13th year as part of the 49ers preseason broadcast team. This season he's also signed up with 49ers.com to share some of his expert analysis with his very own weekly column. As a four-time Super Bowl Champion, Turner understands what's going out on the turf better than most, which is what he'll try to share with you in Turner's Turf.**
So far this preseason I think the biggest thing that sticks out to me right away is Alex Smith. He has just looked pretty flawless in the first two preseason games in terms of his growth, maturity and command of the offense. That's huge. I think that what also shows there is the offensive line. The offensive line as a group is as stable a group you have on the team. You still may have a question out at right tackle in terms of who is going to be there since there is fierce competition going between Kwame Harris and Joe Staley, but I think the offensive line is a huge strength and that's showing in the way Alex Smith is playing.
The wide receiver group I think maybe has the most depth on the team. You've got some quality guys there. Darrell Jackson and Arnaz Battle seem to be cemented in as the starters. Ashley Lelie had a good game against Oakland, and Coach Nolan has said that Taylor Jacobs is the number three guy. Oh then by the way, you have Bryan Gilmore who just went out there and had a heck of a game. There's just a lot of depth there and that's going to make the decision very tough when it comes to who you keep.
Vernon Davis didn't do much in the first game, but his number was called this last game and they got him the ball early. He looked sharp. I don't know if Delanie Walker is a true tight end, but he's going to fight to get some time somewhere because he's having another solid preseason.
On the offensive side of the ball, there is just more talent and more confidence that I'm seeing out there than past seasons.
On the defensive side of the ball, I think there are still some questions. I think they are really still looking for the top eleven. Aubrayo Franklin hasn't played and Bryant Young hasn't played, but those guys will make a difference when they are out there. Nolan has said he expects 4-6 new starters, and you can tell that the group isn't solidified quite yet. I think they are still trying to figure out who their guys are. You need a pass rusher and that has not really surfaced in the first two games. With Nate Clements and Michael Lewis, they've solidified the secondary, so it's really in the front seven where things aren't as nailed down.
I know Joe Staley was named the starter this week. I think it's tough for a rookie to come in and start, but some of that measurement goes into how talented and experienced the guys are around him. I think it'll be easier when BY and Franklin, who is used to playing in the 3-4, are in there because those guys will help him. The fact that he's surrounded by experienced players definitely can be an asset. It's much tougher when you are on a younger team and everyone is trying to come along. Derek Smith will be out there with him and he's a guy who Patrick can lean on.
Derek had the eye injury last year, so you look for any glaring deficiencies or mistakes and I haven't seen that with Derek so he'll be out there. At this juncture in his career, it just comes down to how productive he can still be and I haven't seen anything to say that he can't do that.
Jeff Ulbrich is backing up Willis, and he'll also help out the young kid. I still see Jeff running around and punching people like he's supposed to do, and doing it enthusiastically. The real measure of a team gets into how talented you are as you get past the starting 11 and I think Ulbrich brings some nice experience and aggressive style of play to that defense.
So having a solid support cast will help Patrick in his transition, but ultimately it comes down to the kind of guy he is. What we've seen of Patrick is he's athletic, enthusiastic, he runs around, he wants to be in on plays. His attitude and his style of play will make up for a lot of things as a linebacker. Nothing takes the place of playing the position so he's about to get some valuable experience.
This week against the Bears is important because usually the ones will play more in the third preseason game. I think whenever you have ones out there against the ones, you are measuring. You are not game planning, but you are measuring because you've got your best guys against their best guys for no matter how long it is, 10 plays, 15 plays and you absolutely want to see who wins those one on one battles. You have to draw some conclusions about what you've got and what you don't have in terms of talent.
Last week Coach's strategy was to bring David Baas and Joe Staley in with the first group. You are looking at your scheme and how they fit, but more than anything you want to put your team together and know you've got the best guys out there. Coach obviously wanted to see how Baas and Staley worked with the first team, but he also wanted to see how they looked against the best competition the other team had to offer. That's the best way to really evaluate you guys. Guys have to show they can live up and run with that first group and be productive so those evaluations override really even the win. At this point most of the decisions are made so more than anything coaches are just looking to see that guys live up to their expectations, but again that right tackle spot, the receiver situation and still the front seven could come down to this game.
As well as determining your starters, coaches need to determine the final roster in the next two weeks. I think what is interesting about the 49ers now is if you look back the last couple of years almost every draft pick made the team. The better you become and the deeper you become in talent, the tougher it is to make your team. This year the first day guys will likely still make team, but it'll be tougher on those second day guys. I'm interested to see how many of those second day draft choices make the team this year because of improved talent and depth that the team has right now.