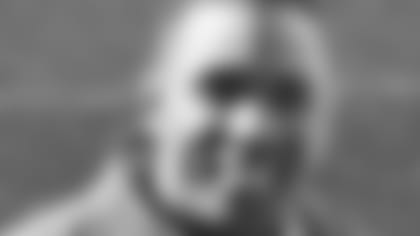 Former 49ers linebacker Keena Turner is in his 13th year as part of the 49ers preseason broadcast team. This season he's also signed up with 49ers.com to share some of his expert analysis with his very own weekly column. As a four-time Super Bowl Champion, Turner understands what's going out on the turf better than most, which is what he'll try to share with you in Turner's Turf. In this week's column, Turner reviews the 49ers first loss of the season. **
You guys know by now that I like to start at the end and the 49ers did not get a win this week so that's obviously a bit of a disappointment. As you do with a win, you have to look back through the game and identify the reasons for the loss, and also the things you did well that you can continue to build upon.
Pittsburgh has one of the better defenses in the league and they put a lot of people in the box, they move it around, they bring different people at different times and how well you manage that on the offensive line and with your audibles, the better chance you have to have some success. They are trying to disrupt your blocking schemes, have you think one person is coming and then sending another, filling the gap and then using great pursuit to overcome areas that might be open if the blitz doesn't work. They send them on the run and the pass to get extra pressure down there.
On the offensive side of the ball, there were definitely adjustments made by Jim Hostler and the offense in terms of the game plan this week to counteract the Steelers defensive scheme. In that first possession the 49ers kept the Steelers on their heels because they were using different kind of plays, using the roll outs, which worked well early on because Pittsburgh was bringing people up the middle. The Steelers made their adjustments on the edges once they saw that Alex Smith could roll out to throw the ball and put pressure on their corners.
Keeping Pittsburgh off-balance early really allowed the offense to go down the field on that opening drive and put them in a position to start the game off right. The offense did a nice job getting down there, and they did a nice job of establishing things early and being able to move the ball against a very tough and physical defense that comes at you from all angles. To that end, you have to score touchdowns when you get in the red zone! Creating those opportunities is big, but now you have to finish them off with the touchdown. That puts a different kind of pressure on the other offense, and can really change the landscape for your defense.
Defensively, I still felt they did a nice job in the fact that different guys keep making plays. Marques Douglas made some plays in the backfield against the run, and got some pressure on the quarterback. Again Nate Clements was out there making plays because that was a touchdown if he doesn't make that end around tackle on Cedrick Wilson.
The loss of Manny Lawson in this defense I felt was big because he is a rangy linebacker. His strength might not have been in pass rushing but his ability to blitz and his ability to get down the field and be in coverage, be in zone posts and really break on the ball. He almost had an interception last week where it was really perfectly played when he dropped back in zone and then broke on the football after perfectly reading Marc Bulger. To have that kind of range out of the lineup is a loss, but Hannibal Navies is a veteran guy who came in this week and made some plays and that's exactly what that defense needs from him. He showed some pass rush early with the forced fumble and recovery and made things happen.
The young linebacker Joe Staley impressed me again on a few plays. On one I can recall, he went up on the edge, took on the block, came off and tackled Willie Parker for a loss. To have that kind of ability on your defense bodes well. Obviously the defense bent some during the game, and then broke at the end but there was a lot of strong play. It's good to have these challenges and it's important they learn from this and go out and hold up all the way through the next time.
Ben Roethlisberger did hurt the defense with some big plays. The thing that stood out with Ben is just his strength. He's a strong, tough, hard-nosed quarterback. There were a number of plays where he looked to be down or had some guys hanging on him and he escaped. He scrambled a few times on them and then other times just kept it alive long enough to find a receiver. There was one where he just shoveled off to Willie Parker, and plays like that can be deflating because you've done every thing right except finish it off. When a quarterback can account for 4 or 5 plays where he should have been down and instead keeps drives alive, that makes it tough on the defense.
I still felt the secondary played well. Those receivers didn't do much out there. Heath Miller made the most plays in the passing game, and that's tough. When it comes to tight ends and running backs, each game is different in terms of how much of a threat those guys are in the passing attack. The strong safety and the linebackers have the primary responsibility of accounting for those guys, but it also depends on the play calling. When those guys are a strength of the team, there has to be an emphasis put on them.
It's the same reason why Vernon Davis is such a threat for the 49ers offense. I'm still trying to figure out the call on the throw to Vernon Davis. That is definitely one that needs some explanation. The guys on television talked about it, it's either a fumble or Vernon is down and the ground can't cause a fumble and when I saw it over and over, that's what I thought. He had possession and was down. They were saying he didn't have his other foot down which doesn't make sense because there's a lot of times when you get hit in the air and you are not going to get your other foot down. That doesn't mean you don't show control of the football. I thought it was a completion. I'm perplexed over that one.
Davis' presence creates some mismatches, and will be missed in the next few weeks with that knee injury. The 49ers definitely placed an emphasis on getting him some catches on Sunday, and he was open for them. . I thought Delanie Walker and Vernon showed they can really do something in those mid-range routes and I look forward to seeing this offense take more shots downfield to get the ball to those outside guys in Darrell Jackson and Arnaz Battle. I think that the sooner you can establish that you can pass and get hit on those deep balls, the better chances you have to open up things for Frank Gore. He's still the same tough runner we've become used to but defenses have made those adjustments to really bottle him up.
I thought that the 49ers tried to pound it inside too many times to the middle of Pittsburgh's line, which wasn't working with that Pro Bowl nose tackle in there. They might have been doing that to set something else up. I'm not privy to the game plan. With Pittsburgh committing so many people inside, then you've got to go outside and when the 49ers did that, there were plays there for the taking.
I think the offense showed the possibilities that all of us have anticipated in having a first class running back, and such a talented tight end. The offense needs to continue the path they started in Pittsburgh and maximize all of its weapons.
I believe the 49ers have two of the best kickers in the league so the rest of the group really has to keep up with those two guys. Those kickers can keep you in the ballgame. Andy Lee had another 66 yard punt. That boy is sick. That's a heck of a defensive weapon to a have a punter who can do that for you. Having a field goal kicker as consistent as Joe Nedney is another big plus, and I'd like to see the rest of the unit play up to their level. They had done that the first two weeks, but the kickoff return for a touchdown right after the 49ers came out and scored on the first possession was a real downer because the offense really sent the message that they came to play. Special teams can't give those up.
Seattle won one in grand fashion on Sunday with a big touchdown throw to win the game in the last few minutes, so they are energetic and have gained some confidence from that type of win. They'll be a tough team to contend with after that mental and physical lift, but the 49ers have confidence too because we beat them twice last year. We have a lot of confidence playing this team so that's huge. You always know more about the strength and weaknesses of the personnel of a divisional opponent, so this is a game where you really have to find plays to take advantage of what it is you know about your opponent on both sides of the ball. I would like to see all three units performing at a consistent and high level and if they can put it all together this week, they should have a good shot to end with another win.