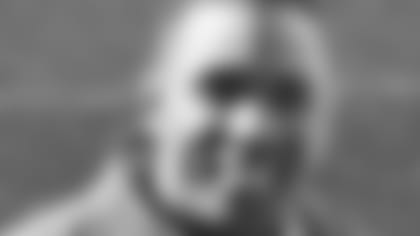 Former 49ers linebacker Keena Turner, a four-time Super Bowl Champion, understands what's going out on the turf better than most which is what he'll try to share with you in his column Turner's Turf. In this week's entry, Turner recaps Saturday night's big win over the Bengals. **
I think a review of Saturday night's win starts with the quarterback. Shaun Hill had six years of experience but he hadn't taken any snaps as a starter and only two knees prior to two weeks ago, and so he's really an untapped talent in terms of what his potential is and it was hard to know how he would produce. The coaching staff definitely had the right guy as their number three on the roster, and I think Shaun Hill has taken full advantage of an opportunity.
He looked poise, he looked confident. He looked prepared and showed instincts in the pocket and really was productive.
Hill did a great job of taking what the defense was giving him, but in order to do that, you've also got to have the opportunity to see the field, which starts up front with the line giving him solid protection.
The running game and what Frank Gore was able to do also alleviated some of the pressure because the defense has to read and react when it's not an obvious run or pass situation and that also allows a quarterback more time to get through his progressions.
Having said that, Hill looked very comfortable going from his first to his second to his third receiver, and if those guys weren't there, he'd dump it off underneath. He even commented that in his first game he was going through his progressions too fast, but he's definitely done a nice job with the time he's been given to sit there in the pocket and made smart decisions.
It was great to see Frank tie up the game by converting that 3rd and 9, but that's no surprise. I just think he's the guy and that's who he is. His production is vital to the success of the offense and to me he's been a lock. He's played hurt. He's kept his attitude and enthusiasm, stayed aggressive and it was good to see him bust out for his biggest ground game of the year.
It's amazing how many areas get affected by steady, consistent play. The receiving crew as a whole looked very good from Darrell Jackson to Arnaz Battle to Vernon Davis, There were no inconsistent miscues, no drops, and very few penalties so those self inflicted mistakes didn't stop drives like they have in the past and guys were able to show what they could do with a few opportunities.
There were two things that I liked about Vernon's touchdown. First of all, Shaun put a ball out there that gave his tight end, and only his tight end, the chance to catch the ball. Secondly, you saw Vernon make an adjustment to the ball and make it look easy. That's what you see in the NFL week in and week out, and it's been missing for the 49ers.
So, we saw the athletes on the team have an opportunity to take advantage of situations and again, that goes back to a collective effort.
There were no turnovers on either side of the ball and for the 49ers offense that's gigantic. It means the offensive play was consistent and there weren't any negative sudden changes.
I think Shaun Hill would say that to have the success he did on Saturday, you've got to have protection to go through your progressions, you have to have consistency to have more opportunities to put plays together and it sure as heck helps when your ground game is working. When all of that comes together and you can have a productive offense and you really start to see where your talent is on your team.
On the defensive side of the ball, your objective is to go find and to go get the ball. The defense wasn't able to create turnovers, but they were steady and consistent with good sound defense. They got off the field on third downs, and they really played big at the end of the game to solidify the win and they were able to do that. I believe the defense really did a heck of a job against the 7th ranked NFL offense. That was very admirable.
Collectively they did a great job against the run, holding the Bengals to 61 yards rushing and as always Joe Staley makes an impact in the game, coming up with that big hit on the short pass to Kenny Watson.
It was a classic match up between Chad Johnson and Nate Clements and that was exciting to watch. Johnson is one of those rare guys who can back up the mouth, but I really thought Nate did a nice job. He had an interception in his sight and let it get away. Chad caught some balls but he wasn't able to break the game open like he's able to do which means Nate kept him in check, and if he gets that interception, that's a huge day for Nate.
I've been impressed with special teams all season long. I think both kickers should be in Pro Bowl. Joe Nedney hasn't had as many opportunities but I don't think there's any better around than he or Andy Lee.
I always enjoy beating the Bengals. After beating them twice in Super Bowls, you just want to keep your foot on them as much as possible and on both sides of the ball we were able to do that. For a former player like myself, I enjoy watching those types of games.