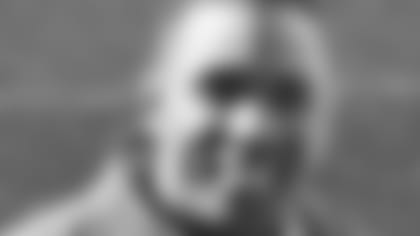 Former 49ers linebacker Keena Turner is in his 13th year as part of the 49ers preseason broadcast team. This season he's also signed on with 49ers.com to share some of his expert analysis with his very own weekly column. As a four-time Super Bowl Champion, Turner understands what's going out on the turf better than most, which is what he'll try to share with you in Turner's Turf. In this latest column, Turner reviews the 49ers big win over the Cardinals in week one. **
I'm pretty simple in my critique because to me it comes down to the W and the L, and the 49ers got that W.
The first positive that stands out to me was Alex Smith showing the ability at the end of the game, regardless of what happened earlier to get that win. In the final minutes, the offense had to go 80-something yards and needed a touchdown and he went out there and made that happen to get the go-ahead score.
The play that sticks out for me in that drive was the 4th and 1 where he had to run. Smith made the decision to run, got a great block from Arnaz Battle, and picked up a first down and a bunch of yards. Those are instinctive things that have to happen in crucial situations and you gain a lot of confidence when you do have success in those instances.
So, that is number one for me because to win games in this league you've got to have that key element where when time is running out and you have one last drive that you've got a quarterback who can handle that and go win the game for you.
Defensively, you also have to have the ability to make big plays and Walt Harris starting out the game with that interception, it was a huge lift and a positive for your defense. Good defenses find ways to make things happen and to create turnovers.
It was also good just to see Walt pick up where he left off from last season leading the NFC with interceptions. He had one in the preseason and now he starts the year with an interception. That's big because on the other side Nate Clements' reputation is what it is, so now Walt is letting people know early-on that it's not going to be easy on his side either. Going into the game I thought Anquan Boldin and Larry Fitzgerald were one of the best combos in the league and the secondary had consistent coverage all night. That really created a lot of opportunities for the front seven as well. It was an aggressive approach in the front with a lot of blitzing and getting after the quarterback.
Another big play on defense was from Joe Staley, causing a fumble with his hit on Edgerrin James. His ability to move around, find the football and make things happen as he learns more about playing linebacker and the scheme here is evident out there.
The defensive line and the linebackers had much more cohesion and made plays at the line of scrimmage. Manny Lawson made some big plays, and had a couple of hits behind the line.
Then in the secondary, I also liked the hits from Michael Lewis, which has been his forte, as well as showing tight coverage down the field. Nate Clements also showed that tight coverage and his desire to come up and make hits. They were able as individuals to establish their styles of play here with the 49ers but within a very cohesive unit.
So with the efforts up front along with the coverage in the back, I think the defense really got off to a very good start and those are some things that popped out to me right away. We'll continue to measure this defense against various styles of offense but they definitely did the job against one of the better receiving corps which was huge, and just a tremendous starting point.
Now you go back and look at the whole game and there are always things you have to work on.
For the offense, they had a tough time getting on track although I thought Frank Gore did a nice job scoring early on with that 6-yard run. The continuity though wasn't there for the offense, but I think you still go back and start at the end first which is the win. When you win, the critique is different because what is established for you mentally is that you can win a ballgame even though you maybe did not play your best game. When you can keep going and have the mental toughness to look for opportunities all the way through, that creates the confidence that you need on offense.  The execution and strategizing, those are the peaks and valleys of any ball game that you go through, but you start at the end and that win was big. You don't always get those.
The 49ers didn't get much down the field but you have to base that off the coverage that is there and the protection. That's something the offense will review this week and figure out how to create those shots down the field. Last year this was a team that really established the run game with Frank and now you have to blend that with a new receiving corps. You might have to throw the ball early to make sure Frank has a chance out there because everyone understands how talented he is. I think the offense will learn a lot from what scheme Arizona put together defensively, which was also more aggressive than last year, and come up with a solid plan for St. Louis and their style of defense.
Coming up defensively, they've got another receiving corps that is established and is pretty good. Those guys might be more of a down the field threat. The Arizona receivers were big guys who are athletic and physical whereas these guys are smaller and maybe move around more. It's a different kind of threat, so I'm looking forward to seeing the 49ers secondary work against those guys.
Like Edgerrin James with the Cardinals, the Rams have a very talented back in Steven Jackson, who also is a different style runner. Jackson is one of the premier backs and he got off to a slow start with his two fumbles after not playing a lot in the preseason. I totally understand that because why beat your horse up, but he did show some rust against Carolina. He's still the same type of threat that James was, just a different style of runner working behind a different offensive line, so this is another talented offense and a good challenge for this revamped 49ers defense.
Another big key for this game is just that it's always a different challenge to play on the road as well. It's tougher to travel and go into a hostile stadium, so I think a big piece of this one is just being ready to play a game on the road against an opponent that brings some different challenges.