Tight end Vernon Davis perhaps said it best, "You can lead a horse to water, but you can't make him drink it."
Head coach Mike Singletary has made no bones about holding players accountable, but when it comes down to it, the Hall of Famer linebacker isn't the one out on the field executing game plans flawlessly anymore.
"Coach let us know what he expects, and he can tell us what we need to do, but deep down inside, it's really up to us as a team," said Davis. "We have to take it and put it in our hands and just be responsible for what he's telling us and do it. Just play the game and do it as a team. We need to pick our intensity up and just play. Use our heart and just give everything we have."
It's up to the players to quit talking about getting things corrected, and actually doing it.
"There's no more talking, it's down to business, just get it done and don't say nothing. This is put up or shut up," said rookie receiver Josh Morgan.
It will take everything they have to turn it around. The last time a team started out with a 2-6 record and finished with a winning record was in 1978 when the Chargers finished at 9-7.
More recently, in 2006, the Steelers started 2-6 and finished at 8-8.
"We're only two games out of our division, so guys have to be physical, we have to be tough," said tight end Delanie Walker. "We really have to be focused and get in our playbooks, because it is a bye week and a lot of guys like to take the week as time off, for us, this is a time to get better."
Fortunately, the 49ers have two weeks to prepare for what could be a pivotal game on Monday Night Football against the Arizona Cardinals, who currently sit atop the division.
"Going to Arizona, we need our A game because they are playing great ball," said running back Frank Gore. "It's great to have the bye because a lot of people are banged up and we've got two weeks to prepare for them. With a new quarterback and everyone will get a good feel for him in practice and we've got to carry on and get ready for Arizona."
The team practiced twice this week, and will get in two more extra practices at the start of next week. Unlike a normal week where practices are mostly geared towards scheming for the opponent, the 49ers have used the off week to get back to the basics.
"We've focused on technique, paying attention to detail," said defensive end Kentwan Balmer. "We've been in a lot of games and the detail things we've sorely lacked, which kind of hurt us. Coach Singletary tells us it's all about the little things. That's what he's harping on and that's what he's instilling in us to do, do the little things and the big things will come."
"It's like going back to training camp," added Morgan. "You spend a lot more time with your individual coaches, because you can be a lot more detailed with them. It's like going back to training camp, because you are able to fine tune all the little things that help you with the bigger picture."
And the big picture is still post-season play.
"We have to use this week to figure out what we did wrong in the first half of the season so we can improve in the second half of the season, and hopefully come out of this thing and get in the playoffs," summed up defensive end Ray McDonald.
Recovery Time

The bye hit at just the right time for players like Ray McDonald and tight end Delanie Walker. McDonald missed last week with a knee injury, while Walker was forced out of the Seattle game with an elbow injury.
"The bye is coming at a great time for all of us," said McDonald. "A lot of guys are dinged up, including myself so it gives us an extra week to get healed up and ready to play Arizona on Monday night. I'm going to rest the whole week, get some treatment and get my knee right."
Walker also plans to be back in time for the Monday night game.
"It did come at a good time. I didn't want to get hurt, but unfortunately I did so it's going to give me a little time to recover to get back out there with my team against Arizona," said Walker. "I'm kind of glad it came at this time. I can go in and get some treatment and get my elbow back to 100 percent so I can play against Arizona on Monday night."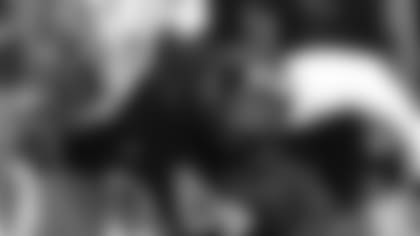 In most college programs, eight games would pretty much be near the latter part of their football season, but this year's rookie class claim they've yet to hit that proverbial rookie wall.
"I don't hit walls, I run through them," joked guard Chilo Rachal.
Rachal has yet to get a chance to crack the offensive lineup in a game, but he's enjoyed his opportunity for extra reps this week in practice since the 49ers have rested a few of their linemen.
"The guys who aren't playing are getting more opportunities this week and I'm taking advantage of it," said Rachal. "There's more one-on-one time this week as opposed to a normal week where we're always focusing on our next opponent. This week we don't have a game, but details can be corrected."
Balmer and Morgan have seen the most playing time of the rookie class, and both admit the NFL season takes some getting used to.
"It is a bit weird because I've talked to some of the guys back home, who are still in school and they were like, 'We're 6-2,' and I'm just like, 'We still have eight games left. We'll still be playing when ya'll are in a bowl game,'" said Balmer. "It's different, but I think the guys are helping me transition very well."
While Morgan expects to feel a little "funny" about not playing this Sunday, he's looking forward to some rest.
"I haven't hit it, but I am kind of getting there," said Morgan. "You go from training camp, from college, in August to the eighth week, your bye week, so it's the most football you're going to play in a year, but I haven't hit it yet. I'm just lucky not to hit it yet. Hopefully I don't hit until the offseason comes."
QUOTES TO NOTE

Michael Robinson and Bryant Johnson had two of the better one-liners when talking about their bye plans for the weekend.
"It's the bye, it means bye-bye," said Robinson.
Penn Staters must think alike because moments later Johnson said, "I'm resting, it's time to rest, it's bye-bye, see ya."