In Mike Martz's offense, chemistry is overrated. Trust isn't.
As Martz explains it, "If the route is supposed to be at 20 yards and they are all at 20 yards, it doesn't make any difference who runs it. It's just developing that trust and knowing that that guy is going to do what he is supposed to do."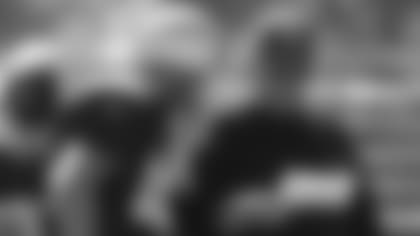 Starting quarterback J.T. O'Sullivan said he doesn't bother to look around the huddle and see who might be in, or who isn't. He gets the play from his coordinator, maybe reminds his receivers of what they expect to see from the defense and where the ball should go, gets to the line, checks the coverage and makes the throw he's been coached to in that particular set of circumstances.
"It's a trust thing where they trust me to put the ball where I'm supposed to and I trust them to be where they need to be," said O'Sullivan.
"But it's not an evaluation process, like, 'Oh, is he open? Who's out there?' or 'Let's see how long it takes him to get it.' It's, this play to that coverage. The ball goes there. Immediately, he better be there and I better put it right there."
And since O'Sullivan doesn't even really allow mistrust to even enter his mindset, the fact that receivers Arnaz Battle, Bryant Johnson and Ashley Lelie have returned to practice this week is exciting to the 49ers quarterback, but not any different.
"Everybody has to do things exactly the same," explained O'Sullivan. "Those guys have to do things exactly as they are coached to do it. It doesn't change for me depending on who is out there or what the situation is in the game or what group you are with. Those guys have to be in the same spots as everybody else. It's just a matter of doing it with those guys."
Still, Martz said the lost time this camp with his expected top group of receivers does weigh on his mind heavily.
"It's very necessary to have those guys out there. We've been behind the eight ball and that's hurt us. We need that desperately. That will affect us. I'm concerned about it. We've had them out here a few days. BJ in particular has been real good. We need to get them in that environment as much as we can. To their credit, they've stayed in it. They don't make mental errors, but just the connection between the quarterback and the receivers is real important."
Because even more important maybe than O'Sullivan trusting the receivers, is Martz having a total overview of what those players can achieve with the ball in their hands.
"When you do the game plan and create things for these guys, you want to see if they can make a play and make the most out of something," said Martz. "That's not where J.T. is. He's just going to play his game. My deal is 'Alright Arnaz, what can you do with this?' "Ok, BJ, here you go, what do you do with that?'
Martz might not yet have the complete picture he'd like, but it's clear that he does expect those returning receivers to make plays. Although rookie Josh Morgan has had a phenomenal camp, leaving some to wonder if he might beat out Battle or Johnson, Martz indicated otherwise.
"It's hard with Josh because he's a rookie and he's never been – the tempo of a regular vs preseason game is substantially different," said Martz. "To play under that pressure, all of the sudden, the lights are shining, the timing isn't like it was in the preseason because you are a little panicky and there's that growth process you are trying to fight through. So to say that Josh is the guy who is going to start - he's in it obviously, but we are really kind of planning on BJ to step up and be healthy and get ready to go." 
Of course, some things go as planned, some don't and Martz has seen both sides of the coin in his first camp with the 49ers, starting with his new starter. 
"I didn't know much about J.T.," confessed Martz. "In Detroit, he did a real nice job for us as a backup. But what he's done so far is to take an opportunity and made the most of it. To say that I expected him to be this good, I'd be lying. I didn't know that. I thought he had a chance to be a pretty good player, but he's taken the opportunity, ran with it and excelled."
Running back Frank Gore has meanwhile been every bit as good as Martz expected, and more.
"I don't think there isn't anything he can't do. I haven't seen it yet. I would say we are very pleased and he's kind of what we thought he would be, and more. He does not make mental errors. He's in good shape. Although it was a preseason game last week, I'm really pleased with running, his vision, his cuts. He's really ready to play. He's ready to go and he's the kind of player you build an offense around." 
But Martz said he's been most pleased with the offensive line that has been blocking well for Gore and providing O'Sullivan with ample time to get the ball out, describing it as one of the best units he's had to work with in "a long, long time." 
"The thing that allows us to excel offensively is all based on our offensive line," said Martz. "That goes back to sacks, protection, the ability to run the ball well. Everything is predicated on how well they do. They've really made remarkable progress from the first week of camp to where they are now." 
That success up front so early-on, and with a group that has taken some injury hits, is one of the many reasons why Martz believes the bar should be set high for this offense in '08. 
"I don't have a preconceived notion of where we should be; I just wouldn't put a limit of it," said Martz. "I'm excited about this group. It's a talented group with great character. They are very unselfish, and their work ethic is really good so there is really probably nothing they can't accomplish. They just don't know that yet. I wouldn't put a limit, or a ceiling on it." 
More From Martz

Martz took offense to a question about whether the competition was fair to Alex Smith since he didn't get to start in the preseason. 
"First of all, let me tell you this, let's get this straight. There is nothing fair about this league," said Martz. "If you establish yourself as an incredible player within the quarterback game, then that's just the way it goes. So understand that." 
Martz said that it wasn't what Alex hasn't done, but what J.T. has. 
"It really isn't so much about Alex, but J.T.'s performances have been so unusual. I think Alex is fine. He hasn't done anything to discredit him as a starter or to say that he can't play. That's not been the issue at all. We had an opportunity to give these guys a day off with their arm and J.T. stepped in and did some remarkable things so we decided to take more of a look at him. The more we gave him, the better he did." 
Wednesday Practice Update

The 49ers held an early afternoon practice in shells on Wednesday, their last full-fledged work prior to Friday night's game.
Linebacker Dontarrious Thomas returned to work after sitting out on Tuesday with a shoulder sprain.
Josh Morgan and Keith Lewis missed practice again due to an illness. Lewis did come out to at least watch the latter part of practice.
Guard Adam Snyder also missed practice, but he was spotted for the first time out at practice since being carted off the field last Tuesday with an ankle injury.
Tackle Jonas Jennings (hand) and returner Allen Rossum (chest contusion) also missed practice.
All five of those non-practicing players in Jennings, Lewis, Morgan, Rossum and Snyder have been ruled out of the game.