Continuity, continuity, continuity.
If you follow the San Francisco 49ers, continuity is a word you've heard over and over because it best describes the current state of the team's offensive attack entering the 2010 season.
For the first time in six years, the 49ers offensive coordinator will remain the same with Jimmy Raye returning for a second season as the team's play-caller.
Not having to learn a new system is crucial to the success of each member of the 49ers offense, especially to quarterback Alex Smith, who won't have to learn a new playbook for the first time in his professional career.
"It's amazing to think that this is the first time there will be consistency at the offensive coordinator position going into that next season for him after five years," head coach Mike Singletary said. "That's a pretty amazing thing to say – this the first time the offensive coordinator is there. I'm excited about that alone."
Smith plans on picking up where he left off last year, starting the final eight games of the season and finishing with four wins in his final six contests.
But there's more than just stability behind the team's optimism for an improved offense in 2010.
Smith also has a plethora of talent surrounding him, including two Pro Bowl weapons in Vernon Davis and Frank Gore. There are also rising stars like wide receivers Michael Crabtree and Josh Morgan to compliment the veteran playmakers.
But the pressure isn't solely on Smith's shoulders. The offensive line has a new position coach with Mike Solari joining the club after spending the last two seasons on the Seattle Seahawks staff, and former guard Ray Brown joining the coaching staff as Solari's assistant.
Both line coaches have plenty of talent to work with too, including the 49ers two first-round picks in the draft, tackle Anthony Davis (No. 11 overall) and guard Mike Iupati (No. 17 overall).
Needless to say, it's a big year for all members of the 49ers offense. They're just eager to get to work on Aug. 2, and start training camp off the right way.
With 80 players on the roster for the duration of camp, 40 of them line up at offensive positions. Let's take a look at those players who will wear red jerseys when training camp kicks off in a couple of weeks.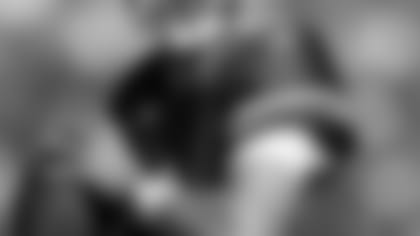 Alex Smith #11 – Smith picked up momentum throughout the 2009 season and is primed for a breakout year in 2010. In his 10 starts last season, Smith compiled the best 10-game stretch of his career. He recorded career-highs in touchdown passes (18), completion percentage (60.5) and quarterback rating (81.5).
David Carr #5 – Carr signed with the 49ers this offseason after being one of the most highly sought after free agent quarterbacks on the open market. The strong-armed Bakersfield native has thrown for 14,141 yards and 65 touchdowns in his nine-year NFL career.
Nate Davis #7 – The second-year signal caller impressed many in the 2009 preseason, leading the 49ers to a come-from-behind win at Dallas. Davis was not active for a single game in the regular season as he assumed third-string duties, but that's not stopping the former Ball State quarterback from competing for more snaps.
Jarrett Brown #3 – As an undrafted quarterback coming out of West Virginia, Brown hopes to prove critics wrong and show that he deserved to be drafted. He started all 13 games as a senior for the Mountaineers, and became the first quarterback in school history to throw for over 2,000 yards since Marc Bulger.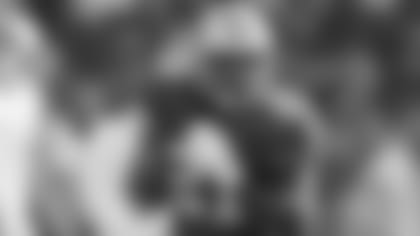 Frank Gore #21 – All things considered, it was a solid 2009 season for Gore. After battling an ankle injury early in the year, Gore earned his second Pro Bowl invitation after rushing for 1,120 yards and scoring a combined 13 touchdowns (10 rushing, three receiving). Gore became the first 49ers back to rush for 1,000 yards in four consecutive seasons and hopes to add to his record by doing it for a fifth-straight year.
Glen Coffee #29 – Hard-nose, physical running was the style in which Glen Coffee preferred as an NFL rookie. The backup runner showcased his aggressive running in his rookie campaign with 226 yards and one touchdown. Since then, Coffee has added 12 pounds of muscle to his 6-foot frame. At 220 pounds, Coffee is even more equipped to handle the physical demands that come with his position.
Michael Robinson #24 – Primarily known for his role as the 49ers special teams captain, Robinson is a leader on the field and in the locker room. On offense, Robinson adds value as a third-down back and proved his importance on "Monday Night Football," with several important catches in the second half of the 49ers season sweep of the Arizona Cardinals.
Anthony Dixon #33 – The rookie runner from Mississippi State who was selected in the sixth-round of this year's draft adds tremendous depth to the 49ers stable of running backs. Dixon owns school records with 3,994 rushing yards and 42 touchdowns and led the ultra-talented Southeastern Conference with 1,391 rushing yards as a senior.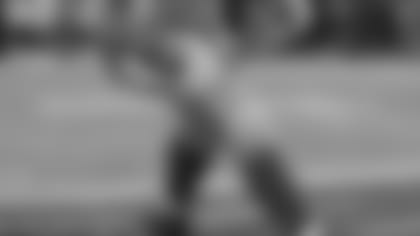 Moran Norris #44 – As one of the team's elder statesmen, Norris enters his 10th NFL season, and his fourth with the 49ers. After re-signing with the club last offseason, Norris has been a solid addition to Jimmy Raye's offense. After leading the way for many of Gore's big touchdown runs last season, Norris was rewarded in the season finale, scoring his first-career rushing touchdown against the St. Louis Rams.
Brit Miller #47 – Proof that the final roster cuts can end up on the 53-man roster, the former college linebacker worked his way from the practice squad to being a key contributor on many of the 49ers special teams units. On offense, Miller saw all of his action in the preseason where his first three catches resulted in touchdowns.
Jehuu Caulcrick #43 – Caulcrick was signed early in the 2010 offseason and has familiarity with Raye's system after spending the 2008 season on the New York Jets practice squad while Raye was the team's running backs coach at the time. Out of all the fullbacks on the 49ers roster, Caulcrick (250 pounds) is the most capable of doubling as a tailback for short yardage situations.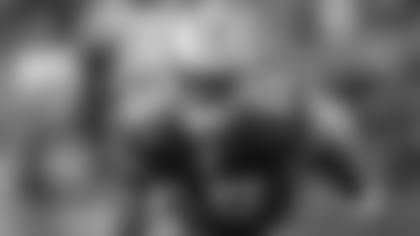 Michael Crabtree #15 – The No. 10 overall pick of the 2009 NFL Draft missed all of training camp and the first five games of the season due to a holdout. But once Crabtree joined the 49ers, he instantly became a big-time offensive weapon. Crabtree finished the season ranked first among NFL rookies with 56.8 receiving yards per game. He finished the year with 48 catches for 625 yards and two touchdowns.
Josh Morgan #84 – As he enters his third season in the NFL, Morgan hopes to be a part of one of the top receiving tandems in the league. Morgan caught 52 passes for 527 yards and three touchdowns in 2009 – all of which were career highs.
Ted Ginn Jr. #19 – Acquired in a trade prior to the draft, Ginn adds speed to the 49ers receiving corps. In three NFL seasons with the Dolphins, Ginn caught 128 passes for 1,664 yards and five touchdowns. The speedy wideout is the ultimate deep threat and will compete with the other receivers for playing time alongside Crabtree and Morgan.
Jason Hill #83 – The 6-foot, 202-pound fourth-year wideout has always been a play-maker for the 49ers offense whenever he's on the field. However, staying on the field has been an issue for Hill, as injuries have hampered his 49ers career thus far. Hill has caught 40 passes for 413 yards and four touchdowns with the 49ers.
Brandon Jones #81 – The six-year pro out of Oklahoma is back with the 49ers for a second season after signing with the team at the start of the 2009 free agency period. Jones was impressive in training camp last year, but fell victim to a shoulder injury that hampered him most of the season. Jones remains a downfield threat, and has the size (6-foot-1, 212 pounds) to make tough, acrobatic catches too.
Dominique Zeigler #17 – Zeigler was called up to the 53-man roster mid-way through the 2008 season, but couldn't crack the 53 in 2009. At 6-foot-3, 185 pounds, you would be hard pressed to find a player capable of making more spectacular catches than Zeigler.
Kyle Williams #10 – As the 49ers final sixth-round choice in 2010, Williams offers a unique blend of talents to the 49ers receiving corps. At 5-foot-11, 186 pounds, Williams is a shifty slot receiver, capable of making plays down the field.
Jared Perry #14 – Perry started 27 of 52 career games for the Missouri Tigers and recorded 137 receptions for 1,844 yards and 13 touchdowns. Last season, Perry caught 46 passes for 696 yards and six touchdowns.
Bakari Grant #13 – As an All-Great West Conference honoree in three of his four seasons at UC-Davis, Grant brings athleticism and then some to the 49ers. The 6-foot-3, 195-pound wideout has already shown tremendous hands during offseason practices, making difficult catches seem routine.
Scott Long #18 – Despite posting solid numbers at the NFL Scouting Combine, Long went undrafted and signed with the 49ers shortly after. Long hauled in 91 catches for 1,286 yards and four touchdowns during his four-year career at Louisville.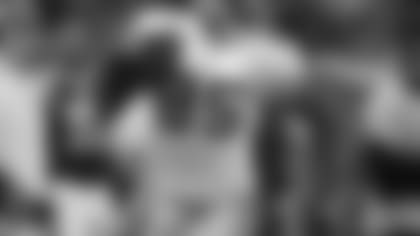 Vernon Davis #85 – Davis enjoyed one of the most prolific seasons by a tight end in NFL history last year with his 13 touchdown grabs tying the NFL's all-time single-season record by a tight end. Besides touchdown grabs, Davis led the 49ers with 78 receptions and 965 receiving yards. Already known as one of the league's premier blocking tight ends, Davis' receptions earned him his first Pro Bowl invitation as he was the NFC's starter.
Delanie Walker #46 – As close as Walker is with Davis off the field, his skills on the field are even more similar. Strong, fast and powerful, Walker is a matchup nightmare for opposing defensive coordinators. The five-year pro hauled in 21 catches for 233 yards in 2009.
Joe Jon Finley #49 – Finley has grown leaps and bounds in the two seasons he's been on the 49ers practice squad. But the 6-foot-6, 251 pound tight end wants nothing more but to crack the 53-man roster this year. After a productive offseason, Finley will get his chance to do just that.
Tony Curtis #88 – The four-year veteran is a proven blocker in the NFL and has experience on his side. After signing with the 49ers at the start of the offseason, the 6-foot-5, 251-pounder has been a regular attendee of the team's offseason program.
Nate Byham #82 – The rookie tight end out of Pittsburgh selected in the sixth-round is the fourth Panther on the current roster. As a three-year starter in college, Byham earned second-team All-Big East honors because of his dominating blocking prowess. He also caught 10 passes for 108 yards, showing off a well-rounded skill set.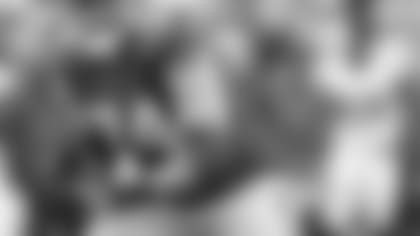 Joe Staley #74 – Sprained knee ligaments limited Staley to just nine starts in 2009, forcing the energetic left tackle out of action for the longest period of his football career. The injury looks to be behind the 6-foot-5, 315-pound tackle. Staley is back to full strength and has been able to post career-best numbers in the weight room as part of the team's offseason strength and conditioning program.
David Baas #64 – Baas resigned with the 49ers for one year this offseason and will look to start all 16 games like he did in 2009. Baas' efforts didn't go unnoticed as his teammates voted him the 2009 recipient of the Bobb McKittrick Award, which is given annually to the 49ers lineman who best represents courage, intensity and sacrifice.
Eric Heitmann #66 – Quietly, Heitmann has been the model of consistency on the 49ers offense. Entering year nine, the 6-foot-3, 312-pound starting center is just two seasons away from making it to the 49ers 10-Year Club.
Chilo Rachal #62 – The third-year right guard started all but one game in 2009 and has started 20 of 23 games since being drafted in the second-round of the 2008 draft. Rachal was key in several of Frank Gore's long touchdowns, including Gore's 79- and 80-yard runs against the Seahawks in Week 2 of the 2009 season.
Adam Snyder #68 – As he enters his sixth season with the 49ers, Snyder has played every offensive line position in a game except for center. Out of Snyder's 54 career starts, the breakdown is as follows: 21 at left tackle, 21 at right tackle, seven at left guard and five at right guard.
Anthony Davis #76 – The 49ers No. 11 overall selection in the 2010 NFL Draft will be in competition with Snyder for the starting right tackle job. Davis never played the position in college, but he did start 32 of 38 career games for the Scarlet Knights.
Mike Iupati #77 – The 49ers other first-round pick (No. 17 overall) is also in competition for a starting job on the offensive line. Iupati and Baas will vie for the spot as starting left guard. Iupati played in 35 games for the Idaho Vandals, starting in 33 of those contests. He was also named first-team All-American by the Associated Press after his senior year.
Barry Sims #65 – A reliable tackle able to play both sides of the line, Sims is a great veteran presence on the 49ers offensive line. Entering his 12th NFL season, Sims played a big role for the 49ers last year, starting seven games at left tackle for Staley.
Tony Wragge #69 – Listed as a guard, Wragge can also snap the ball if needed. The six-year veteran saw limited action in 2009, filling in at right guard for an injured Rachal at Green Bay.
Alex Boone #75 – The tallest member of the 49ers offensive line (6-foot-7) has lengthened his chance of making the 53-man roster with a solid offseason. Now that Boone is in better shape, he's worked at both left and right tackle positions.
Cody Wallace #59 – The third-year center saw his first game action in 2009, debuting against the Detroit Lions in Week 16. The 6-foot-4, 300-pound center has also lined up at guard in offseason practices.
Chris Patrick #61 – Patrick is able to play the guard and tackle positions, but has primarily lined up at guard this offseason. Patrick made his NFL debut last year at Green Bay on special teams.
Brian de la Puente #60 – De la Puente returned to the 49ers after spending the 2008 training camp with the club. The 6-foot-3, 308-pound guard has also lined up at center this offseason.
Matt Kopa #71 – The Elk Grove native and Stanford grad signed with the 49ers as an undrafted free agent following the 2010 NFL Draft. Kopa has yet to practice with the team, as he's recovering from a foot injury suffered in Stanford's 2009 season-opener.