Ever so quietly, 49ers defensive coordinator Greg Manusky has been building a bully of a defense.
In his first three seasons with the club, Manusky's unit has evolved into one of the top 3-4 defensive schemes in the game.
The stats certainly say so.
The 49ers tied for the league lead in several defensive categories a season ago. They allowed 10-or-less points in seven contests and held opponents out of the end zone on five different occasions. The unit also shared honors with the Chicago Bears as the two forced a league-leading 21 fumbles, which was the highest team total since the 49ers began tracking the statistic in 1980.
Those stellar performances helped the 49ers finish the season allowing 17.6 points per game, which was fourth-best in the NFL, and second in the NFC.
Equally important, the 49ers 5-1 record against the NFC West was largely because of a stingy defense which allowed 10.2 points per game against the division, tops by any NFL team against its division in 2009.
From top to bottom, the 49ers defense features play-makers and game-changers at all levels of the field.
Up front, the 49ers 44 sacks tied for third best in the league and was the team's highest team total since 1998 (51 sacks, third in the NFL). With a pass-rush-by-committee approach in 2009, the front seven sent two players to the Pro Bowl (Joe Staley and Justin Smith) and had four players including Smith total five or more sacks.
And with the defensive backs supplying strong coverage on the back end, Manusky's defense totaled 27 sacks in the final eight regular season games, most in the NFL.
Having such a strong finish will only heighten the expectations for the unit in 2010. Having said that, Manusky wouldn't have it any other way.
"I think the most important thing is that when you start to build something, the backup players become better. I think there's not a letdown all of a sudden when someone gets banged up or nicked," Manusky said earlier in the offseason. "There are no missed heartbeats, you just keep on playing. I think as time goes and you keep on progressing, you start to narrow down exactly what you're looking for and trying to get those guys to play in the system and play well."
With 80 players allowed to attend the 49ers training camp, let's take a look at who will be wearing the white practice jerseys when training camp kicks off on Aug, 2.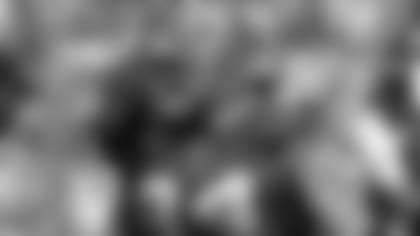 Justin Smith #94 – Quietly, Smith has become the 49ers version of Cal Ripken Jr. The defensive tackle has an active streak of 139 consecutive starts, tops among all NFL defensive linemen. Known for his relentless motor, Smith totaled a team-high 78 quarterback pressures and 52 quarterback hits last year. His 90-tackle, six-sack season was also rewarded with his first invitation to the Pro Bowl.
Aubrayo Franklin #92 – While Franklin has yet to sign his one-year tender after being hit with the 49ers franchise tag, last year's starting nose tackle will have to wait until after the season to negotiate a long-term deal. Franklin, 29, had a career year in 2009, totaling 88 tackles (8.5 for loss) and two sacks. Assuming he signs before camp begins, Franklin will look to build on those numbers and maintain his status as the anchor of the 49ers three-man defensive line.
Isaac Sopoaga #90 – The seven-year veteran is one of the longest tenured 49ers on the roster after the team selected him in the fourth round of the 2004 NFL Draft. As one of the 49ers starting defensive tackles, Sopoaga is featured primarily on base downs. Even with limited snaps, the 6-foot-2, 330 pounder still finished last year with career highs in tackles (69) and starts (16).
Kentwan Balmer #96 – Entering his third NFL season, the 6-foot-5, 315-pound defensive tackle would like to crack the starting lineup, but injuries have slowed down that goal. After being placed on injured reserve last season with a shoulder injury, Balmer has rehabbed vigorously to get back on the field in time for training camp. Towards the end of the offseason, the former first-round pick began to practice with his teammates at the team's mandatory minicamp.
Ray McDonald #91 – Last offseason, the 6-foot-3, 290-pound defensive tackle was out of action rehabbing a knee injury. What a difference a year can make. With a full year under his belt since the injury, McDonald has been a force during offseason workouts. He also lines up as an interior pass rusher in the team's nickel and dime packages, which best suits his bull-rushing pass rush style.
Pierre Garçon #95 – It was a big offseason for the second-year defensive lineman. With Franklin out of action because of contract negotiations, Jean Francois ran with the first-team defense at the nose tackle position. The 6-foot-3, 295 pounder gives the 49ers depth at the defensive tackle positions as well, which is where he lined up primarily as a rookie in 2009.
Demetric Evans #93 – Evans was a reliable addition to the 49ers defensive line after signing with the team during the 2009 free agency period. The nine-year veteran totaled 18 tackles with 1.5 sacks in his first season with the 49ers. Evans' veteran, down-to-earth presence is also a great fit in the locker room.
Derek Walker #78 – Prior to the 49ers 2009 season finale at St. Louis, Walker was claimed off waivers from the Seattle Seahawks. Being with the team for the entire offseason has been a plus for the 6-foot-4, 271-pound defensive tackle, who is trying to learn a new system and make a positive impression on the 49ers coaching staff.
Khalif Mitchell #60 – At any given time last year, Mitchell could be found practicing with either the offensive or defensive line. As a member of the practice squad, Mitchell was a chameleon, who lined up wherever the coaches needed him. But after dropping close to 30 pounds in the offseason, the leaner Mitchell looks to remain on the defensive line for the rest of his 49ers career.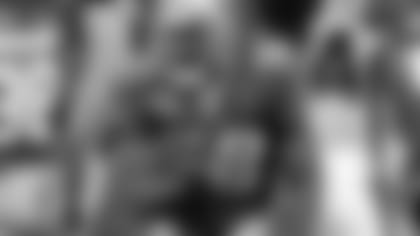 Patrick Willis #52 – Three Pro Bowls in three years? Check. Best linebacker in the game? Check. Best defensive player in the game? Well, that's debatable, but Willis is doing everything in his power to put his name in the conversation. Last year's NFL leading-tackler (173) is ready to add to his rapidly growing legacy now that he and the 49ers agreed to a five-year extension on top of the two years remaining on his existing rookie contract. Willis was also recognized by his teammates last season with the Bill Walsh Award, given to the team's Most Valuable Player.
Takeo Spikes #51 – Passion personified – that's Spikes in a nutshell. There's nobody who wants to win as badly as the 13-year veteran who has yet to play a single playoff game. Spikes wants in bad and is willing to do what it takes to get his team in the playoffs. Last season's 95 tackles and career-high four sacks proved there's a lot of game left in the fan-favorite who has a passion for showing off his creative celebration dances.
Scott McKillop #56 – McKillop spent most of his rookie season learning the tricks of the trade from the veterans on the roster while making his mark on special teams. In year two, the 6-foot-1, 244-pound inside linebacker is ready to showcase those lessons for the 49ers Faithful to see. McKillop has already shown improved coverage skills this offseason which were on display when he picked off two passes in the final minicamp session of the offseason.
Matt Wilhelm #57 – Solid and dependable. Those two words accurately describe what Wilhelm meant to the 49ers in 2009. After joining the team midway through the season, the eight-year veteran became an instant factor on special teams and made one start in place of Spikes. Wilhelm has a great understanding of Manuksy's defense from their years together with the San Diego Chargers, and he's not afraid to be a vocal leader, sharing his knowledge of the defense with the young inside linebackers.
Navorro Bowman #53 – The rookie linebacker out of Penn State will have to make the adjustment from a 4-3 outside linebacker to a 3-4 inside linebacker, but that doesn't bother the 49ers coaching staff. Not with the speed that this year's third-round pick possesses. The 6-foot, 242 pounder is one of the fastest linebackers on the roster and could be a factor on special teams as well.
Mike Balogun #48 – Bowman's childhood friend will need to make the most of every repetition when training camp begins. The 25-year-old rookie is mature for his age, but not necessarily with the 49ers defensive scheme. Although he did intercept a Nate Davis pass in the red zone during OTAs, Balogun will need multiple big plays to surpass the players on the depth chart ahead of him.
Keaton Kristick #45 – Kristick was a sought after rookie free agent following the 2010 NFL Draft. The former Oregon State product signed on with the 49ers with the hopes of unleashing his playmaking abilities that went unnoticed at the draft. The 6-foot-3, 234-pound linebacker flashed some of his talents towards the end of minicamp after he intercepted a pass from Davis and had the wherewithal to get a nice return down the sideline after the turnover.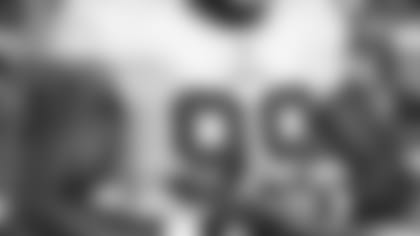 Manny Lawson #99 – For the first time in his career, Lawson spent the offseason away from team headquarters, electing to train with a personal trainer in Arizona instead. The results were positive when the 6-foot-5, 240-pound pass rusher returned for minicamp practices last month. Lawson led the team with a career-best 6.5 sacks last season and would like to add to that total as he finishes the final year on his rookie contract.
Parys Haralson #98 – It was a solid 2009 season for the fifth-year outside linebacker out of the University of Tennessee. Haralson posted career-best numbers with 73 tackles, four passes defended and one forced fumble. The pass-rusher also registered five sacks, adding to his career total of 15.5.
Ahmad Brooks #55 – The 6-foot-3, 259-pound outside linebacker had a breakout year in 2009. This year, he hopes to break into the starting lineup and push Lawson and Haralson for reps. Used primarily as a third-down rusher, Brooks totaled a career-best six sacks in 2010, including a three-sack performance against the Arizona Cardinals on "Monday Night Football." Brooks re-signed with the 49ers for two more years back in April and will look to push for more playing time when camp begins.
Travis LaBoy #54 – The local product signed with the 49ers in late April, hoping to add to the 49ers stable of pass rushers. As a former rival of the 49ers and childhood fan of the team, LaBoy has been eager to be a part of the 49ers organization. Although he missed all of 2009 and parts of the team's offseason program due to a foot injury, LaBoy figures to be ready for training camp.
Diyral Briggs #50 – Briggs made a positive impression on the 49ers coaching staff last year at training camp and the undrafted outside linebacker was kept on the practice squad. The 6-foot-4, 230 pounder spent six weeks on the practice squad before being called up to the 53-man roster prior to the team's Nov. 1, contest at Indianapolis. Briggs' role was primarily on special teams as a rookie, but he's looking to prove he's ready for a larger role in 2010.
Martail Burnett #58 – The 6-foot-3, 262-pound outside linebacker has flown under the radar for most of the offseason. Not for lack of ability, but because of personality. The soft-spoken outside linebacker has been focused on two things since signing with the 49ers practice squad last October: learn the defense and make the team. In less than two weeks, he'll have his opportunity to prove he can do both.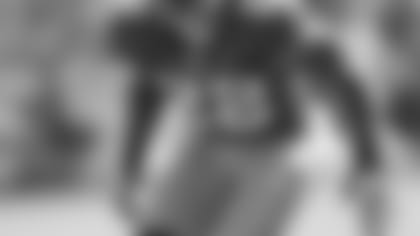 Nate Clements #22 – Like Lawson, Clements' absence from offseason workouts was much publicized. But as Mike Singletary reiterated throughout the summer, Clements' reputation gave the 49ers head coach a lot of leeway with the 10-year veteran, knowing that Clements was working diligently on his craft. Clements is eager to bounce back from an injury-plagued 2009 season that saw him miss nine games, and put him out of action for the longest period of his football career. Clements appeared to be fully healthy from the fractured scapula suffered against the Colts. His impressive showing at the 49ers mandatory minicamp bodes well for the man known as "Lockdown."
Shawntae Spencer #36 – After missing most of the 2008 season, Spencer proved there's plenty of life left in his game. The 6-foot-1, 190-pound cornerback reclaimed his starting spot in 2009 and finished with a career-high 17 passes defended. He also added two interceptions. Spencer's effort was rewarded by his teammates, after they awarded him with the team's Ed Block Courage Award for his commitment to sportsmanship and courage.
Tarell Brown #25 – The 5-foot-10, 193-pound cornerback will be a factor in the team's nickel and dime packages. But there's more to Brown's game than covering slot receivers. The fourth-year pro made four starts in 2009 and finished the year with career highs in tackles (37), passes defended (9) and he tied a career high with two interceptions. Brown signed a three-year contract extension late last season which will keep him with the 49ers through 2013.
Karl Paymah #41 – One of the 49ers big free agent additions happened to be this California native, who is entering his sixth NFL season. After spending five seasons with the Denver Broncos (2005-08) and most recently with the Minnesota Vikings (2009), Paymah brings 72 games of experience along with 113 tackles and three interceptions to the 49ers.
Will James #31 – Like Paymah, James was signed as a free agent to help bolster the secondary. He brings a veteran presence (10 years) and familiarity along with him. After playing for 49ers secondary coach Johnnie Lynn with the New York Giants, James rejoined his old coach late in the free agent process. With 92 career games under his belt, James has totaled 326 tackles, 49 passes defended and eight interceptions.
Phillip Adams #35 – Coming out of unheralded South Carolina State, the 49ers saw enough out of Adams to select him in the seventh round of the 2010 NFL Draft. The 5-foot-11, 193-pound cornerback has plenty of veteran guidance around him and should soak up as much as possible while making his case to land on the 53-man roster.
Tramaine Brock #26 – The 5-foot-10, 197-pound corner went undrafted out of Bellhaven, but he has flashed strong cover skills while in camp with the 49ers. As a senior in college, Brock posted 51 tackles (13.5 for loss), 2.5 sacks, six interceptions, 10 pass breakups and one forced fumble.
Patrick Stoudamire #27 – Stoudamire went undrafted in 2010, despite being named first-team All-Missouri Valley Conference three times at Western Illinois University. For his career, Stoudamire finished with 134 tackles, 41 pass breakups, six interceptions, and two forced fumbles.
LeRoy Vann #33 – Vann's college highlight reel at Florida A&M was quite impressive, but not enough for teams to draft the 5-foot-8, 177 pounder. Most of the highlights showcased a return specialist who set five NCAA return records. On defense, Vann isn't afraid to go against bigger opponents. In college, he totaled 107 tackles, three sacks and two interceptions.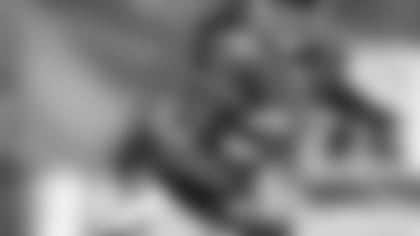 Dashon Goldson #38 – The man known as "The Hawk," has really spread his wings in recent years. In his first full season as a starter, Goldson totaled career highs in tackles (114), interceptions (four), forced fumbles (three) and sacks (two). Although he's entering the final year of his contract, Goldson has been an active participant in the team's offseason program. He also showcased that play-making ability, coming up with a couple of interceptions.
Michael Lewis #32 – The nine-year veteran continues to be a warrior for the 49ers defense. A concussion caused Lewis to miss one game in 2009, but with 15 starts on the year, Lewis totaled 108 tackles, third-most on the team.
Taylor Mays #23 – Not many second-round picks come into the NFL with as much fanfare as the USC product the 49ers selected with the No. 49 overall pick in the 2010 NFL Draft. Ronnie Lott's pupil has big shoes to fill, but he has the mindset to get it done. But first, he'll have to compete with a talented group of young safeties eager for playing time. The 6-foot-3, 230 pounder will be one of the fastest players on the field when training camp begins. At the NFL Scouting Combine, Mays posted a blistering time 40-yard dash time, some believed to be in the sub 4.3 range.
Reggie Smith #30 – Now in his third year with the 49ers, Smith is eager to have a greater role on the defense. A groin injury knocked the 6-foot-1, 200-pound safety out of five games in 2009. But now that he's fully healed, Smith has been a play-maker during offseason practices and has come up with several interceptions.
Curtis Taylor #28 – Just as Smith started to standout by creating turnovers during OTAs, Taylor asserted himself as a player to watch as well. Two of his interceptions ended two-minute drill scenarios and earned praise from his defensive teammates. The 6-foot-2, 209-pound second-year safety hopes his solid offseason translates into more opportunities in 2010.
Chris Maragos #40 – The 5-foot-10, 200-pound safety out of Racine, Wis., started in 19 of 26 games in his two-year career at the University of Wisconsin after transferring from Western Michigan. Maragos earned honorable mention All-Big Ten as a senior, starting all 13 games and totaling 49 tackles, six pass breakups, one sacks, one forced fumble and three tackles for loss while leading the Badgers with four interceptions.