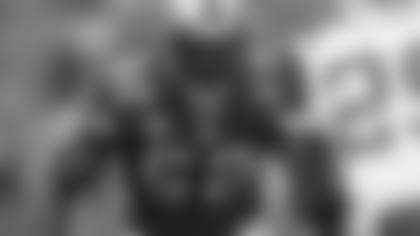 Throughout the offseason, TV 49 will take a look at some of the best highlights for the 49ers in 2008.  You can also vote for your favorite plays on the 49ers.com homepage.  Just in case you wanted to get the players' take on their favorite plays of the year before making your vote, here's what they had to say about the best special teams plays from last season.Nate Clements: **
"Oh, its neck-and-neck. It would have to be my hit on Jason Witten and Pat's hit on Brad Smith against the Jets. It's a close call. After I hit Witten, I didn't hear him make any noise, because he couldn't speak. I took all the air out of him. It's definitely between us two."
Justin Smith: "Probably Pat's hit on Brad Smith. It was the loudest hit, when he got up he went back down again."
Delanie Walker: "Patrick Willis on Brad Smith. The one he had against Kenneth Darby from the Rams, where he picked him up and slammed him down was good too, but the one on Smith was the best hit. Smith's leg was folded back and he was knocked out, but he didn't know he was knocked out until he took three steps and fell down again. He got sniped. He got hit and then he didn't know he got hit.
"I'd say my hit on DeSean Jackson – that was a good hit, but it wasn't a direct hit. A great hit is when pads go against pads. I caught him with my arm and he was light so I was able to bring him down. Mine was like a clothesline, it was a nice hit. I'd put that up there, but the best hit was Patrick Willis. That hit against Smith was unbelievable."
Patrick Willis: "I'd say Michael Lewis' hit on the goal line against the Saints. That was a big play, because most of the time, you'd think a fullback is going to run through a safety and Mike Lew held up his own on that one and I know I got excited. He knocked the ball loose and I fell right on it. That was probably one of the biggest hits I saw from our defense all year."
Takeo Spikes: "I'm biased, so I'd say Pat's hit against the Jets. The sound was probably one of the best sounds I've ever heard on a football field. I would have to rate that up there with one of my best hits. It was 2004, I hit Reggie Williams, the ball went one way and his helmet went the other. That sound was pretty good."
---
---