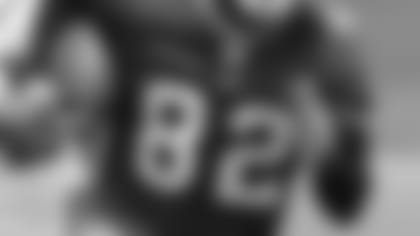 The 49ers snagged a veteran on offense this off-season in former Cardinals wide receiver Bryant Johnson. Johnson has taken well to his new team and the Mike Martz' offense, making several nifty grabs during the off-season practices. Catch up with the receiver in this Top Five and then be sure to view more of the interview in our TV49 Up Close segment. **
Q: How has your transition been from Arizona to San Francisco?
A: The biggest change has been not being hot every day. The desert region, I have just been used to that for five years. It's nice to see trees and some greenery. Another big key is the cost of living. It's astronomical compared to my mortgage in Arizona so that was a tough pill to swallow, but it's something you have to do.
Q: What's it like to be out of the shadows of Anquan Boldin and Larry Fitzgerald and have an opportunity here in San Francisco?
A: It's definitely a new feeling and it's refreshing to come here to an offense where Mike Martz has just come in to be the coordinator. Everyone knows his track record and how great of an offensive coordinator he is. So to be a receiver and get a chance to come in and play and have a lot of opportunities to make plays in this offense is just a great feeling and I'm looking forward to it.
Q: The NFC West has some great receivers. Already mentioned, your former teammates in Arizona, Isaac Bruce obviously came here, but he and Torry Holt had been in St. Louis, Bobby Engram (a guy you know a lot about from Penn State) and Deion Branch in Seattle. Do you feel the 49ers receiving group has a chance to be regarded as highly?
A: Isaac just came in. Arnaz Battle has been making plays every year. Ashley Lelie is a proven guy who has started in Denver and made a lot of plays. Then you add myself into the mix and we have a good receiving corps. With the addition of Mike Martz we're going to do nothing but become a better passing team.
Q: The success of that passing offense in Martz' system relies on timing. That's a difficult thing to measure, but how do you feel the timing has progressed this off-season between the receivers and the quarterbacks?
A: The timing has come along tremendously. I think the biggest key word to think about in this offense is trust and that's what you try to build with the quarterbacks. The quarterback trusts that you're going to be at the right depth at the right time and you trust that he's going to get the ball there. So this offense is a lot about trust and timing.
Q: 49ers fans are probably familiar with what you can do on the field after seeing you in many divisional games, but what are you like off the field?
A: A lot of guys see me as an outgoing guy, a guy who jokes all the time. I was always told that life's too short to be serious all the time, and so I try to have fun every day. That's the type of personality I have. All my family is back east so when I get time off, I like to make it back there and spend it with them. We grill out and just laugh and have a good time.