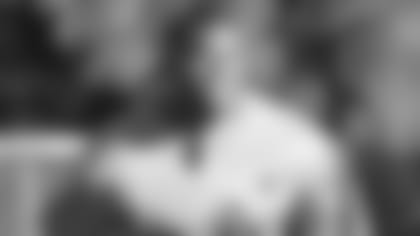 In this Top Five with Thomas, 49ers.com brings you five of the top questions with new linebacker Dontarrious Thomas. Find out more about this new free agent acquisition and former Minnesota Vikings backer.**
Q: What were some of the top selling points for you in coming to San Francisco?
A: I just think this is an organization that is moving in the right direction. We definitely have a chance to make the playoffs and do some big things. Also, defensive coordinator Greg Manusky coached me in the Senior Bowl (back when Manusky was with the Chargers still) so we have a relationship from that. It's just an opportunity to come out and play and that's all I can ask for.
Q: You're coming to a team that runs a 3-4. What do you anticipate your transition to that defense to be like?A: I think it's going to be a learning experience and it will have its ups and downs. I just have to stay focused and not get frustrated because it's a different defensive scheme, a lot different than the Tampa 2 we ran in Minnesota. But football is football. You run and hit - see ball, hit ball. As long as you show that intensity and play hard, it will all come together.
Q: You've had a few starts over your career due to injuries, but what does it mean to you to be able to be come here and have a real shot to compete for a starting role?
A: That's really important. I think everybody who comes to the NFL or plays any type of sport wants to have the opportunity to compete to start and play. That was one of the selling points also. I'm looking to come in here, put my best foot forward and let things play out. The most important thing though is to try to help out this team in any way possible.
Q: The 49ers played the Vikings the last two years so you had an opportunity to study this team. What are your expectations of what this team can do?
A: I have high expectations. I played against some of these guys and I remember that Patrick Willis had one heck of a game against us. I was also talking to Moran Norris this week because I started against him two years ago. We were reminiscing about jawing on the field and things like that. It's going to be fun and it's going to be great competition. I'm looking forward to building some camaraderie with those guys and getting that fellowship.
Q: You've been a key contributor on special team throughout your career. Are you looking forward to continuing that role with the 49ers, a team that really emphasizes special teams?A: Definitely! Special teams has been my niche to stay in this league. I've been a contributor and that's very important to me. We emphasized special teams in Minnesota as well. Being a part of that was special because you don't feel like you are just one of those guys on the team. When you come to an organization that stresses the importance of special teams you actually feel a part of it. It makes you want to go out there, put your best foot forward and help the team win.
Make sure to visit our TV 49 video center to watch the Up Close segment with Dontarrious!