Jeb Terry was originally drafted by the Tampa Bay Buccaneers in the fifth round of the 2004 draft out of North Carolina. He was a backup offensive lineman and special teams player for the Buccaneers for three seasons, seeing action in 30 games with one start at right guard in 2006. He went to training camp with Tampa Bay last season but was waived prior to the start of the regular season. Get to know more about Terry in this Top Five.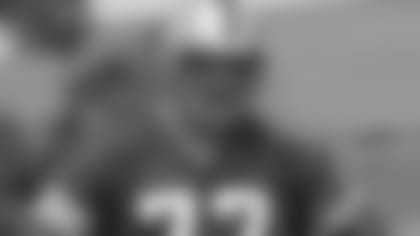 Q:  What was your time like in Tampa, and how tough was it to spend most of last season out of football?**
A: The Bucs were great. I really enjoyed the organization and had a great time there, started a life there. It was a great learning experience. After I got hurt, it was one of the most frustrating things I've ever had to deal with. Trying to get back on the field all year, and rehabbing was very trying on me and my wife so we're excited to be back on a team and ready to go out there and play.
Q: What was your injury exactly?
A: It was a high ankle sprain which normally isn't that big of a deal but mine took quite a long time. I took an injury settlement and the ankle took longer than we thought and I couldn't get back on the field. I just had to rehab every day and try to get healthy.
Q: What have you been working on since joining the 49ers?
A: The first thing I needed to do was learn the offense, so I've been in the books a lot trying to get that all taken care of. We've worked on a lot of footwork out there too with our coaches. All coaches have different types of technique they like to teach so I've been trying to get on the same page as Coach Warhop and just move from there, and do all he asks of me and at the best of my ability.
Q: What do you think of the group of running backs you get to block for around here?
A: The backs here look great. I was fortunate to have Cadillac Williams in Tampa and unfortunately he went down last year, but Ernest Graham stepped in and did a great job for them. But, you block for whoever is behind you, but it's exciting to have explosive people and I've been fortunate to have good backs my whole career so far, and I'm lucky that gets to continue here.
Q: I read in your Bucs bio that you attended a military academy and that it was there that you became fluent in Spanish, and that you regularly visit Mexico. How well can you speak it?
A: I am out of practice but every time I go to Mexico I get back in the flow of it. More than half of my unit was from Mexico or South America and so in the dorms I learned to speak to them in Spanish. I'm very good at street Spanish. I took Spanish classes but I'd go to visit them and I'd start talking with their parents and accidentally throw in some inappropriate words. They were understanding and appreciated the effort. My wife and I try to take some trips there and then my dad and I also go on hunting trips to Mexico, so I end up going about two or three times a year. I really have an affinity for the country, the people are great and very welcoming. I stand out like a sore thumb there, that's for sure, but once I speak Spanish they're happy.