Veteran cornerback Nate Clements joined the 49ers during the 2007 off-season and instantly proved to be a force in the secondary. He started all 16 games for his sixth consecutive season and ranked third on the team with 110 tackles and tied for first with four interceptions.  Check out this Top Five with Clements!
Q: Looking back on your first year with the 49ers, was it more, less or about what you expected?
A: It was extremely different coming in to a new team. It was exciting for me because of the atmosphere. The people, my teammates, the coaches welcomed me here. But bottom line, it's about winning games and we didn't do that and so it was a long season. So this year, I'm back on the grind and working out even harder to help this team win games.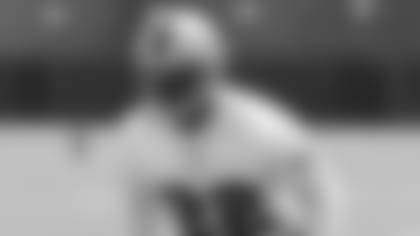 Q: This off-season there was much ado made about you selecting the best receivers in the NFL for ESPN. Tell us about making those picks. **A: Every week every team has a star receiver, has a stud. Since I've been in the league and all of the guys I've had the opportunity to play against, I felt that Marvin Harrison, Chad Johnson and Randy Moss were the top three. That's not to say that they are the only good receivers in this league. For me, it's definitely a challenge each week going up against that team because you know they have a stud as well.
Q: The 49ers picked up a few new receivers for you to go up against at practice this year. How's that gone so far?A: Definitely fun. I feel that we are definitely improving as a team with key additions, and young guys stepping in as well. To go against a guy like Isaac Bruce and a young up and coming guy like Bryant Johnson is definitely fun. It's all about competition. We are here for one common goal and that's to win games and to do that we have to compete against each other and make each other better.
Q: With this being the second year in Greg Manusky's defense, do you expect this defense to be better and play faster?A: I feel this year that guys have more understanding of the scheme. I feel that we played extremely well last year and I feel the sky is the limit for us this year. We can be even better and more dominant, but we have to continue to work together as a team and know where each other is going to be, and basically have each guy handling their responsibility for that particular defense. When you put all of that together, it makes us extremely tough to go against.
Q: You've been here working out all off-season with the team, how has that gone and what else have you been up to in the last few months?A: I just wanted to come in this off-season in our program and get some work. I want to be the best. I want to be better than my opponent and to do that you have to come in every day and put work in and get better. Other than that, I have just pretty much been a husband and a father, and laying low. I've done a little golfing and then got ready for my little boy Ace, who just arrived a few weeks ago.
And just for good measure, we'll throw in the Funniest Quote from this interview, which you can check out in full later today on TV49.
Asked about getting lean this off-season, Clements replied, "It's a little bit of genetics and hard work. I was given good genes. I basically just worked out, and the proof is in the pudding. You get ripped muscles. I don't need an ab lounger."