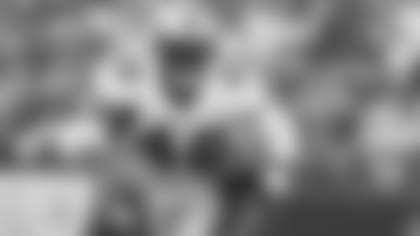 Delanie Walker, a former sixth-round pick out of Central Missouri in 2006, sat down with TV49 before the OTAs broke for an Up Close segment. Below is the top five questions from that segment, and Walker's answers. Check them out, and then be sure to catch the entire feature on TV49.**
Q: As you enter your third year playing in the NFL, how would you say the transition from a college wide receiver to a tight end has gone?
A: I feel like it's going well. I'm still in the learning process, trying to be a better player, a better tight end on the field and off. I feel that I've got some good veterans like Billy Bajema out there showing me what I need to do and that I can learn from him. Also having a guy like Vernon Davis who was a tight end all through college is good because I'm learning from him and I feel like I'm picking everything up. I've got a good coach in Pete Hoener and he's always schooling me on things that I need help on. I feel like everything is working out. I'm getting the hang of it and my transition is going smoothly.
Q: I know you told me you were always the class clown and not too big on studying in school, so what's it been like learning this new Mike Martz offense? Is it as tough to lean as everyone says?
A: I'm not a school guy but I'm a football guy, and picking up plays and the offense that is what I do. It comes naturally. I love football and this is what I do. Like everybody says, it is difficult. There are a lot of things you do have to know. I spend more time in the playbook than usual just because the offense is very difficult. You have a lot of hot routes and the offense is wide. What I mean by wide is there are a lot of things you have to do and there are a lot of things that happen before the ball is even snapped. I stay in the playbook, and I try to ask more questions when I am in the meetings just to make sure that I have everything down pat before I go on the field.
Q: This off-season fans sent in questions for Coach Martz and then to Mike Nolan in his X's and O's and several times guys like you and Michael Robinson came up because of your versatility. They wanted to know how you will be used in your offense. So, what do you think? Will you be utilized more this year?
A: I feel like I am going to be used. The playbooks is wide, it's open. I feel like I'm going to have a lot of gadget plays and that I'm going to be a big part of this offense. I can do a lot of things like the fans say. I can be out wide, I can be in the backfield, and I can be a tight end. So they just have to wait and see, but I think I'll get the ball a lot – gadget plays, screen, reverses, and I'm just looking forward to it.
Q: As a rookie your time in the off-season program is limited and then last year you had the surgery on your shoulder. What was it like to be able to go through your first full off-season and how do you think that can help you this year?
A: It's been an opportunity for me to be on the field more. I had the shoulder surgery so I couldn't do OTAs or the mini camp last year. I had to sit out and watch. This year I feel like my opportunity is big. I practiced in mini camp and the OTAs. I have been here for the workouts and conditioning, and everything has gone well. I got stronger, bigger, and I reduced my body fat. I feel like it's my opportunity to play more and that there's a big chance for me to be on the field more.
Q: What are some of your goals for this season as you do get more opportunities?
A: Being a better run blocker. I want to help Frank Gore get more rushing yards. Being a better special team player, because without special teams you can't win games. Get more touchdowns, more catches, this list can go on and on. More truly, I just want to win more games. That's my goal. Try to get to the playoffs and see what we can do from there.