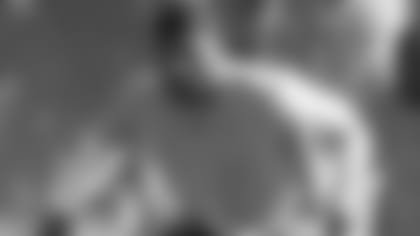 Check out this Top Five with return specialist Allen Rossum, and also make sure to view our Up Close segment with him on TV49.**
Q: What was so attractive about the 49ers that made you want to sign here?
A: The most important thing when you're playing in this league is feeling wanted, when someone needs your services and that's what I felt here. There were also a couple of guys who I already knew here like Nate (Clements), Bryant Young and the organization itself with the DeBartolo family. They are big donors back at Notre Dame and that's where I went to school. I finished my major in one of the DeBartolo buildings. Also, they have a long tradition here as well. Growing up in Dallas and being a Cowboys fan, I saw enough of the 49ers to know a lot about the organization.
Q: In your ten years in the NFL, what has been the moment that you are most proud of achieving?
A: I would say my proudest moment would probably have to be two things. One, I played with Green Bay the year before I went to Atlanta. Green Bay had never lost a game from November on and when I was with the Falcons we went up there in the playoffs and beat them. The next year I set a punt return record for yardage in the playoffs. Those were two pretty proud moments, besides the Pro Bowl. That was good. I guess I have more than one, but I tend to have fun in the league and at this level. I go out each game just attempting to do that, just go out and have fun and leave it all out on the field.
Q: You took a kickoff return back for a touchdown against us last year. What makes you so capable of taking one the distance?
A: I think last year was probably a fluke because the 49ers definitely have a very aggressive and technically sound kickoff team. From watching them from the preseason up to those first two games, I was actually thinking it was going to be a moderate day. I had an opportunity to score a touchdown so I tried to take advantage of it. I guess the thing I look forward to most is just the opening kickoff or the opening punt, when your team needs you the most. Right after a three and out is very exciting, especially at home, or when a team has just scored on their opening drive so you know you want to get that momentum back for your offense.
Q: Do you have a preference between kick and punt returns?
A: I like them both. They're two totally different things. The ball is coming down totally different. You have more time on one, but guys are running a lot faster on kickoffs. On punt returns, some people say you have more of a chance of scoring, but I don't think so. You have four seconds with the ball in the air and the punter is going to take two second to kick it so that gives those guys six seconds just to cover 40 yards. Hopefully you have some good blockers out there. It doesn't matter to me either way though. I enjoy them both, but I prepare for them in two totally separate ways. For kickoffs I do a lot more running as far as distance is concerned. For punt returns I do more shifting and quickness work because as soon as I catch the ball, I may have to make a move. All in all, my hand-eye coordination has to be together no matter what.
Q: You're coming to a team that has had a lot of success on special teams. What do you think about the special teams units that Coach Al Everest puts together?
A: I've always loved his schemes, especially when he was in New Orleans. A friend of mine, Michael Lewis who was here last year, was returning all of those kicks against Atlanta when I was there. I was always trying to push my coach at the time to switch over a little bit or kind of "borrow" as we say some of their schemes. I thought that it kind of fit me but now I have an opportunity to run it and I'm looking forward to it. I know every special teams coach is "the same." They always talk loud and are always in your face which is fine with me. It's something I've been around my entire career so I'm looking forward to it. I've always admired his schemes, but also his coaching techniques.