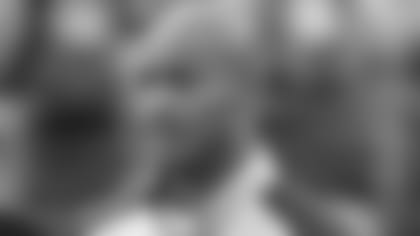 Check out this Top Five with 49ers quarterbacks coach Mike Johnson. Johnson previously served as the wide receivers coach for the Baltimore Ravens and the quarterbacks coach for the Atlanta Falcons and San Diego Chargers. Read up on his thoughts on joining the 49ers organization, restoring the rich tradition of 49ers signal callers and what he looks for from the quarterback position. **
Q: What excites you the most about joining this team and this coaching staff?
A: I'm excited about the way these guys work. If you watched some of the game tape towards the end of the year when Mike (Singletary) took over, these guys worked extremely hard and were competitive. I'm excited to be working with this coaching staff here with some of the guys who have been here before. Then you bring in Jimmy Raye and Tom Rathman in here and I'm excited to be a part of that.
Q: As part of the interview process you met with 49ers General Manager Scot McCloughan and head coach Mike Singletary. Was there something about the interviews that made you feel like this would be a good fit for you?
A: The one thing I could feel was the passion, the excitement and the direction in which these guys want to go. The one thing I noticed with Mike and Scot is they have a plan and you have to be in agreement with that plan in order to be a part of this. I feel like my philosophy, Mike's philosophy and Scot's philosophy all mesh together and I'm happy to be a part of that.
Q: Joining the 49ers, a franchise known for its quarterbacks throughout the years, does that make you more pumped up about joining the organization as well?
A: It does. It's a rich tradition here that we want to get back to and execute at that high level that Joe Montana and Steve Young executed at. We've got some guys here who are young, a couple of guys who have a little experience, but we want to be efficient. We want to be disciplined and we want to manage the game in the proper manner.
Q: Have you been able to watch film on some of the guys you will be coaching and if so, what were your impressions?
A: I watched maybe 5-7 games of Shaun Hill and then I watched Alex Smith back in 2006. I think I have a pretty good feel for what these guys can do and the things they're strong at. They have different styles. Alex Smith is more of a guy who did more of the eight-man protection, bootleg-type things. When you look at Shaun Hill, he did more with Mike Martz, when they had an empty (backfield) scheme, with four or five receivers out. Both of them did a good job of managing the game from those standpoints. They've been with two different coordinators. I think Alex has been with four and every one of those coordinator's philosophy has been different. Hopefully we can get some continuity where they can both settle down and be efficient in what they do.
Q: Is there something specifically you look for out of your quarterbacks?
A: I think the first thing that we want to do is be fundamentally sound from a drill standpoint. We want to make sure that our technique, our drops and our footwork is proper when we're going from one receiver to the next. We want to make sure that we place the ball in a proper manner. We also want to be a quarterback group who manages the game well, understands different situations and makes sure that we don't beat the 49ers. We want to make sure that we take care of the ball and we try to be as turnover-free as possible.