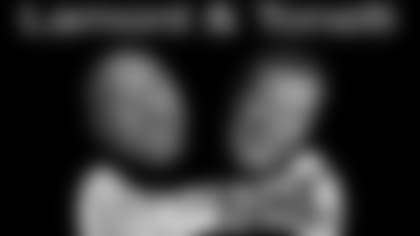 107.7 The Bone's Lamont & Tonelli serve as hosts of the 49ers pregame show, and also share their perspectives in their own Go Deep online column. For the 2007 season, you can find them and interact with them on our social networking site 49ersfaithful.net.**Check out part of Tonelli's blog below...
We were talking to Jeff Ulbrich on the show this week and giving him a hard time about his mohawk. I guess he tried to dye it a gold color but it came out as more of a blonde color. For some reason, when I was looking at him on the sideline, he reminded me of Pam Anderson because it's the same blonde color.
I also happened to have credited Jeff with a tackle over the PA when he wasn't even in the game. He got a kick out of that. The PA gig is going well other than that one. Each week it is going a little bit smoother. 
Last week's game was what it was. One of the things we mentioned to Joe Nedney was the play of the special teams. The unit got the ball to the offense five times between the 40-yardlines. They had an onside kick they recovered, a blocked punt, and a couple of nice returns by Michael Lewis and Maurice Hicks. The offense just didn't take advantage of it.
This week, it will be interesting to see what happens with the Ravens.