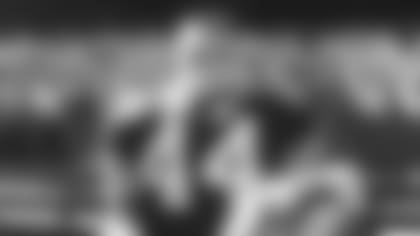 New 49ers running backs coach Tom Rathman had the rare honor of winning back-to-back Super Bowls.  TV 49 sat down with the former 49ers fullback to get his thoughts on his Super Bowl Chamionships as well as this year's contest between the Cardinals and Steelers.**
Q: What was it like to be a part of back to back Super Bowl championships?
A: The first Super Bowl was probably more joyous going into it. I was overwlmed playing in the NFC Championship game playing back in the Chicago. It was cold weather, we were able to overcome the environment there and we got it done. Getting to the Super Bowl is what it's all about so that was probably the biggest game I had played in prior to those Super Bowls. To win that game in that environment under those conditions, and to know that you were going to go to the Super Bowl, that was it right there. We had the opportunity to go to that Super Bowl and to pull it out the way we did - a Joe Montana to John Taylor touchdown late in the game in a two minute offense when we had to have it - that put the icing on the cake. You were on top of the world right there. You win your first NFC Championship game and then you win your first Super Bowl. Then I got the opportunity to do it again the next year. That NFC Championship game was versus the Rams. That game went really well for us and I think we had control for most of it. We were successful in that game and then went to New Orleans and beat Denver 55-10. To have a huge lead at half time, it was like we were celebrating at half time. It kind of felt like we had it in the bag, but we were professional at the same time. We knew that it wasn't over and we went out and finished them off. To be able to go back to back in Super Bowls, that's very unique in this day and age. At the same time it was very meaningful to the organization and the players that were involved with it.
Q: Is it hard to stay focused when you're at the Super Bowl with all the added media attention and added pressure?
A: I don't think so. It's all about your approach to the game and I approached it like it was just another week. I'm still living this one down. I was down in Miami for my first Super Bowl, Super Bowl 23. That time of year is when the stone crab is really good and Thursday night was my night to get a massage. Well my wife was upset I didn't take her to Joe's Stone Crab. I got a massage instead. That told me that I was focused and ready to go. She won't let me live it down.
Q: Out of your two Super Bowl victories, was there one that meant more to you than the other?
A: Certainly the second one meant a lot. Anytime you can win the Super Bowl, that's a huge event. You would think that the first opportunity to win the Super Bowl and the first Super Bowl that you won would be the biggest. I would have to say the second year, when we went back-to-back, would be the biggest. We won that first one and then came back and won it the second year. If you look statistically, that second year was probably my best year as a professional athlete also. I think being more involved statistically and to be able to go back-to-back, that second one was more overwhelming and we beat them 55-10. We were enjoying it at half time.
Q: So it's better when you can put them away early?
A: That's it. Put the nail in the coffin.
Q: In this year's Super Bowl, will you be pulling for the Arizona Cardinals, a fellow NFC West team, to thwart the Steelers' chance to get a sixth Championship?
A: I think this would be a great opportunity for anybody to look at this think, hey, nobody thought Arizona would get to the Super Bowl or even win the first playoff game. They've overcome a lot of adversity. They got to that game and if they can win the game, it will open a lot of eyes around the league. Anybody can say, "We can do that." Hopefully that's what's going to happen to us next year. I am rooting for Arizona due to the fact that there are three teams with five Super Bowls, Dallas, San Francisco and Pittsburgh. To keep them from winning that sixth Super Bowl would be a great feeling to any 49ers fan.