Heading into his third season with the San Francisco 49ers, Thomas Clayton is ready to prove that this will be his breakout year.
As a member of the 49ers practice squad for the 2007 season and the better half of 2008, Clayton patiently waited for his chance to play in a regular season game.
The 5-foot-11, 220-pound tailback made a habit of being one of the best running backs statistically in the past two exhibition seasons. In his first preseason, Clayton led the National Football League with 200 rushing yards on 45 carries. In 2008, he rushed for 186 yards on 42 carries.
Clayton got his first taste of the NFL's regular season when Frank Gore was sidelined with an ankle injury towards the latter stages of last year. With Gore unable to play against the Miami Dolphins, the 49ers called Clayton up from the practice squad to join the 53-man roster for the final three games of the season.
"It felt good," Clayton said of his promotion. "It definitely felt like it was a long time coming and I felt like the work that I put in didn't come in vein. But with that being said, if everything is rewarded, with the work I'm putting in this offseason, I should definitely have a rewarding season."
In his only three regular season games, Clayton dressed against the Miami Dolphins and was inactive for the following two games against the St. Louis Rams and Washington Redskins.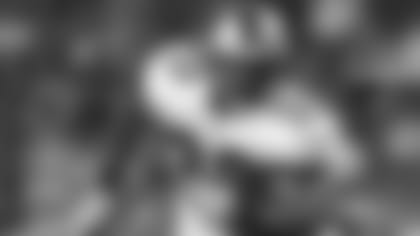 Despite not being able to carry the ball, Clayton has worked diligently this offseason to prove when training camp rolls around that he's capable of having success in the regular season.
Clayton, who prides himself on keeping in top shape all-year long, spent the entire month of January back home in Northern Virginia working out and visiting with his family.
"Typically I do a leg workout every day just to keep them tone and fit. Then it kind of varies with my upper body. I'm trying to stay involved so once I start the offseason workouts in mid-March – I'll be ready," he said.
Besides his normal workout regiment, Clayton has added to his offseason repertoire.
"I play a little racquetball," he proudly declared.
During his visit back home, Clayton's wasn't bashful about playing his father's beloved sport.
"My dad was in the military and at the gym all of his military friends go to, everybody plays racquetball," Clayton said. "I think it's good for footwork, but I also kind of like it. It's fun."
Despite being the youngest player on the racquetball court at the local YMCA, Clayton enjoys working on his lateral movement, which he plans on using this upcoming season against opposing defensive players.
Clayton used those same quick-feet to impress the 49ers coaching staff this season on the 49ers practice squad going against the first-team defense.
When he received word that he would be up on the 53-man roster following the injury to Gore, Clayton was excited to travel with the team and potentially showcase what he had learned from the 49ers superstar running back, as well as the veteran DeShaun Foster.
"I have an outstanding relationship with Frank and I definitely attribute the success I had in the last two preseasons to him." Clayton said. "With DeShaun coming to the team last year, just his knowledge of the game and how long he's been playing has definitely helped my overall game.
"Having both those guys in my corner last year helped me make a huge jump from my rookie year to my sophomore season. I'm real anxious to get back on the field for my third year and put to work all I've learned from those guys."
Specifically, Clayton has become more of a slashing-style running back which he attributes from watching how Gore runs the ball in practice.
"I think with all that I've learned, I'm definitely going to be able to have some success this year," Clayton said.
He also believes the 49ers will also be a team to reckon with this upcoming season. After watching the NFC Western Division champion Arizona Cardinals make it all the way to the Super Bowl, Clayton feels like the 49ers are on the verge of achieving similar success.
"What the Super Bowl did was make me realize how close we really are," he said. "With the way things are in the NFL, everybody's team has talent. But I think it's about getting a group of guys to play well together at the right time. I think that's when you have most of your success. The Cardinals won nine games in the regular season, but they hit their peak at the right time and before you knew it, they were in the Super Bowl. I just think once we get the right group together that plays well together, we're that close to being a Super Bowl contender."