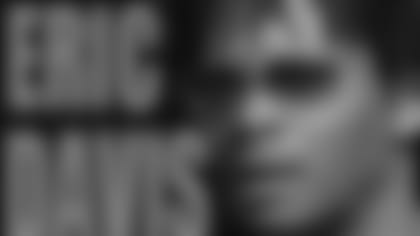 Eric Davis spent 13 years in coverage as an NFL cornerback. By joining the 49ers Broadcast Team in 2008, the formers 49ers will embark on a new sort of coverage. Catch up with Davis on Mondays throughout the season as he gives The Wrap Up of the team's Sunday performances, or in this case, Friday night's game against the Raiders. **
Coach Nolan has said that he feels he has three guys at quarterback who he can win with, but I haven't seen one guy yet to stand up and control the offense consistently. I've seen flashes from each guy, and the other night I think all three of them did some things well. But, it has to be done consistently in order for the offense to be able to engineer points.
J.T. O'Sullivan had some successful plays, and he led some drives where you saw the offense clicking exactly the way we'd all like to see it being ran. He put some good throws right on key to Josh Morgan, but then the next thing you know he throws the ball up for grabs. You simply can't have that. He has been in this offense longer and he understands the timing of things and you saw that in the game, but you also saw the costly mistakes, which is why he hasn't been a starter in this league before.
Alex Smith did look a step behind the other night. He had opportunities to connect with guys and the timing was off – which is key in this offense where you have to complete balls in a small window while the coverage is tight. That's what this offense is designed to do. The receivers are going to place themselves outside or inside a defender, and the quarterbacks are going to have to hit that guy in stride. Alex wasn't able to do that the other night and he seemed to be getting the ball there just a little late.
O'Sullivan had his opportunity to go with the first unit, and I would imagine that Alex Smith will get his opportunity to be the guy in the first group this week. When you come in with the backup linemen – guys who are still trying to understand assignments, it's different in that huddle. I know from playing that when you are in there with the first group of guys, there is a different mindset with those first-string guys and things can go a little smoother.
So, I'd like to see Alex get that shot with the first-team, and then let's see. Let's see if he can string it together and get some drives going, not make the mistakes, and get some points.
I don't think you can really judge Shaun Hill fairly because he had wrap up duty in that game, and it's just very hard to evaluate a guy working with the third group.
All that being said, I would like to see a guy step up, a guy who says "this is my job and I'm taking it." The 49ers need a guy who is going to take command and have the confidence to execute the offense. No guy did anything to lose the job the other night, but no guy did anything to win it either. No one is making enough plays at that position right now to claim the job, and I'd like to see somebody win the job, as opposed to seeing somebody given the job.
Outside of the quarterback situation, Frank Gore wasn't out there much but I don't think you ever have to worry about him. If the line does their job, he's going to run hard, he has good vision and he's a solid player. He had limited opportunities, as did Vernon Davis, but these are guys that given the opportunity, you just believe they will make plays.
Defensively, the guys came in and did exactly what you'd expect them to do. Right off the bat, Walt Harris looked like the veteran player he is and was right there on a deep ball. They also threw one Nate Clements' way and he was also there with perfect coverage. They went back and tested Walt again and without question he rose to the occasion.
On the front line, you can see why they brought in Justin Smith. All you hear about is how the guy pursues and is relentless, and that was there. He didn't necessarily make the play the other night, but you saw him chasing guys all over the field. That is contagious, and so I thought there were some sound things out of the number one unit on defense.
Dontarrious Thomas is another new free agent addition, and you saw him come in and make some plays as well. I also liked the fact that even with the sudden turnovers, the defense went out and didn't seem to be affected by it. They just went out there, stepped up and did their job.
I thought some of the young guys also went in and played well in their first NFL action.
Wide receiver Josh Morgan did exactly what I expected him to do. Just from seeing him at practice and seeing the way he's been working, I was hoping he was going to be a gamer and he definitely showed signs of that. He has the size, the speed, and he may even have a chip on his shoulder, coming in as sixth-round pick maybe he has something to prove, and that's what you want. You want an overachiever who is going to go out there and try to make plays. He doesn't seem to be satisfied hearing that the receiving corps is already in place here. He wants to be one of those guys, and that's what you have to have. You have to have late round picks come in and do their thing. First and second rounders, they are supposed to play, but to find the guys in the later rounds to come in and contribute – that's big. That's a good sign for this team.
Cornerback Reggie Smith was sound in his tackling. He had an opportunity to make plays on the ball and he came through. The kid was making plays on 3rd down and 4th down. From a defensive standpoint – that's big. It's not always about the interception. Just getting the ball back to your offense by making them punt can be just as important and he was able to do that by knocking down balls on curls and out routes.
I thought Chilo Rachal played well. It's hard for people to notice offensive linemen but he seemed to be doing well drive blocking in run situations and protecting well on passing downs.
There were some penalties and that's part of the first game, but they are also things you can't have happen. Guys have to take that out of the mix. I don't know how much of a pass you can give guys. You didn't see it much with the first unit, so you don't want to see it on down the line either and that's something they'll need to clean up against Green Bay.
As for my first night in the booth, I definitely learned a few things. Number one, don't talk when there is a flag on the ground because the referee is going to take over and his mike is louder than yours. It's also really weird looking at the game from a press box, and that high up. It's hard to tell what numbers the guys are so you need to have a pair of binoculars. But, it went pretty well and it was fun being back in the mix. I'm excited about being around the guys and I'm looking forward to watching this team perform better and to see them start winning some games.