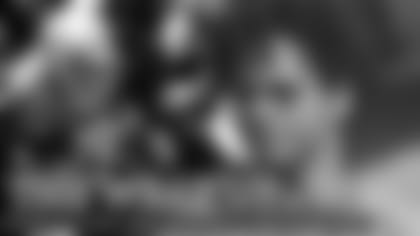 Eric Davis spent 13 years in the NFL as a cornerback. He's now in his second season as part of the 49ers broadcast team. After every 49ers game Davis will breakdown the game in his "Wrap Up" column. Here's Davis' second column of the 2009 regular season after the win over the Seattle Seahawks.**
The defense has put together solid games, back-to-back, and that's impressive.
Seattle's offense was 4-14 on third-down attempts because of the 49ers defensive efforts in getting them off the field. They only had the one turnover, but if you count all of the punts they forced, that right there is giving the ball back to your offense at an efficient rate. If they continue to play that brand of defense, that will give them a chance to be in any game. You couple that with the way that the offense wants to run the ball and you are going to control the time of possession. You put yourself in a solid position to get a win. That's impressive that they can do it back-to-back because you see that it wasn't by chance, that's actually the way they play.
It helps when you can have a day like you had from Frank Gore. The type of day that he had puts him up there with some of the best ever. He's in rare company when you consider that he's one of only two players to have touchdown run for over 75 yards twice in one game. Barry Sanders being the other guy puts him in elite company.
It's never just the one guy though. You had solid blocking by the offensive line, tight-ends, and receivers. You also consider that Seattle played some poor defense on occasion. It takes a lot of things for an 80-yard run to happen. But of course, it has to do with Frank and his ability to take it to the end zone.
Aside from some of the more obvious stuff, there was a guy who caught my eye and was probably not noticed as much as an individual.
Aubrayo Franklin was again able to control the line of scrimmage. If you play with a 3-4 defense, you have to have a nose who is able to hold the two-gap. He was able to hold the point and he was moving it across the board. There is one screen play in particular where Aubrayo beat it all the way down the line and pushed two guys back off the line of scrimmage. When the quarterback dumped the ball off to the back, Aubrayo was there, he had the first hit on the guy and allowed the rest of the pursuing defense to finish the play. This is a guy who won't get a lot of tackles or all of the publicity. But, Takeo Spikes and Joe Staley can't do their thing if Aubrayo's not there taking up three guys.
Minnesota is a tough game coming up. One thing the 49ers will look to do that they have yet to accomplish is get the ball to their wideouts more effectively. I was one of the people who didn't give Shaun Hill enough credit. I was one of the people who was caught up in what he wasn't. I didn't pay enough attention to what he actually is. What is he? He's a guy who is poised. He has confidence. He has the decision making ability to win football games. All of the things that are negatively talked about when his name is brought up, they can be worked on. But, you can't teach someone to be a winner.
That being said, I would like to see one of these wide receivers begin to step up, even if it's Vernon. Hill is getting the ball to guys, but the 49ers need to do it on more of a consistent basis.
It's extremely rare for a running back to have a day like Frank Gore had, we've discussed that, so you are going to need to have more rhythm in the passing game. You need more opportunities on the outside so it can loosen things up. We can't count on Frank breaking 80 yard runs with nine people in the box all of the time.
One of the big story lines heading into the matchup this weekend will be the chance for the defense to go against Brett Favre. Some of the 49ers defenders are going to be looking forward to it. One thing they need to understand is that at some point in the game, Favre is going to try and throw a receiver open. He is literally going to throw a ball to a receiver whether they are covered or not. It doesn't matter what position you are in, he believes that his right arm is better than you are.
You have to know that in those situations and when it comes, make the play. He will throw the ball and give you an opportunity. That is something you always know going into a game against Favre. He's playing well right now and he will continue to do so. If you think about it, this game falls right at what would be the end of his training camp.
He's had enough time to play himself into shape and get his timing down. He's comfortable with the offense. He's comfortable with his players. He's now hitting his stride and you saw that last week in how efficient he was. However, he's still going to give the defense opportunities and they need to close out on them.
It's been an exciting season so far and team is looking like they are having some fun.
I'm enjoying being a part of Comcast Bay Area's 49ers post-game show and being around the action again. I have an opportunity to actually root for the team. From an analyst side of the game, I have to be unbiased and unemotional. But in the post game show, you can really give a guy props for having a good day. You can really be bummed if a guy had a bad day. I enjoy the aspect of it that lets me be a fan. And thankfully, writing about each game on 49ers.com lets me do that too.