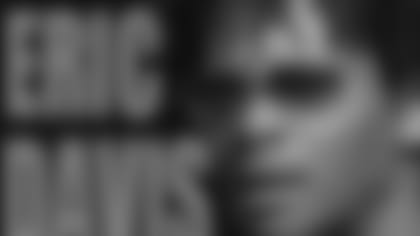 Eric Davis spent 13 years in coverage as an NFL cornerback. By joining the 49ers Broadcast Team in 2008, the formers 49ers will embark on a new sort of coverage. Catch up with Davis on Mondays throughout the season as he gives The Wrap Up of the team's Sunday performances. But first, catch his thoughts on the final preseason game against the San Diego Chargers. **
In this column, I'll share some of my thoughts on the game, and then also touch on some of the cuts that were made.
Coach Nolan talked about Alex Smith and the way he's progressed and matured, and that this is a good offense for Alex to have success. But as I think you saw last night, Alex is still a little gun shy. Everything is a step behind. It's a second too late. Until he gets over that, it's going to be difficult for him to raise his level of play. A lot is expected of him and he expects a lot from himself and I think because of that you saw him pushing. I think last night he was trying to create some things and make things happen and he forced the ball into some areas he should have stayed away from. I think he's just a little late pulling the trigger, a little gun shy with his decision making, and I think that's why he's the backup right now.
Everyone talks about whether it was fair or not, but he played with the first unit last night and he was still gun shy. I think until he gets beyond that, he'll remain the backup. The offense didn't look the same that it did when J.T. O'Sullivan is out there, so I think it's obvious that they made the right decision.
That's not to say that Alex is not going to get it or that he won't gain the confidence he needs. I think more time in the system will allow him to grow, and maybe stepping back and not having all of the pressure will allow him to just learn and gain the confidence he needs to be the guy. Hopefully that will come in time.
I thought Ashley Lelie had an opportunity to make the team but I also thought he had an opportunity to be cut, so I guess the move today didn't surprise me one way or the other. I think the coaches wanted to see what Bryant Johnson, Lelie and Arnaz Battle could do once they were healthy. I think they already knew a lot about Battle, and then Johnson definitely got involved quickly in the game, but you didn't see anything come together for Ashley last night.
Johnson showed exactly what everyone wanted to see from him. He came out and caught the ones that came to him, and that's what you want your receivers to do. He got open, made plays, and moved the chains. I think he'll be able to stretch the field for the 49ers this season, along with Josh Morgan and Isaac Bruce. He's a physical guy, a fast guy, a good route runner, and he'll catch the ball. I think the receiving corps has become a strength for this team. These guys are going to be able to get open and make plays.
I keep trying to flip the pages in my mind and go back and think if I've ever seen another tight end run back a kickoff, not even for a touchdown necessarily, but even if there's ever been a tight end who the coaching staff thought had the ability to be a returner. I can't think of one, and so that's an amazing athlete in Delanie Walker. Most tight ends are lumbering guys. The 49ers have two pretty good athletes at that position in Walker and Vernon Davis so you know they are going to find ways to get those two the ball. A tight end going 101 yards and not getting caught? That's impressive. He had great blocking on that play but he had to run 101 yards and not get caught. That tells me that you put him on offense and get him in space and get him singled up with a linebacker and he should be able to make big plays. He's something fans should be excited about.
I thought the offensive line still did a good job with their protection and they were again getting lanes opened up in the run game. The line has played physical at the point of attack consistently throughout the season, and if they continue to do that this off-season, that will be key.
I think fullback Moran Norris will catch on somewhere and be a help to a team. I think he got better, but Zak Keasey also came along and showed improvements and I think he won the job with his abilities on special teams. I think it was an example of competition really bringing out the best in both guys.
There were six turnovers, five on offense and one on special teams and it's amazing that the game was as close as it was. Obviously, you can't have that. The last Shaun Hill pick was a desperate throw so you can almost take that one away, but Michael Robinson had a fumble, Hill had another pick and Smith threw two. You just have to hope that those are eliminated when you do have your starter in O'Sullivan back in there. The first preseason game, he too made those kinds of mistakes, but he improved each week. Hopefully, those turnovers aren't something you'll see from your first-team going forward.
Now on to the defensive side of things.
Last night, it was obvious on the opening drive that things need to be tightened up. Yes, there were some starters out, but that's irrelevant. You can't allow a team to come in and just run the ball on you like that. It can't happen. But this is a very smart defensive coaching staff and so I think those problems will be corrected. Some of it was players just not being where they needed to be, and sometimes it was missed tackles. I don't think it was a scheme problem or a lack of effort. I think it was just a case of a few mental errors and that's something that this staff and the players can take care of. I think they'll demand more from each other and get things tightened up for Arizona.
The 49ers have a tremendous secondary but if you can't stop the run, it won't matter. It was ugly, and it's something that must be taken care of, and it's something that I imagine will be addressed and fixed quickly.
Speaking of the secondary, the 49ers did load up on defensive backs. As a former defensive back, I think it's great because first of all, it's a solid group. The starters and the backups in the 49ers secondary are all solid players. Plus, those guys do a lot of the dirty work on special teams so I'm sure that helped some of those guys make the roster. It really doesn't shock me.
I thought that Larry Grant played very well last night, but he was released today. He's a young guy and a bit inexperienced, but I'll be interested to see if he ends up back on the practice squad.
All of the draft picks but Grant made the team, and they didn't make it because they were drafted, but because they were solid picks who should contribute in time. I think Josh Morgan will contribute early, but I think you are going to see guys like Kentwan Balmer, Chilo Rachal, Reggie Smith and Cody Wallace really grow and develop into solid players. Not everyone is going to be a Joe Staley or a Joe Staley and come in ready to play, and the 49ers have enough talent where they have the luxury of bringing those guys along the right way. I don't think you could say that four years ago.
My favorite part of the game was the last segment where they had Mike Nolan wired for sound and the last little clip was him saying "You better get it into the end zone because I'm not kicking a field goal." You love that from a coach. Mike wants to win. He wants to win every game, and he wants to compete hard and get out there and put on a good show from the fans. But, he's with his players, cares about his players and there's no reason to take the fourth preseason game into overtime. You had 60 minutes worth of time to play, so now, let's wind up and get ready for the Arizona Cardinals. I think that was the right choice. I think every guy in that locker room felt the same way. Of course, you want to win. You never start a race not wanting to win the race, but you also understand the big picture. The NFL season is a marathon, not a sprint and winning the fourth preseason game is not going to make a difference. It's much better to get out of that game, look at the film, learn from the mistakes, build on the positives and get as many guys as you can to come out of it healthy. So, I agreed absolutely with the call because you are talking to a guy who thinks they only need to play two games. Great call coach. Overtime would have been ridiculous!