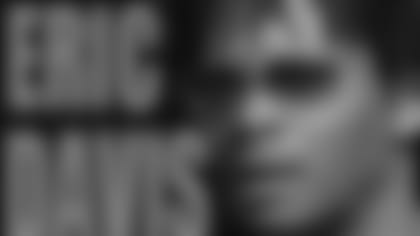 Former 49ers cornerback Eric Davis checks in for his wrap up of Sunday's victory over the Washington Redskins. **
The team played very well in the season finale. Again, I think you see the progression of this team and you see things moving forward in the right direction. They played like a group of guys who were well prepared and willing to leave it all out on the field.
Going into this game, the Niners had to understand that they had to make this team one-dimensional, and to do so, they needed to take Clinton Portis out of the game and put the game on the arm of Jason Campbell.
In the first half, they didn't really do that, but they regrouped at halftime, which was another good sign that they were able to go in and make adjustments and then implement those changes in the second half. They stopped the run game better, and got the ball back to the offense more consistently, and the 49ers offense scored some points, regained the lead, and eventually were able to win the game.
It's extremely difficult any time you go against a mobile quarterback. The Niners have had guys like Campbell in the past, for instance a guy like Jeff Garcia could make plays like that with his legs. And that's really what Steve Young could do – he could kill defenses because they'd cover everyone on third down passing situations and then this guy finds a way to run for nine yards when he needed seven. Campbell was able to keep plays alive with his legs and that's always difficult, but defensively I thought the Niners did a good job containing him and not allowing him to do any major damage.
You saw good pressure from Parys Haralson. It didn't show up on the stats, but I thought he had a very good day pressuring the quarterback and making him uncomfortable, as did Justin Smith, whoI thought did a good job rushing the passer. I also saw Joe Staley on a lot of the check own routes just running things down and kind of serving as a spy at times.
So, I think the defense knew what kind of athlete the Redskins had at quarterback and I think they did a pretty good job of containing him.
Their receivers didn't do much in the game, and I think Walt Harris was the reason for a lot of that. He played extremely well and is the guy who I would single out in the secondary. I think the past experience he had playing around those guys in Washington and knowing their movement and the timing of things paid off for him. He was right where he was supposed to be all day, and not only that, you saw him breaking up passes and preventing their offense from moving the chains from the very start to the very end of the game.
I thought it was a total effort from the defense with pressure on the front end and then the guys in the back end taking advantage of that and making plays.
Offensively, congratulations to Frank Gore for being the first back in the history of this organization to cross the 1,000-yard mark three years in a row. When you think of the storied past of this team and the type of running backs who have been here, that's an amazing feat. To be the first to do anything with the Niners is something special. He's a phenomenal player and he's only going to get better because he has that drive and determination and it's obvious that he's a key component to the team being successful in the future.
The record is something that should be shared by the offensive line as well because guys like Eric Heitmann have been blocking for him all three years.
DeShaun Foster also stepped up and did exactly what you want your backup to do. He's a veteran player and there's no dropoff when he goes into the game, and that's what you have to have at every position. Seasons' past, the Niners didn't always have that, but they've got some depth now and that's key if you want to be a solid ball club, because you are not going to have your starters every game of every season.
It was good once again to see young receivers like Josh Morgan and Jason Hill stepping up. Josh has had some nagging injuries but when he's on the field, you can see his potential. Jason also had the nice end around and caught the ball when it came his way and made a touchdown play in a key moment of the game. Bryant Johnson had some grabs, Michael Robinson leapt and adjusted for the one over the linebacker, and really the best catch of the day in my opinion was one that actually lost a yard. Isaac Bruce just went out and quietly did what he does. You throw it to him, he'll catch it no matter what, as he did with a third and fourth effort on a 3rd and 1 play. Hopefully he'll be around to continue showing the younger guys how to do it. I think he's beneficial for not just the receivers, but every guy on the team because he exemplifies how to be a pro.
Shaun Hill again found a way to win and that's become his forte. It's not always pretty but it's been effective. His players believe in him and they are going out and making plays for him. He's made the right decisions and gotten the ball to the right people, and again, brought his team back from behind to win the game. He hasn't lost his composure and that's key because you have to have confidence at that position. Everyone in the huddle is listening to that voice and staring back into those eyes and they are all waiting to see if he's going to blink and fold under pressure, and he's not done so yet.
Bottom line, guys were playing as if they were trying to keep their own jobs and that's the way you want the team to play – with a sense of urgency. You want them to play smart and aggressive, but lay it out there, and that's what the guys did.
Even when they fell behind, they headed in at half and lined up their x's and o's and then came out and found a way to win the game, and as a former player, that's how you want to end your season – with a win.