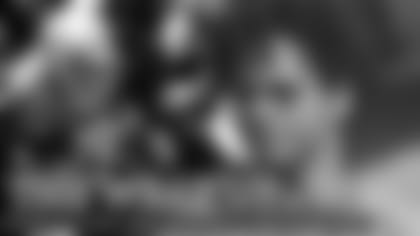 Eric Davis spent 13 years in the NFL as a cornerback. He's now in his second season as part of the 49ers broadcast team. After every 49ers game Davis will breakdown the game in his "Wrap Up" column. Here's Davis' third column of the 2009 regular season recapping the 49ers loss to the Minnesota Vikings.**As a former defensive back, I often find myself saying, "Just knock the ball down!" whenever I see a Hail Mary to win a game. I found myself doing that again after the 49ers first loss of the season.
It was a tough way for the 49ers to lose; the secondary has to make that play at the end of the game. But, it's tough to make those plays with the game on the line. As a defensive back you want to make the quarterback make a perfect throw and the receiver make a perfect catch to beat you. From a secondary standpoint, that's what you try and do on each and every play.
On the back end, all the X's and O's don't move on paper. When the game is going on, you have to put yourself in the right position to make a play. On Favre's late-game touchdown – that's tough. He made a perfect throw and the 49ers just couldn't get it done.
Favre has thrown some balls throughout his career that are just incredible. If he hasn't beaten you at the end of game with a throw like that, you just haven't played against him enough!
He has the confidence to take that one extra shot down the field. It's the same thing that makes him great can make him look horrible at times. But he'll be out next week doing that again and that's something you have to prepare for when you play Favre. It's not a surprise that he was able to find Greg Lewis in the back of the end zone. You just hate that he made it against the 49ers to win the game.
I agree with Coach Singletary when he says there are no such things as moral victories. There certainly are none for football players. Football is black and white. There is no gray in football. You either make the play or you don't. You win the game or you lose. It's really simple.
When the players are graded on each play, there's no curve. Every play is graded with a plus or a minus, because it's either right or wrong. But as far at the way the 49ers are playing, everything is looking positive. They're a good football team. I think everyone should be please with the progress they are making as individual players, as units and as a team. That's a positive.
They're 2-1, leading the NFC West and they're playing the best football of any team in their division. Again, that's another positive. Looking for respect for more teams around the league is really not important. What should be important is that the 49ers should understand that they're playing good football. And, they haven't reached their peak.
The 49ers have the ability to go farther, play better and get more cohesive. That can only help them win more ballgames.
But it won't be easy now that Frank Gore is out the next three weeks with an ankle injury. Losing him will be tough, but it means that other guys on offense have to step up.
For the offense to be successful, that was going to have to happen anyway. Usually teams can take any one player out of a game and going forward teams won't be able to do that with Gore. You saw the 49ers do that with Adrian Peterson. It can be done. You can take any player out of the game no matter how great he is, as long as you have the right scheme.
With Gore out, other guys are going to have to step up. It gives more chances to touch the ball to Vernon Davis and the old man, Isaac Bruce, among others. It also gives Glen Coffee to get valuable reps and will allow him to grow as a player. Across the board, you name the player and it should help them. Josh Morgan, Arnaz Battle – all of these guys will have to step up and make plays.
Shaun Hill is going to have to take more of the load too and he's shown he's capable of doing that. He's driven the offense down for touchdowns when needed. He is showing he can put his team in position to win games.
Every player from the quarterback on down will have to step up and that includes offensive linemen as well. Everyone has to step up when you lose a key member of your team. The other guys have to pick up the slack and raise their game.
On the other side of the ball, time will tell how great the 49ers defensive unit will be. What they have done is show their ability to make plays. This defense has the ability to keep the team in a tough game. But what this defense has to do is learn how to close out games. There were opportunities in the last game that they didn't capitalize on. They have to do that going forward.
What happens on the offensive side of the ball has no bearing on what the defense does or should do. When you take the field as a defensive player, your job is to stop the guys from scoring. Period. It doesn't matter where they get the ball. Your job is to stop them from scoring, you don't concern yourself with the other things.
The defense will learn, when you have the opportunity to make an interception, you have to make the play. When you have an opportunity to get to the quarterback, you can't whiff on the sack. You have to understand what's happening and be prepared to finish. That's what this group has to do. They have the ability to do it and I expect them to do it.
The 49ers defense has a lot of play-makers. But they have to show it each and every time they step on the field if they want to win the games that people on the outside say they can't win.
If this defense can improve on finishing, they can turn into one of the 49ers great defensive units. Again, time will tell. As the season progresses, we'll see if the guys have learned how to finish in the big moments. If so, they'll become one of those great defensive teams.