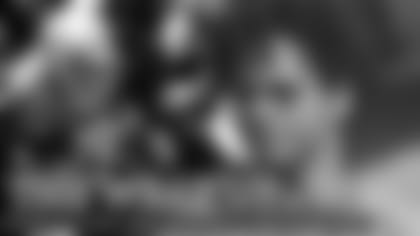 Eric Davis spent 13 years in the NFL as a cornerback. He's now in his second season as part of the 49ers broadcast team. After every 49ers game Davis will breakdown the game in his "Wrap Up" column. Here's Davis' seventh column of the 2009 regular season recapping the 49ers loss to the Indianapolis Colts.**
Offensively, Alex Smith came in and took over at the quarterback position. I wanted to see if he was going to pick up where he left off in the second half against the Texans, and he did for the most part. He looked comfortable in the pocket. He seemed as though he has grown as a player, as a quarterback. The presence is there. The confidence is there. It was never a question of the athletic ability. It was a matter of could he put it all together, series after series, play after play? In my eyes, it was evident that he is growing as a player.
That being said, the offense went from scoring 21 in a half to 14 for the game. They're still not being as efficient as I'd like to see them with their third down conversions. It is obvious thought that there is room for improvement and that with Smith at quarterback, improvements can be made.
It's always tough to lose a starter at any position. Losing starting left tackle Joe Staley on the first play of the game, from an offensive line that has been struggling, is a huge blow. He's been one of the anchors of that line since he's been here. His play is something that you can count on being at a high level, week after week. Barry Sims did a nice job coming in at that spot after not taking snaps all week long and dealing with Dwight Freeney. That's no easy deal. But, for the offensive line to make some holes for Frank Gore and keep Smith, pretty much on his feet for most of the game, it says a lot about what this offense can do.
It's also on Smith because he makes that offensive line better because of his mobility. It's the same with a healthy Gore, who improves the line because of his vision and ability to make some plays that some other guys might not be able to. It seems as Alex is on his way to that as well.
The game plan was almost perfect for the Colts game.
The reason I say almost is because they didn't win the game. To come in to Indy and play with a team like that and play like they did, it's a major indictment on the direction that things are going.
The coaching staff came up with a plan and put their players in a position to play well. The defense went out and was able to frustrate Peyton Manning significantly in the first half. They forced them off the field, but there were opportunities for even bigger plays.
Dre' Bly had an opportunity to have an interception. I still believe Dashon Goldson caused a fumble, even though it was not ruled that way. They put the guys in a position to get it done. It was such an amazing feat to hold that team to so many field goals. Just take a look at the numbers the Colts offense was still able to put up.
On a frustrating day, Manning was still able to throw for over 300 yards. Reggie Wayne had a career day with 12 catches. Dallas Clark had eight catches for 99 yards. That's because of the efficiency and the level that their offense plays at. Even with those gaudy numbers that were put up, it was still evident that the 49ers defense was really controlling them. That says a lot of the ability of the 49ers and the scheme that was put together for that game. The defense has to play that way every week.
They have the type of players that will allow them to matchup with anyone. Football is a game of matchups. That's what they are going to have to do to win football games down the road.
I liked the way Tarell Brown played in his first start of the season at cornerback. He is someone that the organization expects to be a starter. He was in the mix during the preseason for who would be the starting cornerback, opposite of Nate Clements. They just signed Brown to a new contract and to me, that says the 49ers want him to be around.
He has the ability to be a starter. With the injury to Nate Clements, it's his time to step up and be thrown into the fire. He's going to have to start to put it on film. Being the new guy out there, he has to expect balls to come his way. He is going to have to prove himself. But that's also something that he should relish, because the only way you can make a play is for them to throw the ball at you. He has the confidence to get it done. It is important that he holds down that spot and the secondary continues to make plays.
Up front, the defense is getting pressure as a committee. They're mixing it up. They're showing different schemes. They're running different blitzes. For the corners and safeties, they're moving around to all sorts of positions. It should be a fun defense to play in. But on the back end, the guys are going to have to make plays.
For the most part in this game going against that quarterback and wide receivers, the guys were where they were supposed to be. They took the big plays away from them and took those two out of the game. They made them earn it. In the NFL, good players are going to make plays, but you have to make them earn it. Shawntae Spencer has been playing solid out there. Now with T. Brown coming in, he's going to have to understand the concept of what the defense is trying to do. He's going to have to play solid games like that, knowing that they're going to come at him.
So that will be what is looked at heading into the next game. Brown will have to perform and make plays with his feet, putting him in good positions. And, I want to see Alex continue to perform and remain consistent. We went from scoring 21 points in a half to 14 in the game, so this will be an important test, next Sunday at home against the Tennessee Titans.